Pet dreams… ever wonder what your dog dreams about when they are woofing, flailing, kicking legs and wagging their tails in their sleep? well, I know one thing that Cici often dreams about, wide awake and in her sleep, is comfort. High priority for my dog.
http://www.petdreams.com/product/memory-foam-dog-bed/
Which is why Cici likes the Pet Dream memory foam dog bed. She is switching off between the bed and her chair and her crate… she likes variety… options… choices… being the polka dot princess that she is… why limit herself to just one one, right. She has been doing her circling and scratching number on the bed. She gotta find just the right spot for her royal comfort. Such a funny dog. Interesting to watch her go round and round and round. (Until it gets annoying, settle down already, dog).
It seems that the bed is quite up to to the task of handling her circling business just fine, for dogs like Cici, polka dot princesses so that is a plus. And the bed seem so comfy I thought about sleeping on it myself. But Cici would not let me.
Good to know that…
The Ortho-Bliss memory foam dog beds are:
filled with 100% memory foam clusters and absolutely no fillers or egg crate foam.  Only memory foam "open cell" structure can mold to your pet's body heat and weight, relieving painful pressure points, muscle pain and improving circulation.
Memory foam molds to body heat & weight, relieving pressure points & improving circulation: recommended for older dogs, large dogs & arthritic dogs.
Ortho Bliss memory foam dog beds are clinically proven to provide greater support for your dog than egg crate foam & are filled with 100% eco-friendly memory foam clusters.
The only thing cheap about this memory foam bed is its price: our exclusive patent pending interior channels keeps the fill in place.
High quality pet bed cover is machine washable comes in sizes Small to XX Large and four colors (we got the L for a 55 pound dog and Burgundy)…Giving your dog an orthopedic dog bed can ease pain from arthritis, hip dysplasia and old age, which is why they are great for large dogs and senior dogs. In fact, memory foam dog beds are highly recommended by veterinarians for their high level of support.
There is a size guide so you know what size is best for your dog.
http://www.petdreams.com/buying-guide/
Plus, what is cool is this is a woman owned company. And they offer a comprehensive array of beds including memory foam beds, crate bedding sets, and some pretty cool dog toys that look like donuts and ice cream.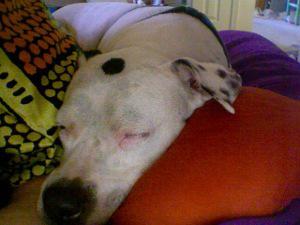 best of all, we love this…
Newsflash:  I have a Pit Bull and have been attacked more times than I can possibly count.  Perfect strangers are frequently mauled as are friends, family members, and other dogs.  Dangerous animal, indeed.
Attacked by kisses and mauled by kindheartedness and love, that is.
http://www.petdreams.com/blog/2012/06/the-importance-of-responsible-dog-ownership/
Pepper  (I'm a Pepper, you're a Pepper, we're a Pepper)…
where is your dog sleeping tonight???