people make all kinds of stupid, mean and unintentionally wrong remarks on Facebook and the Internet, about gay people, about dogs, about pit bulls in particular and more…
I am noticing that people use pit bull when they want to indicate a mean or scary or even a big dog. for instance, one author I read wrote about her friend being able to wrestle a 160 pound pit bull. this was in a book. i wrote to the person and told her that there ain't no such thing. that pit bulls, aka American Pit Bull Terriers, Pit Bull Terriers and American Staffordshire Terriers, are average between 40-80 pounds. And to say a 160 pound pit bull makes the dog sound really scary, right. Not good for the breed, thank you very much. She wrote back thanking me and told me that her friend had a chow pit bull mix. Well, a chow can be a big dog. And so can Aussie Shepherds, Labs, Goldens, Rotties and other dog breeds but not pit bull breeds. so if you want to talk about wrestling a DOG, say a dog, or a BIG breed of dog like those mentioned, capiche?
Someone else today wrote about a pit bull tearing apart toilet paper. What that visual was supposed to connote am not sure. But again, why not just a dog or cat tore apart the toilet paper? sounds scarier saying a pit bull and continues the big bad mean myth.
Meanwhile, numerous communities are repealing, overturning and doing away with their breed bans, yay. Mixed bag, right.
Now, what is happening in Russia is a big travesty and people are boycotting the Olympics due to the fact that stray dogs in Sochi are being killed to prepare for the Olympics. They were called disposable waste. Also, Russian treatment of gay people is abominable. And there are other problems going on there, too.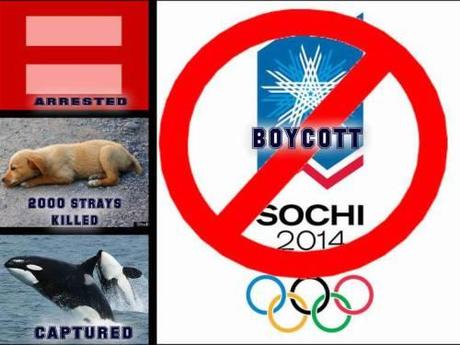 "In a phone interview with ABC News, Sorokin described the extermination as a public service. He described the animals as " biological trash" and said that Sochi has "an epidemic of rabies".
"I am for the right of people to walk the streets without fear of being attacked by packs of dogs," he said.
"The practice of hunting stray dogs has become common in Russia, where they are widely visible throughout many city streets. Sterilisation is not common and many owners simply abandon their pets."