In honor of Pi day, thought we'd give some pie recipes for dogs…the first one is good for Thanksgiving or any time of the year. Pumpkin is good for doggies.  There is some variety, so enjoy. If you make any, let us know how they turned out.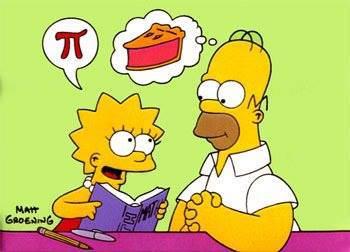 Mini Pumpkin Pies
Ingredients:
16 oz. can of pumpkin (plain)
8 oz. plain low-fat yogurt
3/4 cup whole wheat flour, or a mixture of all-purpose and whole wheat flour
1/2 cup oatmeal
1/4 cup applesauce, unsweetened
3 – 4 Tbsp. water
Directions:
Preheat oven to 375
Mix oatmeal and flour together in a food processor.
Add applesauce slowly, continuing to run the processor.
Add water slowly, using only enough to make a ball (too much will make the dough sticky).
Spray wax paper and muffin tin with olive or vegetable oil cooking spray.
Roll out dough onto wax paper and cut out 8 circles, about 4″ across (or divide dough into 8 small balls before rolling out).
Press individual circles into bottom and sides of muffin tin.
Bake for 8 minutes.
Let crusts cool, then remove from the muffin tin.
Fill each crust with about 1/4 cup (2 ounces) of canned pumpkin.
Top with a dollop of yogurt.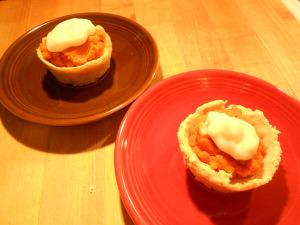 http://adventuresofadogmom.wordpress.com/2012/11/19/mini-pumpkin-pies-for-dogs/
Sweet Potato Pie for dogs
You can make the sweet potato or pumpkin puree blend anyway you want. If your pie filling recipe calls for milk, a good substitute is coconut milk. Coconut oil does the job of the butter and is safe and very healthy for most animals. A touch of cinnamon is a healthy spice as well that is enticing for dogs to throw into the mix. A little honey can provide more flavor in the mix if desired and approved for your pet. Sweet potato pie filling may also be combined with pumpkin puree. Sweet potatoes can be given to animals raw, boiled, or in the form of a full pie. It might sound intimidating and time consuming, but it's actually rather simple.
Crust
Typical pie crust is not healthy for dogs, but a crust made with coconut flour (as opposed to grain-based crusts) can actually be a fun way to cook for your pets and give them added nutrition. Coconut flour is high in fiber and does not raise blood sugar levels, optimizes gastrointestinal health, and is gluten free.
To get the right size (if you want a smaller pie) and desired texture may require some experimentation, but the good news is that pets tend not to be too discriminative. You simply need something to place the soft sweet potato (or pumpkin) mix on. Simply add wet ingredients until your dough is moldable, and not too loose.
Here's a good starting point (adjust as needed):
Ingredients for Pet Safe Pie Crust
2 tablespoons Virgin Coconut Oil
1 cup Coconut Flour
3 Eggs (for carnivores and omnivores), or ice water/fruit juice/coconut milk)
1 tablespoon Apple Cider Vinegar (if you have it), (Apple Cider Vinegar is very healthy)
1/2 cup Shredded coconut, (optional)
1 tablespoon Honey, (optional, not for young animals)
http://melissaasmith.hubpages.com/hub/How-to-Make-a-Thanksgiving-or-Christmas-Meal-for-Pets 
could make a Sloppy Joe's type Shepherd's pie for dogs
with one pound of ground beef or turkey
a can of tomato sauce
1 cup of chopped veggies, celery, carrots
mashed potatoes with cheese
burger buns or pie  crust
Cook up the meat with the veggies and sauce. Make the mashed potatoes and cover the meat with the mashies. Serve on burger buns or bake in oven in pie crust.
http://www.wagthedoguk.com/shepherds-pie-for-dogs/
Chicken Pot Pie treats for dogs
Ingredients
1/2 cup Chicken (cooked and shredded)
1/2 cup Peas (cooked and mashed)
1/4 cup Carrots (shredded)
1/2 cup Chicken Broth
1 1/2 cup Whole Wheat or coconut or all purpose Flour
Directions
1. Preheat oven to 350 degrees fahrenheit.
2. In a large bowl combine all ingredients until well mixed.
3. Roll out dough on floured surface 1/4 inch thick. Cut into shapes with the cutter of your choice.
4. Place cookies on an ungreased cookie sheets and poke with a fork to prevent air bubbles. Cook for 15-20 minutes.
Cool and refrigerate.
* I brushed the treats before baking with an egg white for the shiny affect.
http://doggydessertchef.com/2010/05/15/chicken-pot-pie-biscuits/
Quiche for dogs
CRUST
Mashed potatoes (try to save some before you add all the butter and salt – or make them fresh for your tarts!)
1 egg
Pinch garlic powder
Olive oil

FILLING
5 eggs
½ cup milk
2 cups "stuff"
• We use lean ham, chicken, turkey, salmon or steak, along with bell peppers, broccoli, spinach, asparagus, sundried tomatoes – whatever you have in the fridge that is tasty and dog friendly. Remember, you should never feed onions to your dogs, so leave those out.
1 tsp. finely chopped fresh herbs
• We like parsley (great with ham or steak) , basil (yummy with chicken or turkey) or dill (totally delicious with salmon)
1 cup, shredded cheese
Preheat oven to 350F.
In a medium bowl, mix together mashed potato, egg and garlic powder. Brush a tart pan with olive oil. Press mashed potato mixture into the pan, making sure it is as even a thickness as possible. Brush with olive oil. Place in oven and bake for 20 – 30 minutes or until lightly brown.
While the crust is baking, finely chop your "stuff" and set it aside. In a bowl, whip together the egg and milk. Once crust has baked, fill the tarts with your "stuff" and fresh herbs. Pour egg mixture into the tarts and top with cheese.
Bake for 25 minutes or until the tops have "puffed" slightly and the cheese is golden brown.
Your dogs will be begging for a bite – and you don't have to feel bad about giving it to them
http://twolittlecavaliers.com/2012/05/cooking-for-dogs-potato-crust-quiche.html
Frozen Peanut Butter and Banana pie
Ingredients
2 large bananas
4 cups Plain Mountain High Yoghurt OR Vanilla Mountain High Yoghurt
1 cup salt free, sugar free peanut butter
Directions
Take all ingredients and place in a blender.  Pulse until just blended.
Pour into pie pan and freeze for at least 3 hours or overnight.
Let thaw at room temperature for one hour before slicing, or put in microwave on medium heat for 2 minutes.
When ready to serve, put knife under hot water to make cutting easier.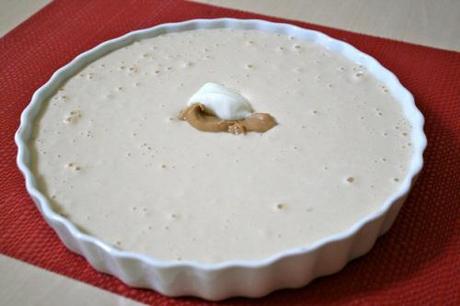 http://yourdogsdiner.com/recipes-2/recipes-person-and-dog-friendly/frozen-peanut-butter-banana-pie/