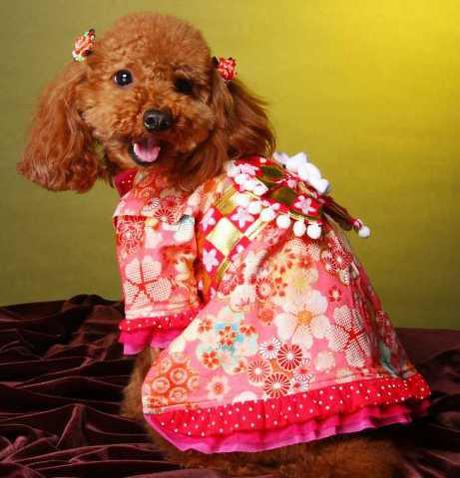 Kimono my doghouse? The latest trend in four-legged formal wear are kimonos specially tailored to fit Fido and Fifi... samurai swords and geisha girl hairdos not included.
Taking a step back, it's questionable whether dogs actually NEED formal wear – or for that matter, any level of "wear" but pet owners are an immensely varied bunch and if someone wants to clothe their dog, more power to them! They might need all the power (and patience) they can muster if their dog isn't amenable to being clothed.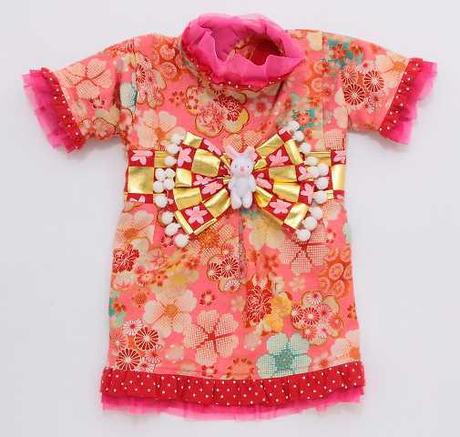 But let's look on the bright side, as does one Amazon.com seller of dog kimonos who cheerily states "Your Pet will Love it." That's the American-based Amazon, by the way: dog kimonos may be made in the Far East (actually, we'd be surprised if any were not) but they're easily available to dog-owners worldwide.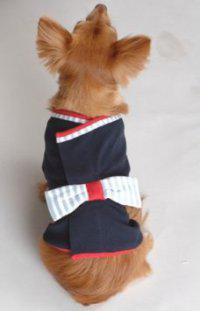 A typical dog kimono will run you roughly $25-$85 depending on the seller, the size ordered and the material(s) used to sew the item. Sizes are generally offered in a wider range than clothing designed for humans because, well, Chihuahuas and Great Danes can't wear each others clothes even if they wanted to.
Be prepared to measure your dog before placing your order. Though sizes typically range from XS through XXL, most sellers specify Neck, Chest and Length measurements – you'll probably need a metric conversion calculator depending on what type of measuring tape you use.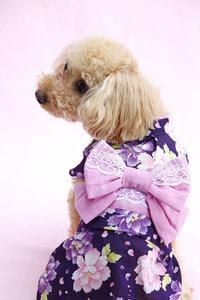 Though price and style are important, they're trumped by safety any day of the week. Dogs love to chew things and the "made in China" label doesn't exactly inspire confidence these days. Look for reputable sellers who are proud of their products and aren't afraid to explain why: "certified 100% organic Egyptian cotton" and "Dyed with low-impact metal-free dyes which are environmentally friendly and safe to the skin" are what you want to read before putting your money down.
Once your order's been delivered, your dog can enjoy wearing cool and comfortable kimonos tailored to your pet's dimensions. You'll probably want to start shopping for your own, matching version to complement your pet whilst promenading amongst the cherry blossoms each spring! (images via JunglePet)