June 15 is Father's Day.  A DUDE ranch that is pet friendly may be the perfect place for a dad and his dog to vacation.  Here are a few (that we have not visited). But sound like good places to get along little doggies, get along.
Echo Valley Ranch and Spa in British Columbia, you can bring your dog when staying in their Deluxe Cabins. The Canada dude ranch charges just $20 per night for dad and best friend's dude ranch vacation.
The Resort at Paws Up in Montana welcomes dogs for a luxury dude ranch vacation.
The BarW in Montana $15 a night for dogs or no charge with a package.
Just 16 miles south of Jackson Hole, Wyoming, the Spotted Horse Ranch is a all-inclusive guest ranch, catering to horseback riding and fly fishing.  They offer packages as short as three night in May, early June, September and October or the typical seven night stay and they are pet friendly.
Shadow Mountain Guest Ranch in Granby, CO seems to be one of the few dude ranches in Colorado that does not seem to restrict dog breeds, but call first to make sure as it is two hours from Denver, which has a breed ban in place.  Stays include hearty breakfasts, lodging in a comfy cabin. They do require a small fee for your pooch.
Burnt Well Guest Ranch in New Mexico is a working cattle and sheep ranch which boasts 10,000 acres of high desert country.
Greenhorn Creek Guest Ranch, Quincy, California, just 70 miles from the Reno Tahoe Airport, offers horseback riding, fishing and hiking in rustic ranch setting. located near the Feather River Canyon in the beautiful High Sierra mountains of Plumas County.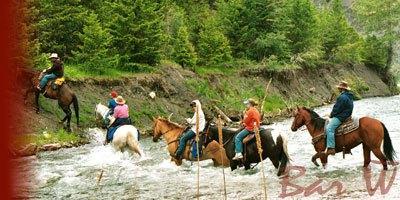 Here are 12 of our favorite spots for dog friendly trips for dad, dog and the whole family in various cities in the west USA.
Lincoln City,OR offers an abundance of pet-friendly lodging and restaurants where dogs are welcome at outdoor tables.
Play: For a fun frolic with your pooch, head for the coastline. In addition to the 7 1/2 miles of pristine Lincoln City beach, try Spring Lake Trail just west of the Regatta Grounds or Drift Creek Falls. Most Ocean lake shops will allow well-behaved pets on leashes if you ask. Remember, keep your pets on leashes and clean up after them. The annual Mutt Masters Dog Show and Olympics is a fun dog show that raises funds for two "doggie related" causes annually!
Stay:Captain Cook Inn is a fully restored and refurbished motor court. Although not too many still exist, motor courts were a style of motel very popular in the 1940′s and 50′s where you park your car directly in front of your room. Call to verify dog-friendly rooms 1-800-994-2522.2626 N.E. Hwy 101, Lincoln City, Oregon 97367
http://www.captaincookinn.com/
http://www.captaincookinn.com/Things-To-Do.html
http://www.oregoncoast.org/pets/#lodging
FYI, pets can now stay in yurts in OR, Honeyman in Florence, OR, Valley of the Rogue in Grants Pass, etc  for an extra $10 a night fee,   Book your stay, call Reservations Northwest at 1-800-452-5687, 8 a.m. – 5 p.m., Monday through Friday, except holidays. All pet friendly yurts and cabins must be reserved over the phone.
http://www.oregonstateparks.org/index.cfm?do=v.page&id=28
Mendocino, CA
Stay: Stanford Inn by the Sea (from $236, breakfast included; dogs $45 onetime fee; stanfordinn.com) in Mendocino has been pet-friendly since Jeff Stanford and his wife, Joan, bought it in the 1980s. A plate of cookies forhumans and a homemade sweet-potato treat are just a few of the amenities. Dogs are welcome everywhere including the lobby, just outside the hotel's Ravens' Restaurant. You can eat breakfast with your well mannered dog. The food is delicious, organic and vegetarian (with many vegan options).
MacCallum House
Play: Many local parks, restaurants, and other businesses welcome dogs, too. Rent a canoe or kayak from Catch a Canoe & Bicycles, Too ($40/day; catchacanoe.com) and explore the Big River estuary.
Rent a limo from MacCallum House and visit Anderson Valley's Navarro's and Toulouse dog friendly wineries for wine tasting and treats galore.
Rutherford, CA
Stay:Rancho Caymus Inn in St. Helena (Rutherford) is minutes from Beaulieu Vineyard and close to Robert Mondavi Winery. This romantic hotel is within close proximity to the Franciscan Oakville Estate and Silver Oak Napa Valley Winery. Make yourself at home in one of the 26 individually decorated guestrooms, featuring refrigerators and flat-screen televisions (from $199).
http://ranchocaymus.com/
Carmel-by-the-Sea, CA has been voted one of the dog-friendliest cities in the United States. This is pooch paradise.
Stay: Hofsas House
Play: Centrally located Carmel City Beach is the place where all the pooches play. Scenic Rd. from Ocean Ave. to Martin Way; ci.carmel.ca.us
Shop & eat: Your pooch will never want to leave Diggidy Dog (Ocean Ave. and Mission St.; 831/625-1585). The Carmel Plaza shopping center has a dogs-only place to get a cool drink of H20, the Fountain of Woof (carmelplaza.com). For dog-friendly dining, check out the Forge in the Forest (forgeintheforest.com).
Monterey, CA
Stay: Mariposa Suites
Play: The beaches (most of them) are very pet friendly. There is also hiking along the coast.
Pacific Grove Coastal Hiking Trail
Shop and Eat: Across the street from the Mariposa is the very pet friendly Del Monte Shopping center. Most shops allow dogs including Macy's, Petco, and others. Not Whole Foods but there are pet friendly dining options, and also at Fisherman's Wharf (Abalonetti's patio) downtown.
Cambria, CA
Play: Visit the dog park or walk along the bluffs.
Stay: Cambria Pines Lodge, From $189; dogs $15/night; Moonstone Hotel Properties, 152 Rooms Total
2905 Burton Drive
Cambria, CA 93428
Reservations: (800) 966-6490
Eat: Robin's Restaurant garden patio offers food that pleases everybody. Unique starters such as Singapore chicken sate, fresh inviting straight from the garden salads and curried chicken and other sandwiches are what's for lunch. For dinner, lamb curry, Tail Lobster Enchiladas, Malaysian chicken and Moroccan duck breast entrees, plus delectable desserts (hot fudge sundaes with coffee ice cream and pistachio nuts) , Robin's seasonal menus are prepared from scratch.
Morro Bay, CA
http://celiasue.com/2013/05/03/mamas-day-weekend-in-slo/
Play: Pooches all aboard on a Tiki Boat tour of the Morro Bay Harbor on the Lost Isles Cruise.  View the wildlife in their natural habitat, and sea otters, seals, sea lions, and a wide variety of birds in Morro Bay's beautiful estuary. The dogs will love the sounds of the sea life.  www.baycruisers.com
Eat: Luna Red. Their patio is filled with guests and their four legged friends. And the food and wine is to drool for. Organic, sustainable fresh seafood and salads.   Crab lasagne, wild boar spare ribs and a variety of vegetarian fare.
http://www.lunaredslo.com/storage/Dinner%20Menu%20March%202013.pdf
Enjoy a great meal of freshly caught fish, smoked oysters, calamari, fish and chips and more. at Tognazzini's Dockside Restaurant. Tognazzini's is also home to three beautiful and friendly white Labs.
www.bonniemarietta.com/Dockside-Restaurant.htm
Los Angeles, CA
Stay:At an iconic hotel, Hotel Normandie
Brentwood Hotel Luxe
Play: Runyon Canyon, a 168-acre park in the Hollywood Hills, Laurel Canyon Park and Griffith Park, are just a few options. laparks.org.
Huntington Beach, CA
Stay: Hilton Waterfront
Play: Every September Surf City holds its Surf Dog Contest. surfcitysurfdog.com.
Eat: Park Bench Cafe
Lake Tahoe, CA
Stay: Three Peaks Resort in South Lake, All 62 rooms are pet friendly. dogs are allowed in the lobby and in the swimming pool area.There is a private beach nearby where guests can go with their dogs on leash.Pet fee is $20   
http://celiasue.com/2014/01/03/hounds-at-heavenly/
While in the area, you might also visit dog friendly Virginia City. Many of the shops allowed Cici inside, and had water bowls out on the wooden boardwalk. You might even see/hear a ghost or two in this haunted town. Boo.
San Diego, CA
Stay: Pets are welcome at the Hotel Solamar with no restriction on types or size. Pet owners will be asked to fill out a waiver form accepting responsibility for any damage or cleaning charges that may occur while at the Hotel.
http://www.hotelsolamar.com/san-diego/pet-friendly/index.html
HOTEL SOLAMAR
(877) 230-0300
Hotel:
(619) 819-9500
Play:  "Dog Beach" in Ocean Beach
Kanab, Utah
Stay:  XbarH Lodge
435-648-2750
http://celiasue.com/2012/06/08/utah-pet-friendly/
Visit/Volunteer:
http://www.bestfriends.org/atthesanctuary/angelcanyon/visitorfaq.cfm