Analytics is the means of turning raw data into useful insights, be it a look into past performance (descriptive analytics) or using data to predict the probability of future events based on history (predictive analytics).
Analytics allows organisations to collect data from different sources, organize it, and leverage insights to drive business. Today, many organizations realize that analytics can provide an important competitive advantage. Organisations are moving forward to evolve their analytics strategies beyond spreadsheets, data silos and dashboards; many seek to build self-service capabilities to democratize data.
As you embark on this journey it is important to take an honest look at your organisation, it's capabilities and establish a realistic roadmap to achieve your strategic vision.  As a leader in your organisation, you should ask yourself if your organization is in the early stages of the analytics journey or if it is actively using analytics in all aspects of the organisational strategy. Perhaps the organisation falls somewhere in between?
It is critical for organisations to have a well thought out analytics vision that aligns with their corporate strategy. Projects based off a defined strategic vision tend to be more successful than projects without a strategy. Having an analytics strategy can help address any potential shortcomings and allows organisations to pre-empt any risks prior to setup, execution, and ongoing implementation of an analytics platform.
The prospect of articulating an analytics strategy can seem daunting and often confusing but it doesn't need to be so. Our three-step approach helps organisation of all sizes and in varying stages of analytics maturity elevate their capability to the next level.
Assess Current State
Create a Vision
Build a Roadmap & Strategy
Step 1 | Assess Current State
Prior to starting one's analytics journey it is important to understand where one stands on the maturity scale. Knowing what's holding you back can help propel your organisational analytics to the next level. Despite best efforts, many leaders lack clarity on the current state of analytics in their organizations. Oftentimes there is a perception that the organization is doing just fine, when in reality they are falling behind their peers. Having industry leading experts review your current state will often help address the gap between perception and reality, bringing to light opportunities and actionable steps to accelerate your analytics journey and increase your competitive advantage.
Aware
Aware of analytics, but little to no infrastructure and weakly defined analytics strategy.
Adopting
Adopting analytics, building capability, and articulating an analytics strategy in silos.
Expanding
Expanding ad hoc analytical capabilities beyond silos and into mainstream business functions.
Industrializing
Industrializing

analytics to aggregate and combine data from broad sources into meaningful content and new ideas.
Transforming
Transforming

analytics to streamline decision making across all business functions.
Step 2 | Create a Vision
While understanding your current organisational analytics maturity is important, it's just as critical having an understanding of what your analytics target state ought to look like. Understanding the four pillars (Data, People, Process & Technology) of a successful analytics strategy enables organisations to ask the right questions and develop a vision that aligns with their corporate strategy.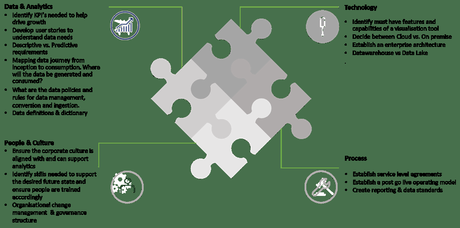 Figure: Pillars of Analytics
Leveraging the skills of a seasoned consulting firm allows you to marry their expertise and industry knowledge along with the knowledge of your inhouse experts to articulate a desired vision.
Step 3 | Build a Roadmap & Strategy
Understanding where your organisation is heading helps better define the roadmap needed to achieve those goals. The idea behind developing a roadmap is to balance high priority needs with short term tactical wins to generate buy in. While a roadmap can help articulate the timelines of the analytics journey, a strategy document is more holistic in nature. The logic behind a strategy document is that it will be a point of reference for the whole organization and will address the gaps identified across the four pillars of analytics. A good strategy document ought to go into details about the value analytics will bring to the organization, what problems it will solve, and how new processes will support the existing ones. The strategy document will also go into details about technology options, architecture design, required staff and budget. Lastly, the document will also provide recommendations around operating models and governance team.
Regardless of where you are in your analytics journey, our panel of experts can help guide you and elevate your organisation to the next level.
By Karan Bhardwaj.
The Litcom Approach
We work with organizations of all sizes to help turn a mass of data, existing in many different forms, into valuable information that allows you to make the best decisions possible. For more information please contact us: [email protected] .