Golf for Beginners wishes all of our readers a Very, Merry Christmas and Happy New Year. In the spirit of the season, Stacy Solomon has created this poem, "Does Santa Claus Play Golf?" for your enjoyment.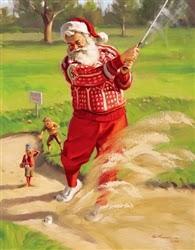 A man and his sleigh ride quietly in the night,
Hoping toys are delivered before first light.
Why is it so important to finish his work tonight?
Because Santa Claus is catching an early flight.
An untold story is that Kris Kringle plays an outdoor sport,
Dusts off his clubs, heads for a resort.
Off to warm destination leaving family behind,
For a week of rest, rejuvenation and feet reclined.
He packs his sunglasses, aloha shirts and flip flops,
Off go the red hat, red outfit and props.
Santa is now ready to fly in disguise,
He kisses his wife and says his goodbyes.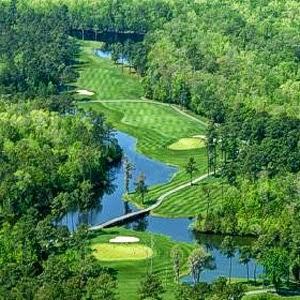 Next stop warm weather, three courses to play,
He hopes that his ho-ho-ho won't go away.
The fairways are tight, the greens undulating and small,
So Santa has practiced his best Villegas Spiderman crawl.
First off the tee and with a big swing,
His ball finds the fairway, his drive is amazing!
His GPS, received as gift from his wife,
Gets Santa get out of trouble-this is indeed the good life.
Claus plays his first round making par,
He thinks he could be the next Myrtle Beach Big Break Star!
He heads to 19th hole with scorecard signed,
And proudly asks bartender to pour - he finished his grind.
Thinking forward to two more days of play,
Santa is happily sipping away.
Planning his strategy for his next two rounds,
Dreaming of sunshine and background surf sounds.
But what should awaken Santa from his mirth?
His alarm clock is ringing, he's brought back to earth.
Gone is the sun, sand, vacation and play,
It was just a dream, a moment away.
It's back to the drudge and starting work for next year,
Perhaps someone will give Santa a gift of good cheer.
Is it too much to ask for, a vacation, golf travel,
For the merry man who gifts toys for kids to unravel?
photo credit: TheSpiritofSanta.com