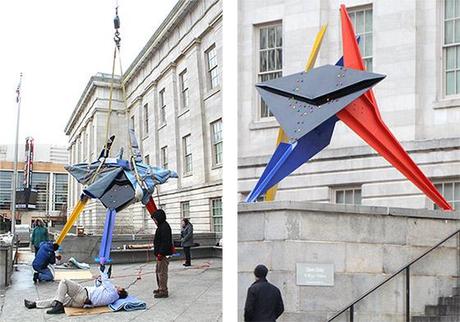 Left: Members of American Art's conservation team make preparations to install Alexander Calder's sculpture Tableau Noir. Right: Final installation of the sculpture.
This one does because it's going outside! In order to protect against the outdoor elements, Hugh Shockey, Objects Conservator for the Lunder Conservation Center here at American Art, added "shoes" or special Tyvar® pieces to the undersides of each foot of the large painted steel stabile sculpture by Alexander Calder which was installed Saturday morning. If you visit our museum within the next year, you will be greeted on the left side of the 8th and G-street entrance by Tableau Noir (The Blackboard), done in 1970. It is on loan to the Smithsonian American Art Museum from a private collection.
To see more photographs from Saturday morning, visit the Lunder Conservation Center's Facebook page or the Museum's Flickr set.