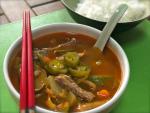 Hello my foodie friends! I'm sorry for my short disappearance, I have had a busy week, but I'm back to share a delicious and spicy Korean hotpot! Sometimes I have the feeling that this look like a spicy food blog, but I can't help it, I love it! I think about 70% of everything I cook is spicy or at least very fragrant. Is not that we don't enjoy a delicate Mediterranean dish at home as well, but there is an undeniable trend here…
Doenjang is the Korean miso, made of fermented soybean paste and Jjigae basically means stew.  I adapted today's dish from this recipe in Beyond Kimchee site, a great blog to learn or initiate into Korean food. The fermented soybean paste is not hot, but very salty and strong-flavoured and it gives the stews and soups a very particular flavor.
Let's cook our Doenjang Jjigae?
Servings: 2 as a main course
Preparation time: 15 minutes
Cooking time: 20 minutes
Ingredients
1 liter beef stock
200 g beef, cut into thin strips
1 teaspoonful of soybean paste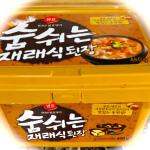 1 teaspoonful of chilli paste (if you don't have Korean chilli paste, it could be replaced by chilli powder, Chinese chilli bean paste, Harissa or Sambal Oelek sauces; I know they are not exactly equivalents but I reckon they'd do the trick)
1 carrot, cut into strips
1 zucchini, diced
1 jar of Shiitake mushrooms (or fresh if available)
4 tablespoonful of Kimchee, roughly chopped (optional)
1 garlic clove, pressed
Pickled Jalapeño chillies to garnish (or fresh if preferred)
Steamed Jasmine rice to serve
Preparation
In a cooking pot, bring the stock to a boil and incorporate the beef, lower the heat and let it simmer. In the meantime, mix the soybean and the chilli pastes with a dash of stock until they have completely dissolved and pour into the soup.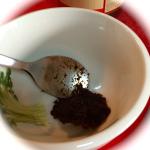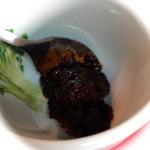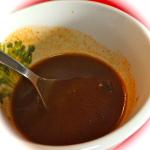 To finish add the vegetables, mushrooms, kimchee and garlic (and the fresh Jalapeño is using), stir and simmer for around 20 minutes until the veggies have soften.
Serve very hot with some pickled Jalapeños slices on top, Jasmine rice and enjoy!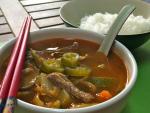 If you liked this recipe, check out this Spicy Beef Soup from the Korean series.
Filed under: Korean Tagged: beef soup, chili paste, clean eating, healthy food, Jasmine rice, kimchee, quick and easy, Shiitake mushrooms, soybean paste, spicy food, whole food