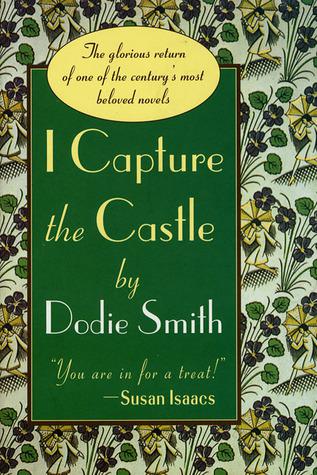 Dodie Smith, author of 101 Dalmatians, wrote I Capture the Castle shortly after the end of World War II. So we're talking post-war England, folks. It's poor, it's battered, but tea time is still regular, and young ladies are still looking for love.
In a run down castle, the Mortmain clan live on no income, with pride too much to beg, yet expectant of somehow getting by on the good fortune of others. Seventeen year old Cassandra tells their story through her journal, which she uses to hone her writing skills. You'll read it, and like it, and think Dodie Smith is a bit of a genius with character development. You'll also think, if you have any taste in matters of cover design, that the graphics person at Little Brown who did the old cover art had a bit of genius as well.
Cassandra Mortmain is one of literature's most endearing figures. She's hilarious, sincere, ribald, and probably blond. I picture her as a young Katie Clarke, from Light in the Piazza, and she can probably belt it out like that too. All doe-eyed and foxy.
The dad is like an old British version of William H. Macy from Shameless. Rose is Rose Byrne from Bridesmaids and the Fox-Cottons are walking up the road to Downton Abbey as we speak.
What I really love about this book, and others like it—there are no vampires…