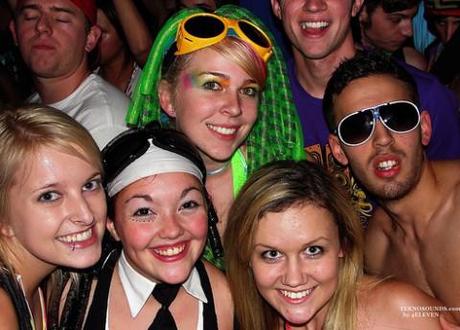 Young people raving, Megabuzz 2010, Austin, Texas. Photo credit: 4Eleven Images http://www.flickr.com/photos/4elevenpix/5236746601/
The reportedly drug-related deaths of two men in their early 20s at all-night dance raves in north London this weekend has sparked fears that "rogue ecstasy" is doing the rounds in London's clubland and has re-opened the drugs policy debate. Both deaths have been linked to methylenedioxymethamphetamine (MDMA), the active ingredient in Ecstasy tablets. Increasingly vocal drugs specialists are questioning the government's current drugs policy, and are calling for a system more akin to the Dutch model, which sees users able to take their drugs to hospital labs for safety testing.
Det. Insp. Colette Smyth said: "If you have taken drugs during the weekend's events at (venue) Alexandra Palace, and are now feeling unwell, I would strongly urge you to attend your nearest hospital as soon as possible."
Stronger, meaner MDMA is stalking clubland. At The Daily Telegraph, Andrew M Brown warned that the Ecstasy scene is changing fast and becoming increasingly dangerous for users: "In the past 12 months … stronger E has returned. Traffickers, perhaps having discovered new sources of the precursor chemical, are making tablets with high levels of MDMA again. This variant contains 100 to 200 milligrams of MDMA. Ecstasy this powerful hasn't been available since the heyday of rave culture, between about 1990 and 2002." Brown warned that users weaned on the weaker, cheaper Es of the last decade are at risk: "The danger comes when someone who is used to taking five in one go comes across one of the stronger tablets without realising. He or she may swallow several pills, and feel very ill indeed."
Half a million people take it every year; 13 died in 2009, or one in 38,000. (Those are deaths where Ecstasy was the sole drug on the death certificate).
Dutch-style knowledge-based system could save lives. "Clubbers should be able to test their ecstasy," insisted ex-Chair of the Advisory Council on Misuse of Drugs David Nutt at The Guardian's Comment is free. "We need to abandon the current government approach that relies on fear of harms underpinned by ignorance of what drugs users are taking as the prime approach," urged Nutt, who said current drugs policy has "failed, and will continue to do so, for young people are relatively uninterested in possible threats to health." Nutt called for a "knowledge-based approach" and backed a system along the lines of the Dutch Drugs Information and Monitoring System (DIMS), a nationwide network of hospital-based labs that will analyze substances with no questions asked. Nutt argued that such a system would help the authorities better monitor "trends in purity" and  to quickly identify (potentially harmful) "new entrants" into the illegal drugs market.
Politicians need to stop avoiding the issue. Like Nutt, Brown called for the UK to introduce a DIMS-like system: "This seems a civilised idea, and yet we have nothing like it in Britain. Measures such as this attract instant condemnation because they appear to condone drug use. But wouldn't you rather your children had access to a testing service? Better that than frazzling their brains with an unknown mixture of ghastly chemicals." Brown called for politicians to stop worrying so much about "appearing 'soft' and losing votes" and to focus instead on saving children from "needless harm."