is a dark, unforgettable coming-of-age journey that recalls the very best of Richard Price, Denis Johnson and J.D. Salinger. It is the story of a young LA gang member named East, who is sent by his uncle along with some other teenage boys including East's hothead younger brother to kill a key witness hiding out in Wisconsin. The journey takes East out of a city he's never left and into an America that is entirely alien to him, ultimately forcing him to grapple with his place in the world and decide what kind of man he wants to become. Written in stark and unforgettable prose and featuring an array of surprising and memorable characters rendered with empathy and wit, Dodgers heralds the arrival of a major new voice in American fiction.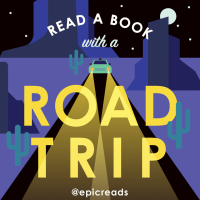 ***
[THE BOXES WAS ALL the boys knew; it was the only place]
***
(Oldcastle Books, 7 June 2016, first published 30 March 2016, 320 pages, ebook, A Year Of @EpicReads 2019, a book with a road trip, borrowed from @GlasgowLib via @OverDriveLibs)
***
***
Oh, boy did this book disappoint my sad little book lover's heart and suck big time! The book started off really well. I liked the premise and this is set-up really well in the first 100 pages or so. I liked the characters and how different they were. This offered an interesting contrast. I'm not usually a fan of sparse prose but this fits Dodgers really well. The dynamic of the diverse group of characters leads to unexpected tragedy. So what went wrong? A lot and fast. The book started to go to pieces during the plot twist when the group reach their destination. The latter third of the book just focuses on East and is set in Ohio. This is where it all fell apart. This chunk of the novel was mind-numbing and boring. It's as if the book reached its peak at the surprising twist and the author did not have a clue what to do after that. This would have been a 4-star read if the whole section set in Ohio with East had been cut out.