Well in honor of my start to a month long documentary post, I want to pick a documentary that is on something I have no clue about.  The wonderful thing about documentary films is that it gives you a glimpse into a world you aren't familiar with.  It opens your eyes to something more that is out, either a social issue, politics or life of a singular individual.  I want to know more and I want to see something I have never  heard of before.  It makes film watching exciting and when a documentary can present you a story that can only be imagined having been written by studio writers, it's a good feeling.  So today I wanted to talk, briefly I guess, about the 2010 documentary film Senna.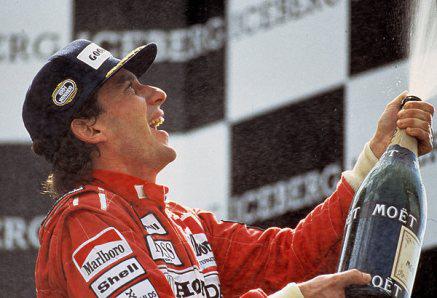 Senna's remarkable story, charting his physical and spiritual achievements on the track and off, his quest for perfection and the mythical status he has since attained, is the subject of SENNA, a documentary feature that spans the racing legend's years as an F1 driver. Far more than a film for F1 fans, SENNA unfolds a remarkable story in a remarkable manner, eschewing many standard documentary techniques in favor of a more cinematic approach that makes full use of astounding footage, much of which is drawn from F1 archives and previously unseen.  via official site
I didn't know who Ayrton Senna was before I started watching this documentary.  I wasn't a fan of Formula One racing or even familiar with racing in general.  I don't even like to drive all that much let alone want to watch a sport in which people drive.  So knowing that this documentary is about the life of a prolific racer, there has to be some merit as to why a director wants to turn their focus on one subject.  Being open minded about watching a documentary on the life of a famous racer, I couldn't have been more pleased with watching this.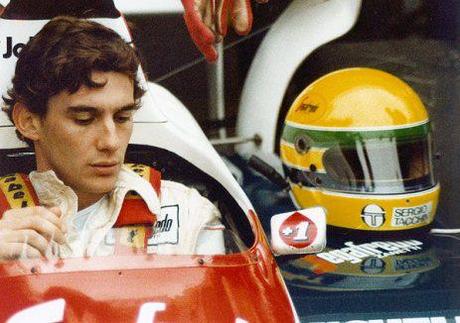 Senna is really such a beautiful story about a charismatic driver who lived and breathed on the thrill of racing.  Hailing from Brazil, Senna practically took the Formula One scene by storm and seemed so natural on the course that it seemed effortless to drive like he did.  He was a man of the people, giving what he won back to the community and also, like most successful athletes, a ladies man.  At times he is also a man who clashes with the racing world.  Taking too many risks that not only endanger his life, but those of the other drivers.  He is seen as brash and cocky, but that comes with being the best.  He seeks out the great things in life and cherishes his victories by giving back to country he loves.
The film is a chronicle to the achievements of a man who was both successful on and off the track.  He is engaging, charismatic and humble in everything he does.  It's no wonder that this documentary is effective in telling the story of a great man, through the use of archival footage and videos, but also not building him up to be this saint of a man.  He is really enigmatic with a life philosophy that seems so easy to understand, but is really a complicated and deep look on his life. Senna is one of the surprise documentaries I have seen, especially when I had no knowledge of this man before I watched.  It draws you in to the life of an amazing driver and an incredible human being.  It doesn't aim to showcase an agenda, but it just wants to show you the life of a man.
Advertisement