This will be a short post today, not because of the Super Bowl or anything, but mainly because the Puppy Bowl will be on TV.  I am kidding obviously…maybe.  Actually the reason for the short post today is because of the subject matter in today's selection.  Man with a Movie Camera is documentary that has no specific narrative, no objective to tell a story, is a silent film made in 1929 and is the one most technically diverse documentaries out there.  All the technical camerawork that we see in movies like fast/slow motion, jump cuts, freeze frames, dutch angles and even tracking shots all owe some bit of reverence to this surrealist documentary made by Dziga Vertov.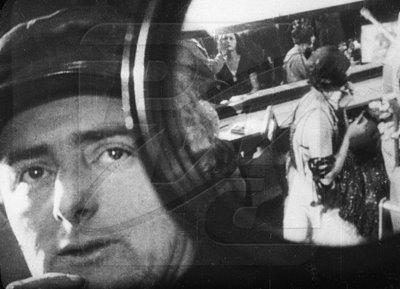 Man with a Movie Camera is an exercise in skill, showing how the film medium and can transcend the norms of standard filmmaking.  It is a documentary that is able to push the use of camera work to create beautiful art and capture real life in an artistic way.  The documentary doesn't have a "straight-forward" narrative, rather Vertov follows the lives of people in Odessa, from morning to night.  It shows the citizens taking part in the everyday development of society, either through work or interactions with one another.  It is a story about development of modern society and the people that makes up the whole in life, but done in the most artful way possible.
While I mentioned that the film includes a lot of technical camera that we are familiar with today, it didn't outright invent them.  The film is most known for including such dynamic camera techniques and making it work within the contexts of the documentary.  It is amazing to see such techniques utilized in this movie almost 75 years ago.  I mean I am familiar with the techniques in a lot of modern films, but it is almost surreal watching them used in a documentary made in 1929.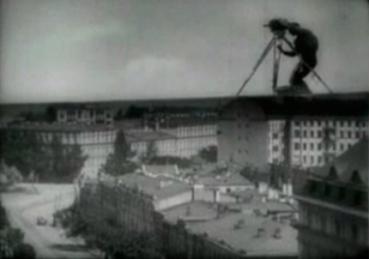 If you are wanting to check out this film, by all means please see it.  Even for a documentary with some social context, it's fascinating to watch this silent film using all the familiar camera techniques we see in modern film.  It's just an absolute marvel to see the development of filmmaking at its early stages and being enraptured with the visuals.  There are several different versions of the film out there, while the documentary visuals is the same, it is the different soundtracks used to temp the film with.  So some cuts are better than the other, just depends on what you want to listen to while viewing the film.  Definitely an amazing experience and one of the most unique documentaries out there.  It managed to take the normal drums of urban life and create something visually unique with inventive camera work.