I realize that this isn't probably the best documentary choose on such a day of love and affection.  But if you have ever seen this documentary, then you know that it is profoundly important and even proper for today's post.  Being a guy, there are only a few instances when you are able to cry outright.  Funerals, your dog dying, and apparently sports films are instances when it's cool to cry as a guy.  I have watched a lot of movies in my life and I will honestly tell you, this is one of 5 movies that will literally bring me to tears when watching it.
Documentaries are a chronicling of real life.  When you videotape the birth and life of a child, you engage in a form of documentary.  It's a way to capture the essence of life, but also reveal how fragile it can be.  Documentaries also uncover the truth of life, either by piecing together memories or watching it unfold from the people involved with the subject.  While it can be used to capture and commemorate a life, it can also capture tragedy.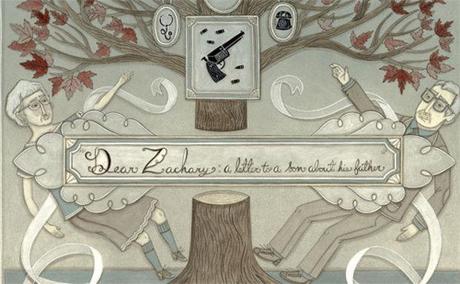 I don't want to talk a lot about this film.  I truly believe that if you have never seen this documentary, you must go and watch it now.  The story of Dear Zachary is one that is truly heartbreaking, joyous, and painful.  It will make you cry because of what you are watching, not because it's about the life of a guy, Andrew Bagby, but it's about creating a keepsake or proof his existence for a son that he will never see.
A little bit of back story for Dear Zachary:
In 2001, Andrew Bagby, a medical resident, is murdered not long after breaking up with his girlfriend. Soon after, when she announces she's pregnant, one of Andrew's many close friends, Kurt Kuenne, begins this film, a gift to the child. Friends, relatives, and colleagues say warm and loving things about Andrew, home movies confirm his exuberance. Andrew's parents, Kathleen and David, move to Labrador where the ex-girlfriend has gone. They await an arrest and trial of the murderer. They negotiate with the ex-girlfriend to visit their grandchild, Zachary, and they seek custody. Is there any justice; is Zachery a sweet and innocent consolation for the loss of their son?  (imdb)
Now that you realize what it is about, I won't go any further in the documentary.  To say that this is a well done documentary is an understatement.  Kurt Kuenne sets out to make something unique and beautiful, but what unfolds turns from a memoir of one life, to a memorial of two lives.  Absolutely heart wrenching and poignant.
Advertisement