Since I started Techn0Treats, I've had opportunity to showcase several Indian startups. In the previous year especially, I came across many new and innovative tech products by Indians. It is delightful to see so many new apps and online services rising from India. Sadly, many startups are facing a tough time. Whether it's because of lack of awareness about them, lack of funds or infrastructure or the usual hurdles facing every business in India, most tech. startups are facing a tough time. Many are going through cost cutting. And there are rumours of tougher times ahead.
But some startups have emerged as success and are comepetently facing the rough weather and generating good revenues. One of the startups that I featured on on TechnoTreats is Doctor Insta. It is an online medical service that provides medical consultation through phone and video chats. For more information, read my review of Doctor Insta or check out my post about Doctor Insta apps.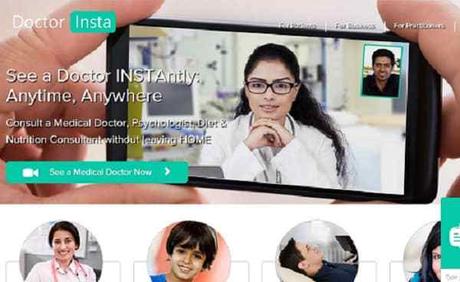 Well, the good news is that Doctor Insta is showing clear signs of success and progress. They have been able to show a triple digit growth rate. And they have recently signed up with 5 large companies to cover the healthcare needs of employees of these companies. These include American Express, PayU, Tech Mahindra, VMart and Punj Lloyd. Moreover, Doctor Insta plans to invest heavily in marketing and promotional activities to spread the awareness about their anytime, anywhere video medical consultation services. They have also launched a CEHAT (Corporate Endeavor for Health and Telemedicine) program on the lines of Government's Rs 1 Lakh Crore SEHAT (Social Endeavor for Health & Telemedicine) program. This will help Doctor Insta to provide "On Demand" Health cover to about 2 Billion People in India and also in other developing countries.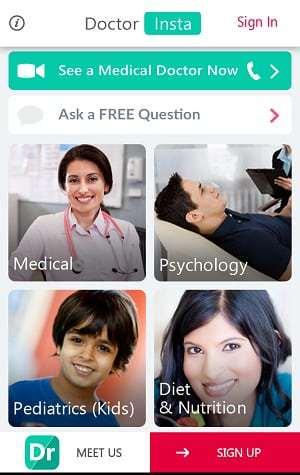 To help in the future plans, Doctor Insta is strengthening its team. Nitin Dua recently joined Doctor Insta as Chief Operating Officer from Silicon Valley, USA. He brings with him a wealth of experience and knowledge. Doctor Insta has also on-boarded Sidharth Mehta as Director, Operations from Paris, France.
Doctor Insta is aiming at providing about 2500+ medical consultations per day by the end of the year. By the end of 2016, Doctor Insta hopes to have over 250 doctors on its panel and to expand its reach to over 5 million consumers through Doctor Insta apps.
Doctor Insta is primarily an online service. But they also plan to take their services offline by opening 500+ emergency Medical consultancy Kiosks across the 8 Metros.
Doctor Insta provides medical consultation in various fields and saves time and hassle as the users can talk to a doctor face to face while sitting at their home. This makes medical consultation more convenient and time saving. Check out Docot Insta at: http://www.doctorinsta.com/