Have your checked your
Twitter Karma
?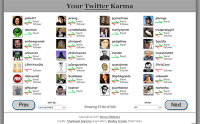 Twitter Karma
is one way to check out who is following you on Twitter and who is NOT following you on Twitter. It is a completely FREE service and you can check as often as you would like. I try to check weekly or bi-weekly. Especially in the beginning - if you follow too many you cannot follow anymore; so why waste following someone if they are not conversing or following you back?
Reasons
to
follow someone:
They are in your niche
They respond if you re-tweet or converse with them
They are following you
You really know them
They post great tweets
Reasons
not
to follow someone:
They never converse with you
They have no activity in weeks or months
They are not in your niche or interesting to you
They spam you
They only tweet about themselves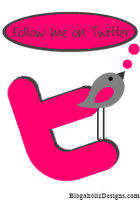 What are your reasons FOR following someone on Twitter?