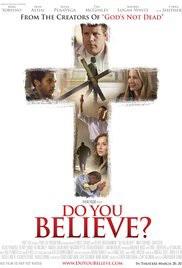 Director: Jon Gunn
Writer: Chuck Konzelman, Cary Solomon (Screenplay)
Starring: Miro Sorvino, Sean Astin, Alexa PenaVega, Cybill Shepherd, Lee Majors, Delroy Lindo
Plot: When a pastor is shaken by the visible faith of a street-corner preacher, he is reminded that true belief always requires action. His response ignites a journey that impacts everyone it touches in ways that only God could orchestrate.
There may be spoilers the rest of the review
Verdict: Emotional Rollercoaster
Story: Do You Believe? Starts as Pastor Matthew (McGinley) explains how 12 people from different lives will all cross paths under a cross and learn about their faith. These people include Dr Farell (Astin), Joe (Bosworth), Elena (Dominguez), Malachi (Lindo), JD (Majors), Lacey (PenaVega), Lily (Moss), Samantha (Sorvino), Teri (Shepherd), Pretty Boy (Shwayze), Carlos (Soria) and Bobby (Matthews) and others who are all facing their own problems and have different opinions on how God has or could help them which will all lead to one moment where their faiths will be tested.
Thoughts on Do You Believe?
Characters – The characters in the film all weave into each other's lives, we have a large list of characters that we could go through but the truth is each one does feel like generic characters including a desperate mother, a dying man's final wish, a lost soul, a broken soldier, a man questioning why his faith is an error, a man on the wrong path and a family trying to move on. These all work for the emotional impact in the story.
Performance – Instead of going through the all-star cast I think the best way to look at this film is seeing how well they all blend into becoming believable people be it an Oscar winner or a relatively unknown actor, they all shine.
Story – The story may well focus slightly too much on everything coming down to faith of the Christian following even with a Doctor through the film that doesn't want to believe. We have a large group of lost souls that find direction as the story goes on as we see the hope the characters gather from the events of the story which can tug at the heart string in places and see the how difficult life can be until one moment you can believe in something.
Settings – The film takes place in one city that shows us the different worlds the characters come from but will always cross the same road at times, sometimes for nothing other times for a big reason.
Scene of the Movie – The meeting of all the characters.
That Moment That Annoyed Me – While I understand this is a Christian based movie, it doesn't need to be thrown towards us on every angle of the story for the same impact.
Final Thoughts – This is a film with a big heart and will try to play with your emotions even if it does throw faith into your face at every single angle of the film. the characters do feel like people you could see in real life who have struggled and gone in different direction of their lives too.
Overall: Emotional movie about your faith.
Rating

Advertisements