Do you want to go to Vietnam?
If you do, get your passport (and visa if required) ready and fly in to Tan Son Nhat International Airport in Saigon or to Noi Bai International Airport in Hanoi. If going by land, you can take the bus from Cambodia, Laos, or China. Vietnam is the first country I have been to that does not require an arrival/departure card to be filled out.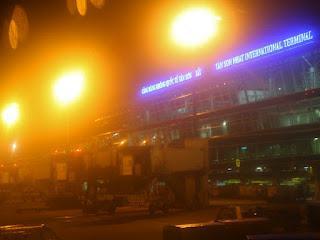 Tan Son Nhat International Airport as seen from the tarmac

Do you need to adjust your watch or just toss it out the window?
Vietnam's clocks, just like its neighbor,
Cambodia
, are set at GMT +7 in the standard time zone. If time is no object, then by all means, toss your watch out the window.
Do you need a raincoat or a swimsuit or a pair of snow boots?
It depends which part of Vietnam you plan to visit. The northern part experiences all four seasons: spring, summer, autumn, and winter, but leave the snow boots at home. Unless you go up the mountains where, I hear, it occasionally snows. The south of Vietnam has two seasons: wet (May to October) and dry (November to April). The average temperature in the south ranges from 25°C to 35°C. It receives the highest rainfall from June to August.

Do you want to be a millionaire?
You can be! In Vietnam, your US$1 (or 42 Philippine pesos) can turn into 21,000 Vietnamese dong (VND). With just US$50, you can claim to be a millionaire in Vietnam! You can have your money exchanged at the airport or in the city. I suggest you get your dong from banks.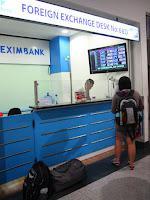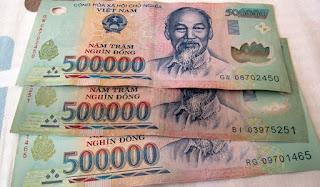 From an ordinary working class Filipino to a millionaire
Do you need a dictionary?
You might. English is not too universal after all. Based on my observation, not too many Vietnamese know how to speak English though there are those who can understand. I am guessing you have a better chance of finding somebody who can understand English in areas where tourists abound. If you find yourself scratching your head for ways to get the message across, make do with your creativity: play Charades, release your inner artist and draw, sing and dance, anything. And remember these phrases: cam on (thank you), hai vai (very fun), ngon vai (very delicious).
Do you feel more secure with a cellphone signal, full batteries, and knowing you can check your email anytime?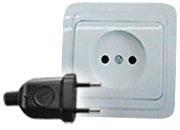 Type C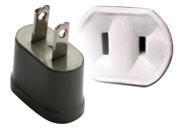 Type A
First, in order to check if your cellphone (or laptop or whatever gadget) is working, it must have power. If the batteries are down to 1%, time to plug it in. Vietnam uses types A and C plugs (photos from
electricaloutlet.org
) at 220V. Next, no signal? Forgot to set your roaming on? Buy a local simcard. It is cheaper than the roaming rates (well, the Philippine roaming rates). Local simcards and top-up/load cards can be bought from convenience stores or even from the streets. Bought a Viettel simcard for 100,000VND (200PHP or US$5) which already includes 50,000VND worth of airtime. Sending a text message to another Vietnam mobile number costs 250VND, and international text messages costs 2,500VND (5PHP). International calls cost 3,600VND (7PHP) per minute. Lastly, if you can't live without checking your facebook (die a little in Vietnam, facebook is banned there) or email, WiFi is almost everywhere, in your hostel, in cafes and restaurants, and in the mall.
Do you want to get around without having to walk for miles and miles?
From Tan Son Nhat International Airport, you can take the bus (operates from 7AM to 7PM) or taxi to the city center. Careful, there are many taxi drivers waiting to make some quick cash on naive tourists (one driver claimed to be from
Vinasun
company and was asking for 900,000VND, which is about 1,800PHP. That's highway robbery for a short 6-kilometer trip to District 1). Go for metered taxis. From the exit, turn left and look for a line of taxis where an airport personnel gives out a card with the taxi number and information printed on it. It costs about 140,000 VND from the airport to Pham Ngu Lao street in District 1 in Saigon. Going around the city you can take a taxi, bus, xe om (motorcycle taxi), or a
cyclo
(for short distances). For interprovince journeys, you can either take the bus or the train (for certain destinations).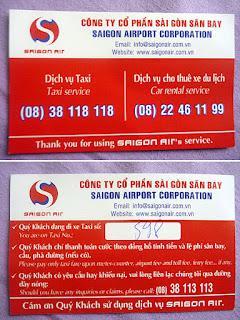 Card with the taxi number and information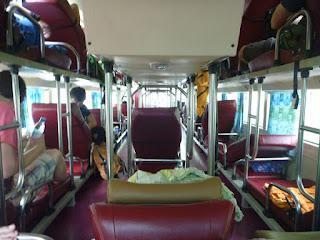 Inside the sleeper bus bound for Mui Ne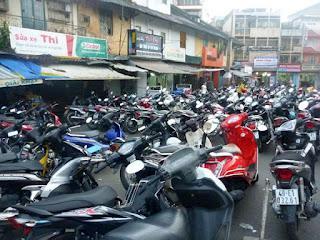 A motorcycle parking area in Da Lat