The title's question is an important one. According to New Age-ish teachers like Henry Blackaby in his
Experiencing God
study,
God speaks through circumstances to reveal himself, his purposes and his ways.
What Blackaby means in using the word circumstances, is Providence. J. Vernon McGee said providence is "the means by which God directs all things — both animate and inanimate, seen and unseen, good and evil — toward a worthy purpose, which means His will must finally prevail. Or as the psalmist said, "his kingdom ruleth over all" (Psalm 103:19)." I. E. Circumstances.
Blackaby teaches people how to interpret those circumstances through which he claims God is speaking. So let's look at an example of how well or badly this kind of personal interpretation might go.
But Jonah rose to flee to Tarshish from the presence of the LORD. He went down to Joppa and found a ship going to Tarshish. So he paid the fare and went down into it, to go with them to Tarshish, away from the presence of the LORD
. (Jonah 1:3)
Let's put that circumstance-interpreting to the test. In his sermon on Jonah 1:1-3 titled
Sin's Stupidity!
, Ian Hamilton said,
When Jonah arrived at Tarshish, he might have said, 'Oh! Wow! This is providential! There's a ship going to Tarshish, just what I'm looking for!' We are never the best judges in discerning the significance of God's providence. God's providence will never overrule His commandments. If you're ever in a quandary, obey the commandment and leave it to God to sort out the providence. You and I, at our best, are no infallible interpreters of providence. Obey the commandment, and leave God to work out the providence. The Lord Jesus Christ ultimately did that. When all the providences around His life seemed to shout out that He had been ultimately, irrevocably and finally abandoned and forsaken, He still prayed, 'My God, My God.' He was obedient unto death, even death on a cross.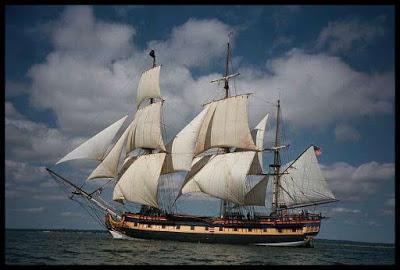 Look! A ship loaded and ready to go to the exact place I want to go!
It must be God's Providence! (Prata photo)
In today's parlance of interpreting circumstances as Blackaby advised, we might say something exactly like the hypothetical statements Hamilton said Jonah might have said. Leave the interpretations alone and stay with the more sure word. (2 Peter 1:19).
Greg Gilbert of 9Marks reviewed
Henry Blackaby's
Experiencing God
study. He related a similar example of a person interpreting circumstances and backward proofing it through scripture to confirm.
George Whitefield, the great preacher in the Great Awakening and Edwards's friend, admitted that even he had fallen into this kind of error. Prior to the birth of his only son, Whitefield announced that the boy would be a great preacher and that he would be great in the sight of the Lord. Four months after his birth, though, the child died. Whitefield recognized his mistake and wrote: "I misapplied several texts of Scripture. Upon these grounds, I made no scruple of declaring 'that I should have a son, and his name was to be John,'" (in Iain Murray's Jonathan Edwards, p.241-2). Whitefield had taken the angel's declaration to Zechariah as his own, and had thus fallen into error. Let that be a caution to us as Christians to always read the Bible in its context.  
No, we don't use the scriptures to confirm what we have first intuited as a circumstance for action. Mr Gilbert continues with a solid reminder about omens, providences and circumstances.
God's normal way of operating in His people's lives is to shape them by His Word, to transform their minds by His Holy Spirit, and to sanctify their reason so that they can consider and weigh alternatives and make wise decisions.
Key words, "wise decisions." Jonah had made a decision, nothing more, which happened to be in direct rebellion to God's clear word. No amount of personal circumstance-interporeting would ever trump what God hath said. Relying on omens and circumstances shifts the onus of the decision from the person making it to some kind of externals, such as to Providence or to God. His commands and His wisdom is in His word. Let obedience begin and end there.
For the foolishness of God is wiser than human wisdom, and the weakness of God is stronger than human strength
. (1 Corinthians 1:25).