What about the importance of skin care for me? The answer may be surprising for many. Most of the people think that skin care is the sole domain of women folk as they are the ones who are mostly obsessed with the idea of beautification. This is not true. Skin care for men is rather more essential than the women. This is because men are exposed to the sun and UV radiations more than the women do. The nature of duties and commitments compel the men to remain out in the sun for a prolonged period of time. Exposure to sun is one of the biggest factors that can damage the skin. The sun can make the skin dry and wrinkles appear quickly thus giving a more aged look.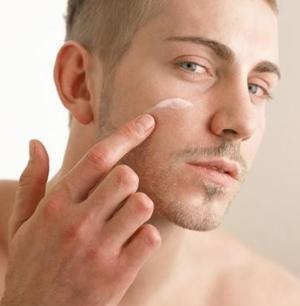 Men are more sturdy and hardy as compared to women and so is their skin. However an enhanced exposure of men during their outdoor work also has negative impact on skin. The skin, particularly that of face and hands, gets very dry and charred under the effect of sun, dust and wind. Even exposure to cold wind and blizzards also damages the skin considerably.
First step for men is to protect themselves from the sun. Wear hats, caps and umbrella while moving out. Loose and comfortable clothes are helpful in protecting the body from sun and heat. Apply sunscreen regularly and wear sunglasses for protection of eyes. Remember the skin around the eyes is one of the most sensitive areas in the body and gets affected very easily. This is the reason why most of the wrinkles appear around eyes at the outset.
Second, keep the skin clean. Over exposure of men to sun and dust makes the skin dirty and susceptible to bacteria attack and decay. Taking bath daily is a good habit and washing the face and hands regularly with a good quality soap or face-wash will keep the skin healthy and moist. Same is important for cleaning the hair and removing the unwanted hair. If you are keeping beard, it should also be properly cleaned and looked after.
Third important step is to give a regular treatment to skin. Though a large number of skin tonics and lotions are available in the market, it is better to use herbal medicines and lotions. Application of papaya fruit pulp on the face thrice a weak will be a beneficial exercise. Always keep your skin moist with moisturizing creams and lotions. Take plenty of water, about 10 glasses daily.