That is the question, isn't it?  When you are building a long term supply of food (more than 3 months' of food), you need to decide what kind of "store-er" you are.  Some people buy food for their long term storage never intending to use it, unless there is a huge national catastrophe.  Others rotate and use all the food they store.   I'm kind of in the middle.
I have some wheat, beans, and some other basics stored in long term packaging, and that food will store for 30 years or more.  Food packaged that way is a tad bit more expensive that food packaged in short term packaging (usually it's good for one year or less).  The stuff I have packaged for long term storage, I'm planning to leave it that way for a while.  I'm still working on building my basic supply, and I don't want to use that food unless I need to use it.  At least not yet…
My personal plan is to start using more of my long term storage once I have at least a one year supply.  I'm quite a way away from that, so it will be at least a few years before I can start rotating that.   To sum up, I'm not using most of my long term storage (anything that will stay fresh for 25+ years) at this time.  I am, however, trying out some of my long term storage, so I can learn to use it.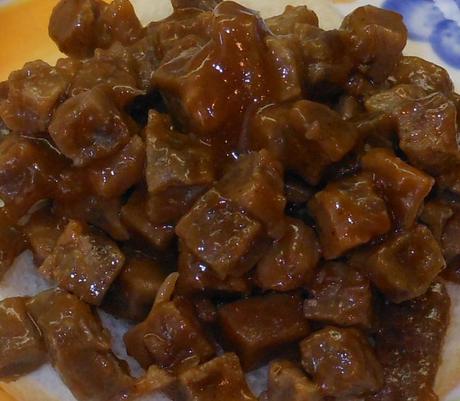 BBQ Beef Brisket made with my Emergency Essentials Freeze Dried Beef Brisket
Remember earlier this month when I reported on my March Food Storage efforts?  (See that post here.)  I bought 2 #10 cans of Freeze Dried Beef Brisket.  This is the same Beef Brisket that Emergency Essentials was kind enough to provide as the prize for my 2nd April giveaway. (Enter Here.)  I thought it would be a good idea to try out some of my freeze dried food, and what better item to try than my Beef Brisket?  For my first test, I thought it would be nice to make BBQ Beef Brisket.  That's pretty traditional, isn't it?
As someone who eats less meat than the average individual, I'd never had Beef Brisket before, so I enlisted my youngest son as a second taste tester.  He loves BBQ and has had all kinds of BBQ meats, including Beef Brisket.  He said it tastes like the Beef Brisket he's had from BBQ restaurants.  Considering a traditional beef brisket takes hours to cook, and mine was ready in about 5 minutes, I think that's great! 
Here's my photo step-by-step.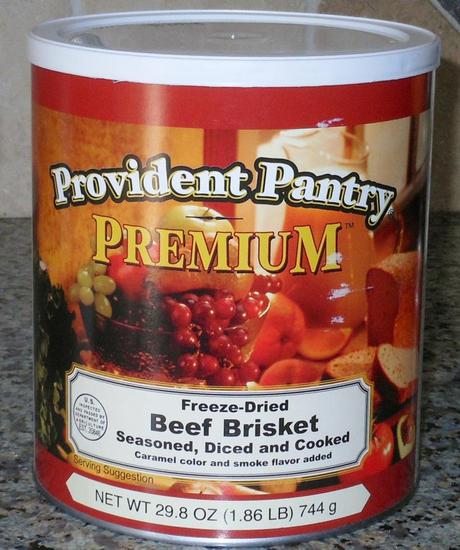 I started with a #10 can of Emergency Essentials Freeze Dried Beef Brisket.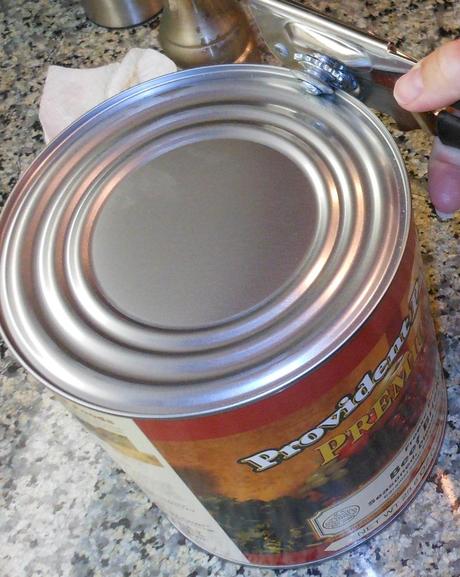 I opened the can with a traditional can opener.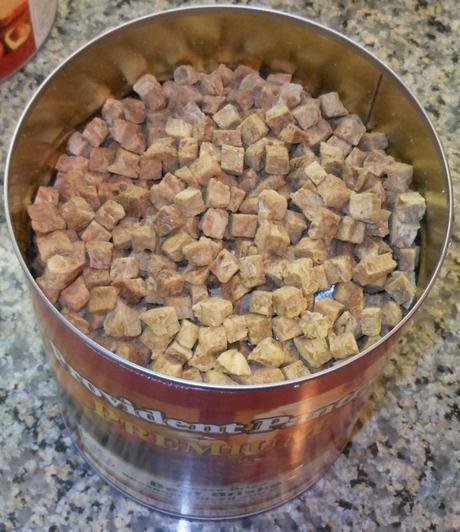 This is what the can looked like when opened. See the diced freeze dried brisket in there?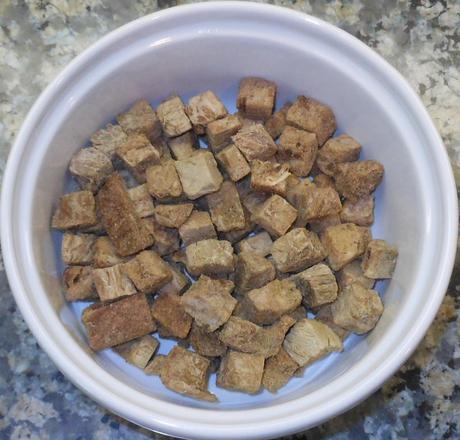 I put one-half cup of brisket into a small bowl.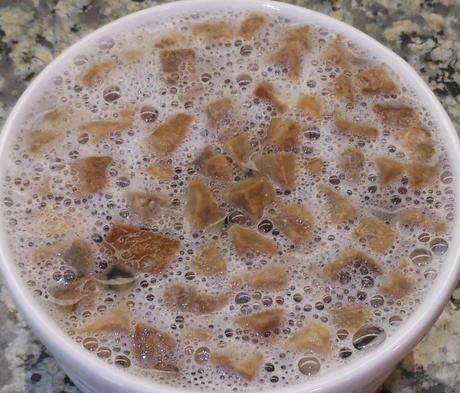 Then, as per the instructions on the can, I covered it with 1 cup of hot water.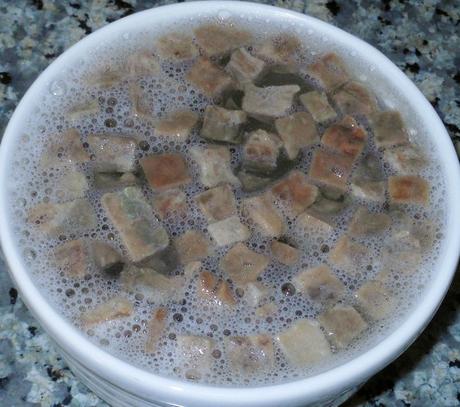 After 5 minutes, the beef was ready to use however I wanted!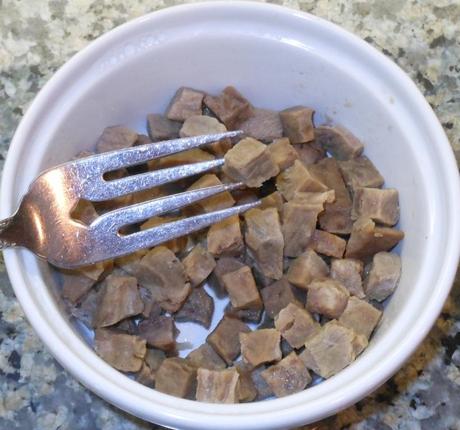 I drained the water and tasted the beef. It was fork tender and very good. It had some seasoning, but not so much that the meat was salty or overly seasoned. If anything, I thought it could have used a tiny bit more salt, but that's a good thing. The meat was seasoned enough to eat as is, but not so seasoned that I couldn't add any additional seasonings when using this in different recipes.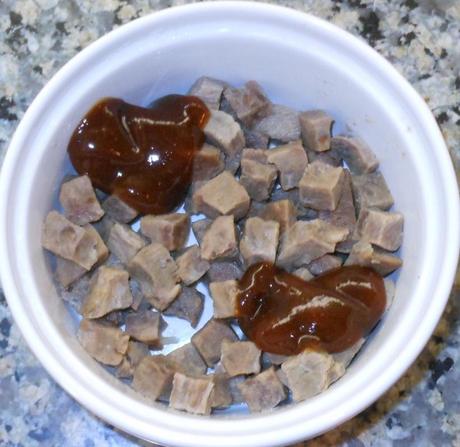 I added a tablespoon or two of my favorite barbeque sauce and stirred.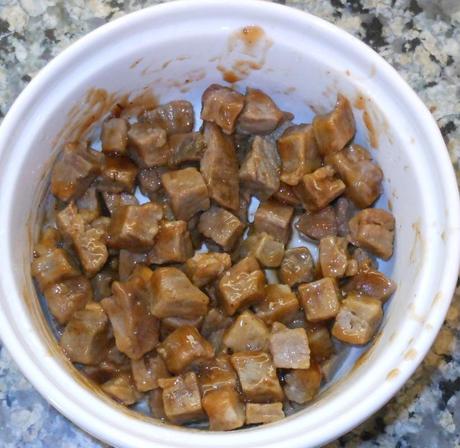 The meat was even better after adding the sauce!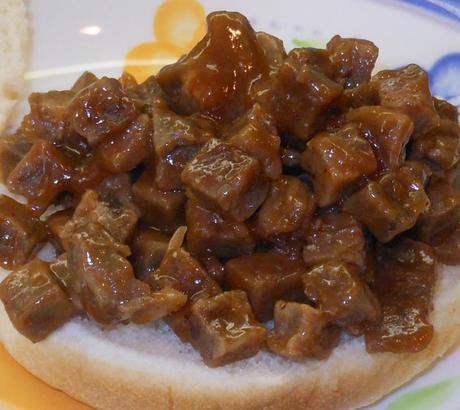 To make my super fancy BBQ Beef Brisket sandwich, I simply put the beef and BBQ sauce mixture on a bun.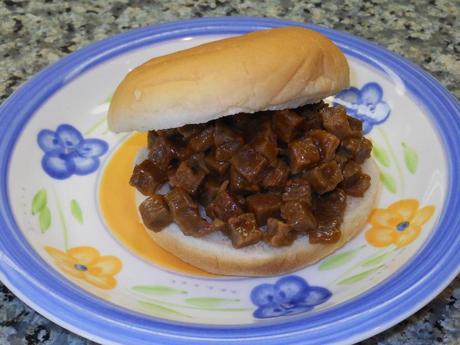 It was great!
This was so simple, easy, and good, I think I may have to buy some just to have on my shelves for crazy, busy nights when I have almost no time to put dinner on the table.  This was much faster than fast food, and it tasted a whole lot better!
Have you ever tried Freeze Dried food?  If you've ever eaten convenience foods (think dry soups, "helper" type boxed meals, NASA ice cream sandwiches, camping food, etc.), you probably have.  Think this might be helpful to have on your pantry shelves for your crazy busy nights?
What do you think about this? 
Could you eat a freeze dried BBQ beef brisket sandwich?