We have a forehead thermometer and I think it works pretty well. I did pay a pretty penny for it though. I think it was about $50.00. It was worth it to me. My kids never sit still for very long. The rectal thermometers are still known to be the most accurate, but when your child is sick... um.. it's not the easiest thing to accomplish. I was happy to see this Consumer Reports story in the Washington Post that actually lists the brand names of the thermometers that showed accuracy and affordability. Let me know how you take your child's temperature.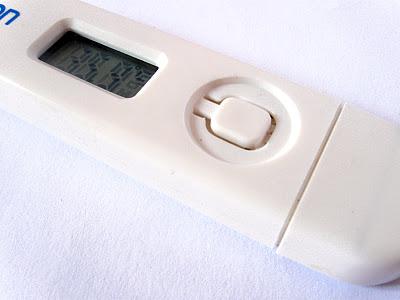 The Washington Post: With an eye to cold and flu season, Consumer Reports assessed 10 thermometers that are probably speedier than those you used when growing up. It tested two types on four adults without fevers, comparing each device's readout against the temperature measured by a medical thermometer. The results show that you can save a bundle if you skip a few features.
The top-rated digital stick thermometer, the CVS Flexible Tip Digital ($15), has a flexible tip, which most users preferred to the rigid type, and its readout took just eight seconds. The least expensive model, Wal-Mart's Reli-On Rigid 60 Second ($3), a CR Best Buy, was accurate and best at repeating the correct temp, though it has a small display and a longer readout time. Adults said it was comfortable despite a rigid tip; kids preferred flexible tips.
The top infrared models, Vicks V977 (forehead) ($37), another CR Best Buy, and Exergen Temporal Scanner TAT-2000C (forehead) ($50), were accurate and comfortable. Vicks had more features, such as a large backlit display and colors that indicate a normal temperature, mild fever and high fever. (That feature wasn't tested.)
-NewsAnchorMom Jen