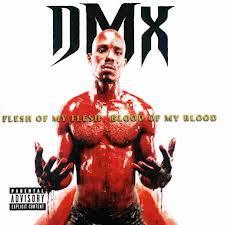 Highlights:
At the beginning of the interview, DMX asks the audience who has, like he did, run butt naked through a hotel.  Flash to the audience, all the white 25-35 year old women had their hands up.  Typical if you ask me.  Probably was a spring break thing where these chicks just got buckwild
3:00 mark:  DMX owes over $1.2 million in child support payments to the 11 CHILDREN HE'S FATHERED!  He also has one on the way, perfect dozen!  He mentions that his kids are taken care of but that those payments are from when he was making $13 million a year and he hasn't done that in 10 years.  Has it really been 10 years since DMX was droppin' hits?  Even better, Dr. Phil contends that he believes DMX still has the talent to drop those hits that made him a $13 million dollar a year rapper.  Rrriiiggghhhtt, Dr. Phil.  I'm sure you've got "It's Dark and Hell is Hot" on repeat in your office.
But the kicker is during that conversation when Dr. Phil say to Dark Man X that he's fathered 11 kids, to which DMX responded by saying, I didn't have 11 kids.  You know what DMX,  you're right, you didn't birth those kids but brah, you played a hand in it.  You didn't have any problem going it's all good it's all right, fuck all day and all night at the time, but now you want to act like you didn't play a part.
All in all it's about 14 minutes of pure gold.  You know you've fallen pretty far as a rapper when you are telling "your story" on Dr. Phil.  Bro, that's not going to help the street cred one bit.
However, let's not forget that DMX could really get it done back in the day.  Throwback time!