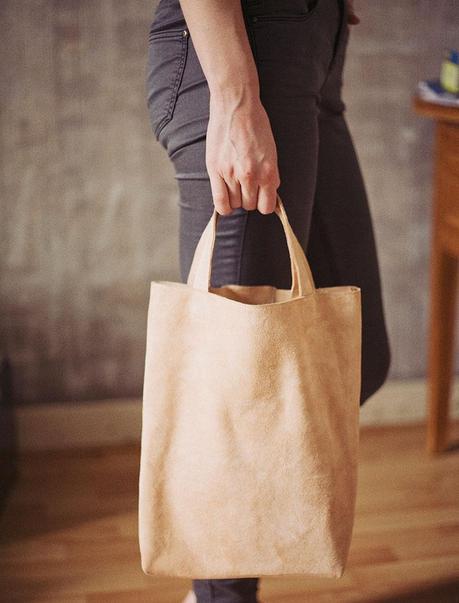 Leather and suede are definitely luxury materials. They spice any old thing up. That's why, when I had decided to make myself a book bag I immediately went onto Ebay in the hunt for a leather deal. If you are an animal lover, then this could be done with vegetarian leather or any material such as cotton. If you do use a woven material you would need to zig zag stitch the edges of the inside of the bag and hem the top.
I do have to pre-warn you about the weight/width of the leather before you purchase something beautiful on Ebay. Anything above 2mm thick (5oz) wont pass through your average modern-day machine. Too thin and the leather could strain under the weight of the book. I would choose 1mm in a perfect world. Or hand stitching is on option! Lucky for me I have an ancient singer made out of metal so I didn't really have any problems. A last word of warning do not back-stitch leather because you just weaken it. Once you have finished the stitch, tie the loose threads into solid knots. Now for the tutorial!!
The DIY suede book bag how to…
You will need : Leather or suede, thread, A sewing machine, a leather needle, a hand leather needle, a ruler and scissors.


1. Cut out the pieces. Two large pieces for the main bag at about 35cm by 25cm, four pieces about 35cm long by 2.5cm wide for handstraps, or if you would like longer shoulder straps they should be around 72 cm long.
2. On the wrong side sew around three edges of the leather. This will later become the inside of the bag as you will turn it "outside in" so the seams are hidden.


3.Optional : I added 2 darts to the bottom of the bag so it would stand up well and add shape to the bag. To do this flatten the corners the other way so that the side and bottom seams align, measure about 5cm from edge to edge and sew. I did this by hand as the sewing machine could not take the thickness of the suede.


4. Sew the straps. Take 2 pieces and sew along the edges about mm from the edge.
5. attach the straps to the bag on the wrong side sewing a rectangle on each end.
6.  Tie any loose knots and cut all threads. Turn the bag outside-in to see the final product. Protect the leather from water damage by spraying it with leather protector.
That's it! Easy peasy. I did it at my parents house in England, my Mum reckons it looks like a horse feed bag. It kind of does don't you think? Still it's a very stylish horse feed bag hehe…
Take care!



<="" title="DIY SUEDE BOOK BAG">