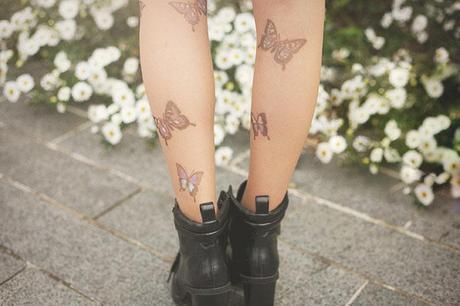 I received a request about 4 months ago to paint some tights, well now that it really is tight weather, and winds of halloween are a blowing I thought it would be the perfect time to show you this fabulous little idea that can add that extra special touch to your Halloween costume. This particular pair is very Titania, inspired by the pretty pair from Ana Sui 2012 spring collection, they are so cute! Here's the tutorial:
 


1. You will need : A pair of tights, a stamp, and a fabric ink well, fabric paint, a paint brush, cardboard and scissors. 2. Cut out two pieces of cardboard, in a basic leg shape, cutting the edges into curves as not to ladder the tights. If you are going to do a motif like the butterflies, then I would advise that you put the tights on and mark exactly where you would like the butterflies to appear on your legs.

3. With the cardboard now inside the tights, stamp the motif at the points you have marked on the tights. 4. Colour in the stamp with fabric paint. 5. Wait 48 hours for the tights to dry. Do not put them on before or the ink will smudge! If you're only using fabric paint it takes less time to dry. 6. To fix the paint and ink use a blow drier or iron at a very low temperature.
Voilà, easy! Take the idea, make it your own! So many cool things we can do with tights than boring black!