The Idea
Milo Baughman was an American furniture who created modern pieces with clean lines that were surprisingly unpretentious and reasonably priced for the day. Many of his furniture pieces are still reproduced today and deservedly so!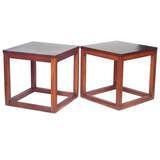 I love his open sided cube tables and when I found an admittedly flimsier but still clean lined and reasonable plant stand at IKEA I thought I could create something fabulous that would work with some of today's decorative finishes and Mr. Baughman's clean lines.
The Design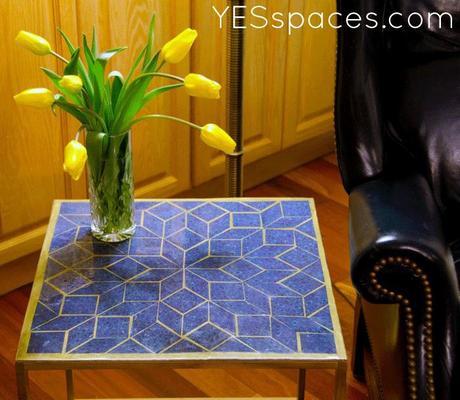 My house has a lot of traditional pieces of furniture. My mother and grandmother loved to pass down furniture. I believe you should buy quality furniture pieces but the only problem with that philosophy is that they never die! So I am slowly transitioning to a cleaner aesthetic one tiny corner at a time.
One of the ways to mix traditional and modern aesthetics is to take a modern shape and use colors and finishes that blend with your traditional piece. That is what I decided to do with my cube table.
I painted the entire cube gold and created a mosaic top using marbleized blue paper and epoxy to give it a nice glassy top. This was designed to coordinate with a blue leather wing back I have in my family room with brass nail heads. Contrasting colors would work just as well – in fact I am still hunting for the perfect pillow to put in the chair to add a pop of color.
The Materials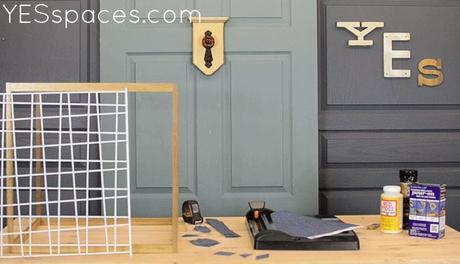 1 IKEA PS 2520 plant stand table (found in the garden/plant section)
2′x4′ thin plywood sheet cut to size of top – I traced around the plastic top to get the right size. You could probably use the plastic top if you primed it with a paint meant for plastic but I did not want to experiment with the epoxy finish I was afraid it might make the paint bubble off of the plastic – if you try it and it works let us know!!!)
5 sheets of a decorative paper of your choice (this is more than you will need but I always buy a little extra to save a second trip to the store)
Mod Podge or other clear drying glue
Spray paint in the color of your choice – I used Design Masters Gold
Pour on epoxy – this is the KEY to creating a table top that will withstand daily use
Plastic cup to mix epoxy
Wooden craft stick for mixing and spreading (you could also use a plastic knife – the box suggests spreading with strong paper but I did not find index cards sturdy enough)
Small finish nails
Spackle or wood filler
The Process
Watch the video first, these instructions are meant to help you remember the order or answer any additional question
Assemble the cube
Cut out the wooden top and attach it with the cube – attach it to the cube with the small finish nails – sink the nails and fill the holes
Paint the entire thing with 2-3 coats of gold paint
Cut out the diamonds from the paper using these measurements
I used a paper cutter but scissor would do – I cut through 3 pieces at a time to save time
Cut out the squares
Draw lines through the center of the top to help keep your design centered
I laid out the entire top before I stuck anything down to see if I needed to make any adjustments
Here is a guide to help you lay out your top
Glue down your pieces – they do not have to be well attached because the epoxy will hold them in place
Mix your epoxy following the directions on the box carefully
Pour out the resin spreading it out around the top – not into one pool in the middle
Use the wooden stick to spread the epoxy out evenly – it does not spread itself so if it is uneven when you stop working with it, it will dry that way
Watch the epoxy for the first 15 minutes or so – blow lightly on any bubbles to pop and remove them, clean up any drips that go over the side
Let the table cure for at least 48 hours before touching or using
Watch the video if you are confused about any part of this process, or comment and I will respond!
The Outcome
I love this light weight table, it is easy to move around but packs a big design punch. It may sound like this is complicated but it really was cutting out paper, gluing it down and pouring something on top! My kids keep touching the surface to try to figure how it looks so much like glass. Create your own mosaic pattern, let your imagination go wild. If you do send us a photo I would love to see it!
The Budget
$24.99 –IKEA PS 2510 (It is usually $29.99 but I found it marked down)
$13.98 - Epoxy
$2.95 –5 Pieces of scrapbook paper at 59 cents each
$3.79- Gold spray paint
$6.00 -Small piece of 1/4 inch plywood
$0.00 – I had the Mod Podge, finish nails and wood filler
TOTAL: $51.71

This project was Week 7: we will be adding a new video to our YES Spaces DIY page every Thursday for the next 45 weeks! And based on your input we will have directions and when needed measurements and plans here every week as well. So be sure to subscribe here and over on YouTube so you don't miss anything! I am currently cooking up all the projects and simultaneously pulling together our MESS to YES makeover schedule for the year so if you have projects or spaces you are struggling with and would like some inspiration let me know and I will try to tackle as many as I can here this year.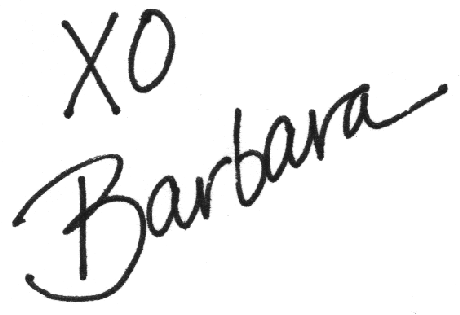 If you want a stylish, family-friendly home contact YES Spaces today! I would love to talk to you about your family and your space! Visit our YES Spaces DIY channel to see videos of other family friendly projects! Connect with us on Facebook for the "How To" behind some of today's most popular design ideas! View our Pinterest Boards for my curated design inspiration! Watch our MESS to YES Home Makeover!