I don't wear a TON of makeup, but I do like to wear gel eyeliner (the kind you apply with a brush) everyday, along with a finishing powder and I tend to think my lipstick stays on longer when I apply it with a brush. When I'm going out I will occassionally use a foundation brush as well.  It's really important to keep those brushes clean! So here's my simple recipe for how I clean my makeup brushes.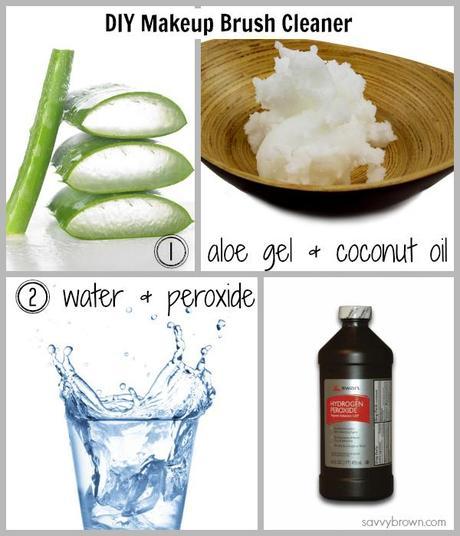 What you'll need:
Organic aloe vera gel – I don't really use the leaf (it gets too sticky), I actually use this brand.
Organic coconut oil – If you can't get your hands on organic, virgin is just fine. I like this brand.
Purified water
3% Hydrogen Peroxide – That's the kind in the brown bottle from the drug store
Step 1 – Clean
Rinse excess makeup from brush to be cleaned and shake or tap off excess.
Emulsify (melt) a small amount of coconut oil in your hand or in a small bowl or saucer.
Squirt a few drops of aloe gel right on top of the coconut oil and mix into a thin paste.
Take dirty makeup brush and push through the oil and gel until the color starts to come off ( a few swishes and it's melt right off, especially waterproof makeup)
Use a clean cloth to wipe off excess oil and makeup with it.
Repeat this process until the brush is clean.
Step 2 – Disinfect
Pour about 3 tablespoons of water into a glass
Add 1 tsp of peroxide to the water and stir
When you are finished cleaning the brush with the oil/gel mixture, then wipe brush clean and place bristle side down directly in the water/peroxide mixture. (You don't have to cover the whole brush, because the bristles will "draw" the substance like a tea bag).
After a couple of minutes, remove the brush from the liquid wipe dry with another cloth and lie on its side up away from your work surface. (You want the bristles to air dry without touching anything.)
Done!
I tend to "assembly line" my brushes. So while I'm cleaning one, I'm disinfecting the other and then drying and so on. I do this whole process every couple of weeks. Although, I have been known to use the oil/gel part a few times a week. Especially if I'm wearing waterproof eyeliner.
• How do you clean your makeup brushes?
header image: serrnovik / 123RF Stock Photo