One day I was  out of the turbinado sugar I usually use to make my Brown Sugar Body Scrub and I decided to try my hand at making my Body Scrub with used coffee grounds instead. Usually, the used coffee grounds (and their filters) end up in the compost pile, but lately, I've been making more coffee than salad so I decided to try to use the grounds for other stuff.
Coffee  has a myriad of health benefits and is used in everything from eye cream to body cream. Coffee is full of antioxidants which means that it removes potentially harmful oxidizing agnets from your skin. (When copper oxidizes it turns green!) Caffeine is also a vasodilator which means that it  has the ability to relax and open up constricted blood vessels which means that the surface of your skin will look temporarily smoother and firmer. I just realized that this is why tons of anti-cellulite creams have coffee in them!
I will now bathe in coffee.
(Just kidding)
Anyhoo, this scrub is super easy to make and will keep for awhile under normal room temperature conditions.  (If you don't like "food" in your bathroom, then just keep this stuff in the fridge).
DIY Left Over Coffee Body Scrub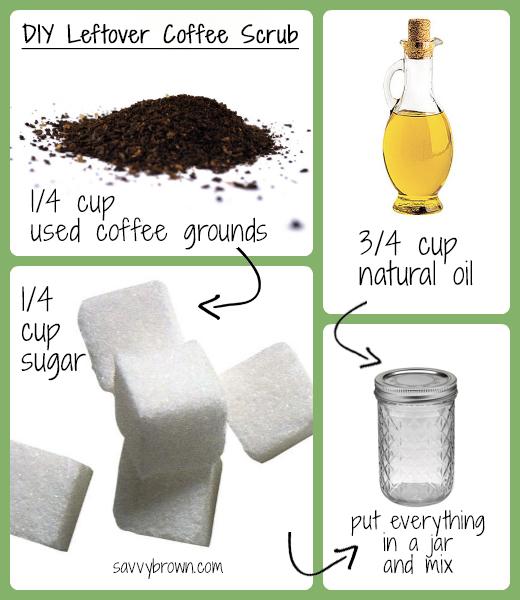 If you want a softer scrub, leave out the sugar, and just mix the coffee with the oil. You also don't have to use leftover coffee, you can also use unbrewed grounds too. (In fact the caffeine will be stronger this way because it hasn't been brewed out yet). I like using almond oil and grapeseed oil to make my scrubs, but I was at my mom's once and totally raided her cabinet for the olive oil to make this stuff! Just don't use anything like baby oil or Crisco, because that's just "ew".
Ever use coffee on the outside? Please share how you used it!