How do we keep kitchens organized? Often called the "busiest room in the house", kitchens are also the messiest. Starting from early in the morning until late at night, people use these cooking spaces for all sorts of activities. Now of course, when the space you have available is limited, you must find a way to store things properly to make more room. Here are some smart DIY kitchen organization and storage ideas to ease your life.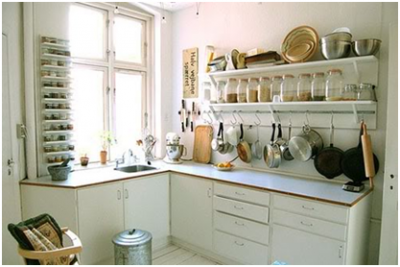 Hanging pots
Pots on display are in trend this year, and installing a pot rack is extremely easy if you have the right tools. In general, these racks go perfectly above the sink or above the kitchen island where there's no foot traffic. A cool idea is to incorporate the racks with the lighting system. Keep a balance and opt for pots in the same color; you don't want guests to think you're unorganized.
Shelves
When the space you have in your kitchen is limited, and you can't afford to place bulky cabinets inside, you can always go for shelves. This way, you make more room and add a bit of colors to your kitchen by displaying your china. The best spot to install shelves is above the sink; this way, you can easily place washed dishes on top.
DIY wicker baskets
Assuming that there's no more room in your kitchen for grocery boxes with vegetables and fruits, you can always place them above the cabinets. This way, you're saving up a lot of space, and your favorite fruits are within easy reach. To make things even more interesting, you can make your own baskets. Weaving a wicker basket is an extremely easy process; for this DIY project, you need:
Willow shoots
Water to rehydrate the shoots and make them softer
Scissors
Some weaving talent
Spices on display
If you're an avid cook who wants quick access to the spice cabinet, maybe it's time to put them someplace on display. An ideal spot is above the countertop. Install a shelf, but make sure it's long enough to fit all your spice jars. For décor purposes, you might want to use identical jars for all the spices, and don't forget to label them accordingly. This will add originality to your kitchen, too.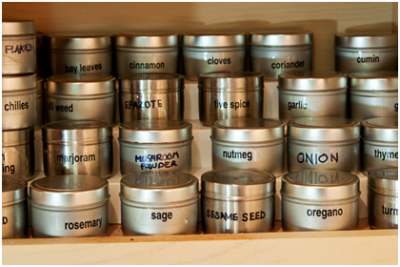 Multi-purpose Kitchen Island
Not all kitchen islands are multi-purpose. In fact, many don't even have storage spaces. That's because mass-produced items are just meant to look good. Have you ever thought of making your own kitchen island? Or if you lack the skills, you can always have yours custom-made. A lot of homeowners don't include an island into their kitchens because they don't want to cram their spaces even more. However, if you organize properly and you build a practical kitchen island, you actually save up a lot.
First of all, the bottom area of the island must have shelves. This way, you'll have an excellent place to store and deposit kitchenware, groceries, and other utensils. Second, opt for a kitchen island with some underneath space for chairs. After a dinner or gathering, you should be able to put them someplace so that you can walk freely around your kitchen afterwards.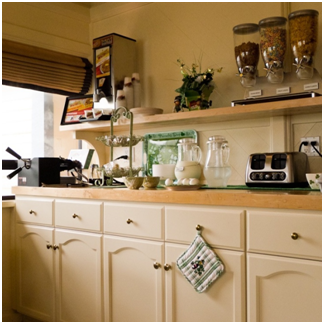 Utensil drawer
If you don't like to display your kitchen utensils in plain sight, you can make them a utensil drawer. However, make sure to keep it organized; even though nobody will see it, this doesn't mean it has to look messy. Use small pieces of wood to make about 4 sections, and use them according to your own preference. Separate wooden utensils from the steel ones, and have separate compartments for spoons, forks and knives. Having properly organized kitchenware is important because you want to reach them easier, and not have to struggle to find a spoon between tens of spatulas and knives.
DIY kitchen organization projects are fun and interesting. They keep your newly painted kitchens organized, not to mention that they make more space. And when you're walking around in a 20 square feet kitchen, you certainly don't want to bump into every chair, fruit basket, or bowl just to get to the sink. Think smart and go for the coolest storage ideas to remain well thought-out and make your cooking space seem airy and welcoming.