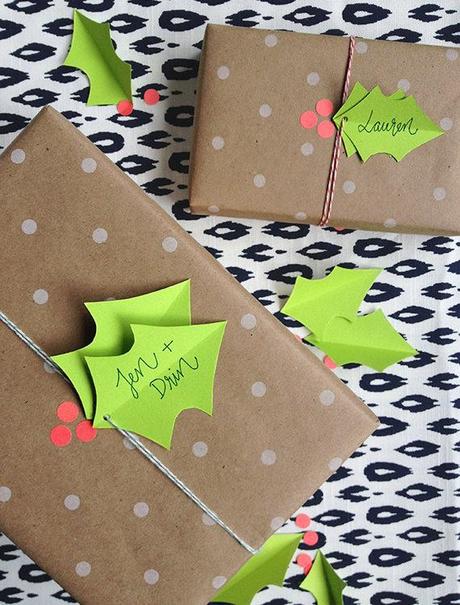 Who wants to sign my petition to tack on 2 more weeks at the end of December? It's always such a hectic month that all the cookies, parties, and twinkling lights go by in the blink of an eye! We're not even done shopping for gifts, but I've managed to at least wrap the few that we have sooooo I guess we're on the right track? I decided to go super simple this year with kraft paper and holly toppers, which will pack up nicely when we throw everything into a bag for our holiday travels!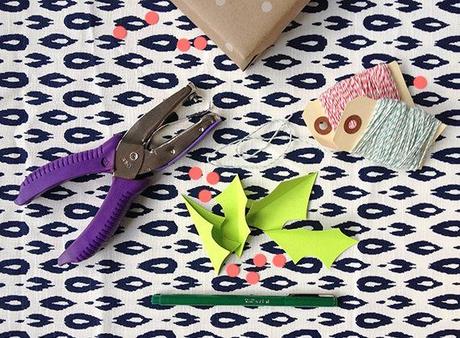 Wrap up all your goodies in your choice of gift wrap – I used a roll of cute polka dotted kraft paper from Target. Cut out two holly leaves out of green cardstock, and use a hole puncher to create the "berries" out of red cardstock. Use a small hole puncher to punch a hole at the end of each leaf, then thread some festive string through, and wrap it around the gift once or twice. Tie a knot on the underside and trim the ends. Glue the "berries" on with a glue stick, then write the name of your lucky giftee in pen on the top leaf.
BONUS! You can use these paper holly leaves as drink markers too! Check out the DIY I put together for Mixbook – I'll be contributing some fun projects there for the next few months :-)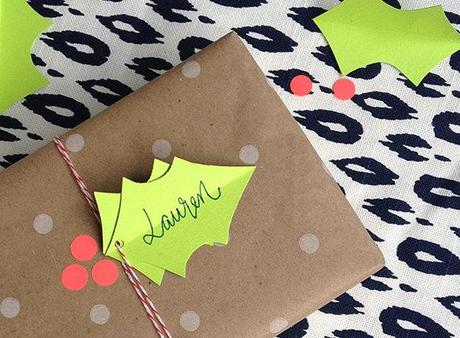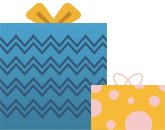 24 MERRY DAYS
DAY 18: Emily Henderson is giving away a mini fridge from SMEG!
DAY 17: Coco and Mingo is giving away a fun prize pack from Everything Golden!
DAY 16: Wonder Forest is giving away some super cool "smart" jewelry from Cuff!