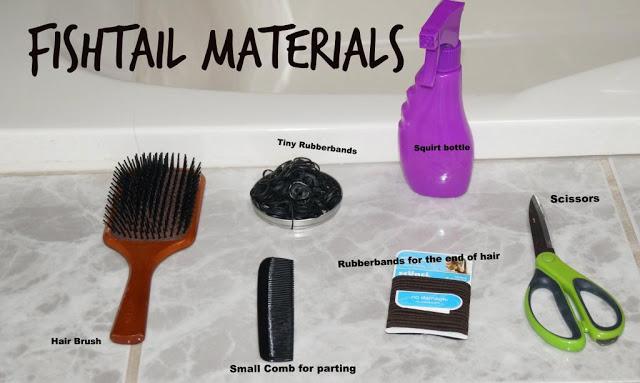 Don't be thrown off by the title of this post- I am 100 percent including myself in the beginners category when it comes to the fishtail braid. After watching endless youtube tutorials, reading about it in ever magazine, blog, etc. I finally taught myself how to do a very basic fishtail. However, when I master it (which I will) I am going to make my very own video and post it here. Using the materials above, here is what I did...
1. If your hair is dry I would squirt 3-4 sprays of water on the bottom half of your head to make it easier. Brush your hair out with a big brush, and then use a small comb to get the perfect part.
2. Put one of the tiny rubber-bands at the top of your pony tail
3. Then split the hair into 2 parts (as seen in the first image below)
4. Then take one piece from part 1 and bring it over to part 2, then take one piece from part 2 and bring it over to part 1. After one complete set (of bringing 2 pieces over to the opposite side) pull the hair gently to secure the set in. Continue all the way down to the bottom, and then put in one of the thicker rubber-bands.
6. Pull the top rubber-band away from your head, and carefully cut off with the scissors.
7. Squirt again lightly with water, and spray down any fly-aways!