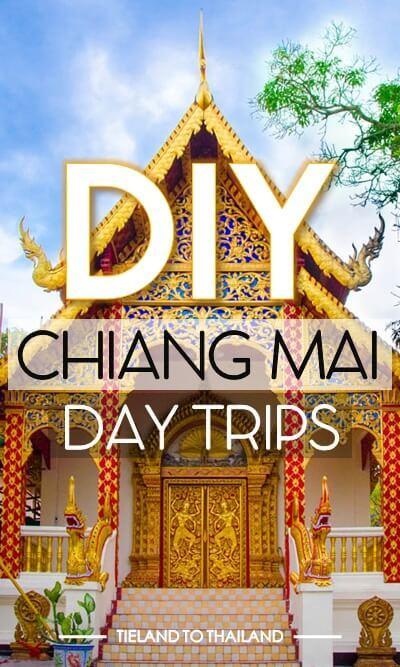 Chiang Mai's pleasantly cool season is about to be taken over by a hot, hazy seasonal mess. So, before the smoky season makes itself present, we've thrown together a list of our favorite Chiang Mai day trips you do in the next few weeks. They are fun places that are just beyond the outskirts of the Old City and can be easily explored on your own if you have a day to spare.
What's best about this round-up is that not a single one of these day trips requires pre-planning, reservations, or a tour guide. If you're already in town, take a headache-free, no-strings-attached mini vacay right now. If you're in the process of planning an upcoming visit, then squeeze in one of these adventures between your tour to an elephant sanctuary and a Thai cooking class.
As an added bonus, everything on this list is budget-friendly. So aside from what you spend on transportation, Thai snacks or food, and (possible) entrance fees, you're looking at a pretty affordable day trip from Chiang Mai.
Almost all of these activities can be visited just by hiring a local red truck taxi (songthaew) for the day. If you have car or motorbike to hit the road with then you have no excuse - just go - before the smoky season rolls in. Here's a map to get you started:
Map of DIY Chiang Mai Day Trips
Here are the activities, in no particular order:
Huay Tung Tao Lake near Doi Suthep-Pui National Park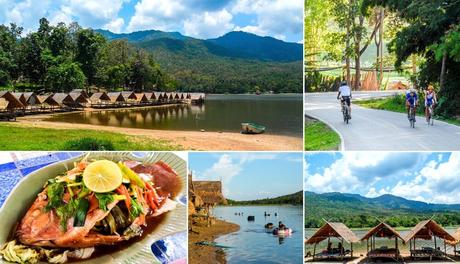 One of the very first places we explored outside the safe confines of the Old City was Huay Tung Tao Lake (or Huay Teung Thao). It's only a 15-minute drive away by motorbike and about a 45-minute ride by bicycle. It's also possible to hire a songthaew driver to drive you there, wait around, and then take you back.
Along the banks of the reservoir are little straw huts with pretty views of the surrounding water and mountains. It's perfect for enjoying a leisurely lunch of satisfying Thai food (not the simplified versions served in the touristy areas of town) and washing it all down with some Sangsom and soda. The shady road that circles around the lake is paved and there are some other walking paths that branch off from the main road, too.
Mae Sa Waterfalls in Mae Rim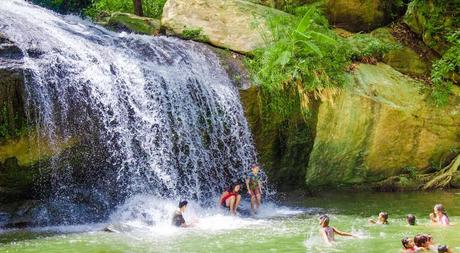 About 30 minutes drive north of the Old City are the Mae Sa Waterfalls. This natural attraction is quite impressive, most notably because there are ten distinct levels and several natural swimming pools! There's a hiking path (roughly 2 km long) that runs along the waterfalls that provides different viewpoints of the waterfalls.
The Mae Sa Waterfalls have plenty of shady areas to roll out a mat and have a picnic. We bought some sweet snacks and grilled meats from the little shops set up at the Doi Suthep National Park's entrance, but you can bring your own food, too.
Monk's Trail to Wat Pha Lat on Doi Suthep

There's a magical nature trail that snakes its way from the bottom of Chiang Mai's nearest mountain, Doi Suthep, to the secluded temple, Wat Pha Lat. Known as the Monk's Trail, it gets its name from the hundreds of strips of orange monk robes tied to the trees along the path, marking the way.
As long as you're able-bodied and have a sense of adventure (families with children included), this pleasant, slightly challenging hike is a good for stretching your legs and seeing Chiang Mai's native plants and little critters in the forest. The trail takes about 45 minutes to hike but it will be longer if you stop to look at everything like we did. Afterward, you can ride a songthaew down the mountain or walk back down the trail.
Thai Silk Village & Bo Sang Umbrellas in San Khampaeng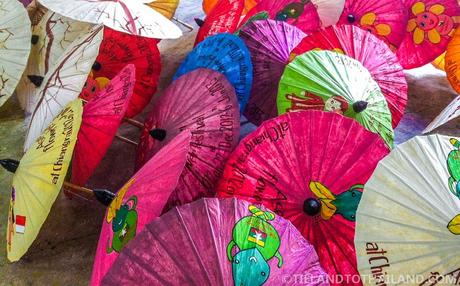 Combine these two handicraft 'villages' for a semi-touristy but educational afternoon. Did you know that silk is from silkworms' cocoons? The Thai Silk Village shows the entire process, from the silkworms eating mulberry leaves and the harvesting process of the cocoon's silk threads to the dying and weaving of the silk. A little further down the road is the Bo Sang Umbrella Village. The ladies there show how mulberry bark is transformed into 'sa' paper and then dyed, constructed into umbrellas, and finally painted.
Samoeng Loop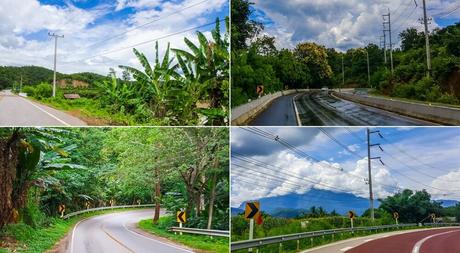 Get a taste of freedom with this 100 km loop into region north of Chiang Mai. The drive is not very challenging by motorbike and the scenery is fantastic. It takes about two hours from start to finish if you drive straight through. It's better if you budget four or five hours because of all the great stops along the way. Go clockwise, beginning in Chiang Mai then going to Samoeng, Mae Rim, and then back to the city.
A few things to see along the way: Sandeng Forest, Mae Sap Cave, Queen Sirikit Botanical Gardens, and a side trip to Mon Cham. There are little hillside cafés along the way with pretty views of the countryside. A 125cc bike is fine for a single rider but rent something stronger for two riders because there are a few steep hills.
Mon Cham Nong Hoi Project in Mae Rim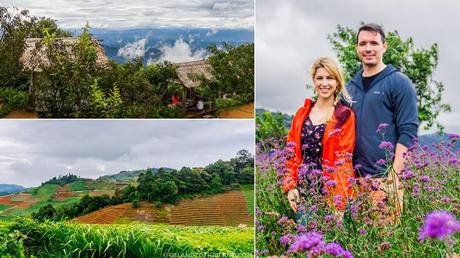 So about Mon Cham ... this is part of the Royal Nong Hoi Projects that promote organic farming. Even though it's only 30 minutes from the city, it's notably cooler. As a result, the gardens grow cool-weather vegetables, herbs, and flowers.
There's an onsite restaurant where we sat under cute grass huts and were served up garden fresh Thai dishes. And it's worth mentioning the coffee and baked snacks are quite tasty.
Bamboo Rafting in Mae Wang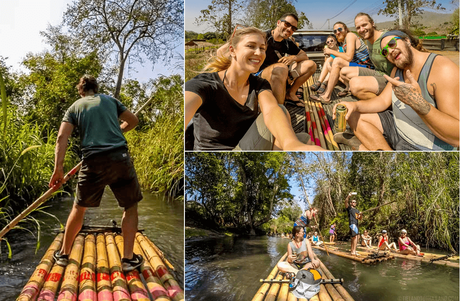 One of the more relaxed, down-to-earth Chiang Mai day trips we've ever taken is bamboo rafting down the Mae Wang. We got together with a few friends, a cooler of cold drinks, and floated down a lazy river for several hours. And even though the only thing separating us from the water were some rough cut bamboo strung together with strips of rubber, we were not uncomfortable and didn't get that wet.
Bua Tong Waterfalls in Sri Lanna National Park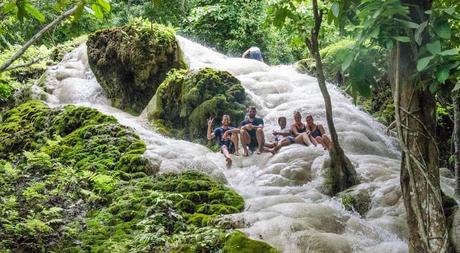 The Sticky Waterfalls is a fascinating natural attraction near the Sri Lanna National Park. There are three distinct set of waterfalls that are not only pretty but climbable, too! Instead of slick, slippery rocks as most waterfalls have, they have a rough, slightly spongy surface.
We've been to the Bua Tong Waterfalls a half-dozen times. Usually, we make a stop for lunch by a little outdoor Thai market just a kilometer or two from the waterfalls. Be ready to get wet and get some exercise. The path that goes down the waterfall is pretty steep but well worth the climb.
Wat Phrathat Doi Suthep on Doi Suthep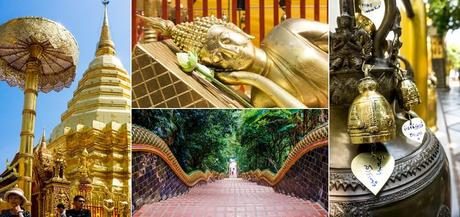 Take a 30-minute drive to Chiang Mai's most famous temple, Wat Phrathat Doi Suthep. Perched on the side of the city's nearest mountain, it has gorgeous views of the valley below. Explore the temple's golden chedi, rows of Buddha statues, and pretty gardens.
We went to Wat Phrathat Doi Suthep on our first visit to Chiang Mai. Nowadays, we've made it a tradition to take visiting friends or family there. Plus, there are many little snack and souvenir vendors at the temple's entrance, making it a fun one-stop-shop 'touristy' trip. As a forewarning, there are 300+ steps to get to the top!
Caves in Chiang Dao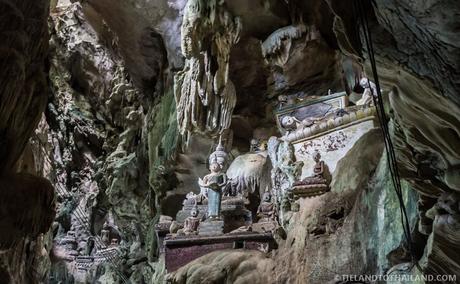 The Chiang Dao Caves are in a little town about an hour away from Chiang Mai. In our non-expert caving opinion, these caves were a satisfying visit. The route wasn't overly strenuous, there were no unsafe spots, and it took less than an hour. Plus, we had a superb guide who lead us through the dark, twisty turny tunnels at the perfect pace. It was fun bantering with her in our broken Thai, too.
Doi Inthanon National Park on Doi Inthanon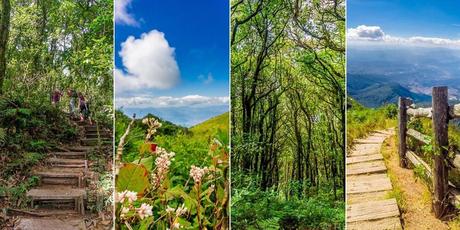 Visiting Doi Inthanon, Thailand's highest mountain, is another one of our favorite Chiang Mai Day trips to date. More specifically, it was hiking the Giew Mae Pan Nature Trail and the gorgeous views high on the peak. This park is definitely best to go during the cool or rainy season when the air is crystal clear for the best views. Be prepared for a long (it takes 1.5 to 2 hours just to get there) but memorable day.
Any other worthy Chiang Mai day trips we're missing? We'll continue adding to the list, so let us know!