It's been far too long between hand made projects, which could explain a lot of creative frustration in recent weeks.
So last weekend I bit the bullet and spent the next few days throwing a few useful things together.
I started off with a tulip-print spring frock, even though it's supposed to be autumn here.
No, they are not white tights, they are white legs.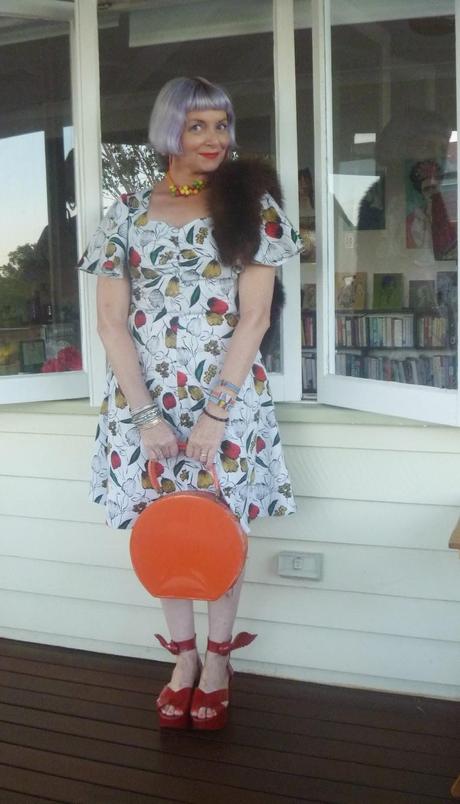 Frock - made by me using a 1970s pattern and fabric from an op shop
Bangles, earrings, plastic fruit necklace and fox stole - op shops
1960s bag - Dandelion Vintage sale
VW Wings shoes - Amazon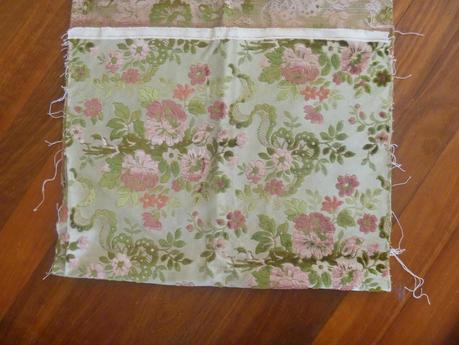 First up, I attacked this piece of upholstery fabric, hellbent on making a bag.
The inside of the fabric has many loops and threads, so to avoid my bag contents catching on them, I cut lining out of some purple spotty fabric (same size as the main bag).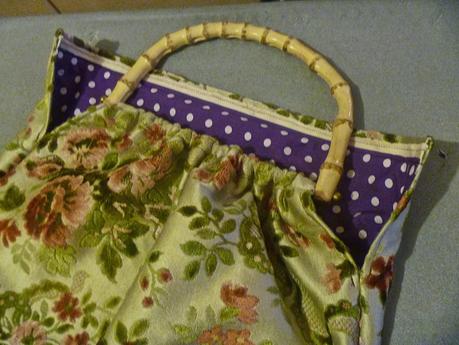 This means that I made two bags, connecting them at the top and partly down the open sides.
Then I used a lovely bamboo handle I've had for years and threaded it through a casing I sewed at the top.
Everything was from op shops and the bag cost me about $2 to make.
I used my new granny bag for shopping today and she felt like a dear old friend.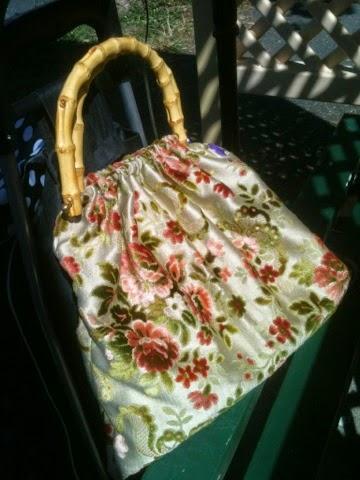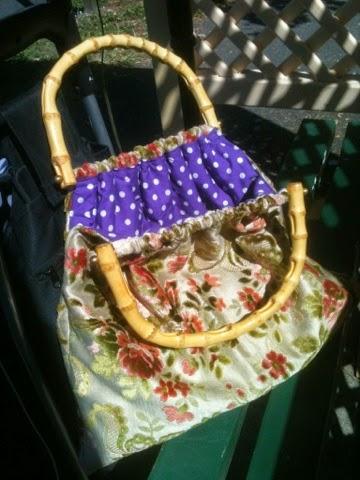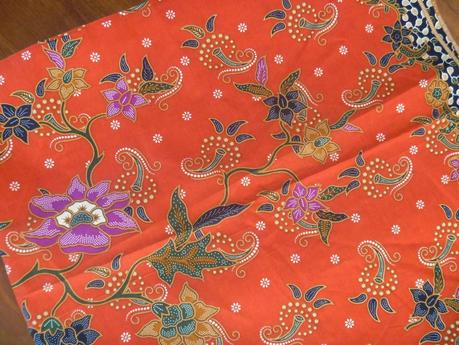 While I was out I found this brand new piece of cotton fabric, about 2m long, for $4.
I've been after something like this for a new skirt.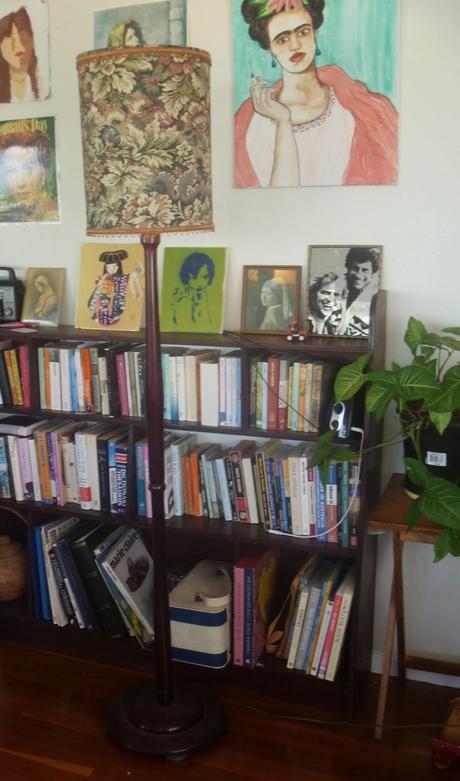 Then I found this hideous standard lamp and shade at the Salvos and dragged it home on the bus with my overloaded shopping trolley.
I think the driver was too surprised to say anything.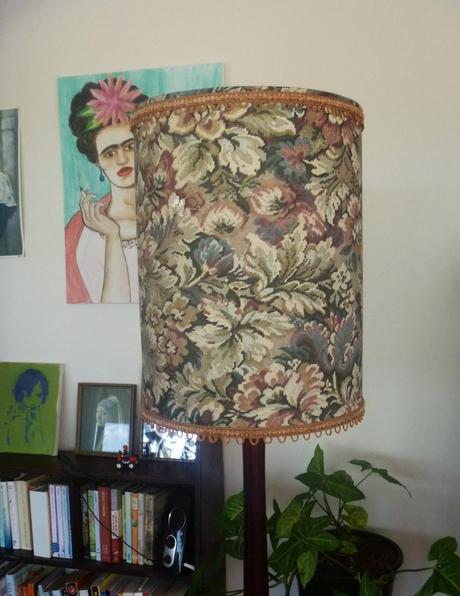 Revolting.
Then I spotted my new orange fabric lying nearby and knew they were a match made in heaven, so off came the shade and the brown braiding was ripped away.
A pair of scissors, hot glue gun, a roll of yellow fringing I bought at Vinnies ages ago and some Doc Martin in the background was all I needed to make the transformation.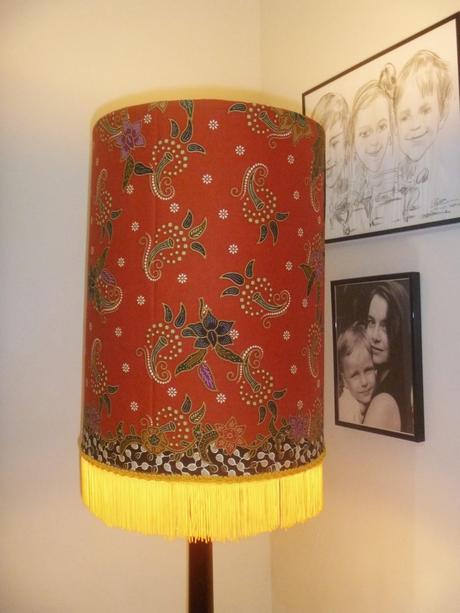 Tah-dah!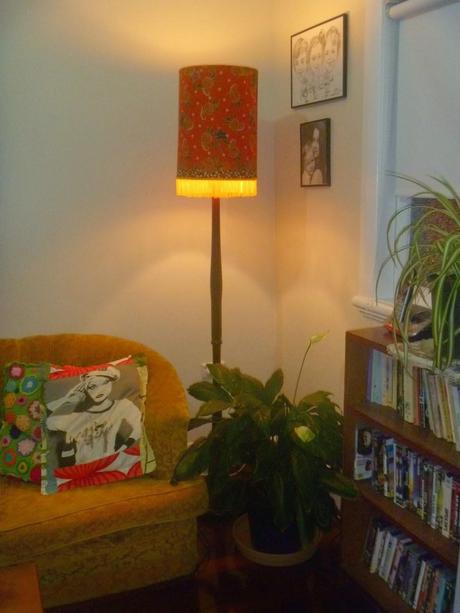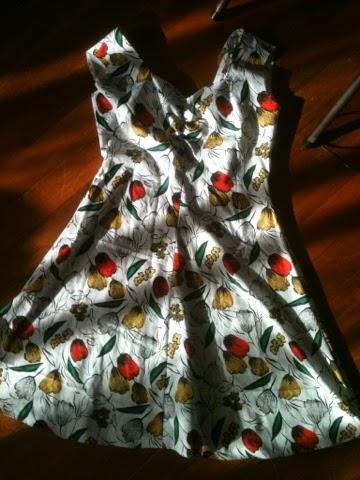 It wasn't until I got up to inserting the zip and sleeves into this frock I was making using a 50-cent 1970s pattern and some cotton from my fabric stash, that I decided I would never wear it once it was finished.
But this afternoon I persevered, making sure I pressed every seam flat between steps to ensure I would nail my first sweetheart neckline and get my zip-insertion mojo back (lost in despair following a trouser zip incident about six months ago).
Success, plus I like it and wore it out this afternoon.
I do like a fluttery sleeve.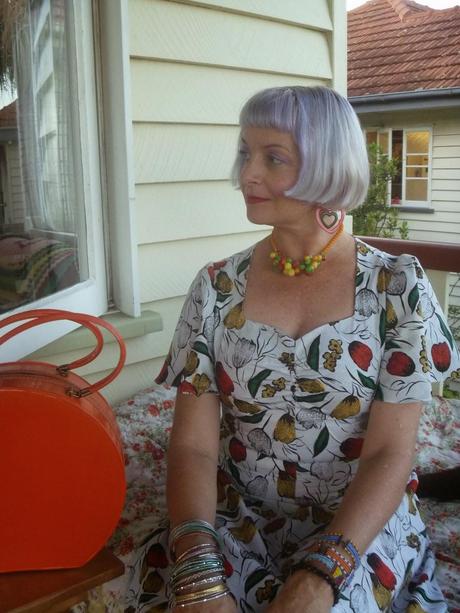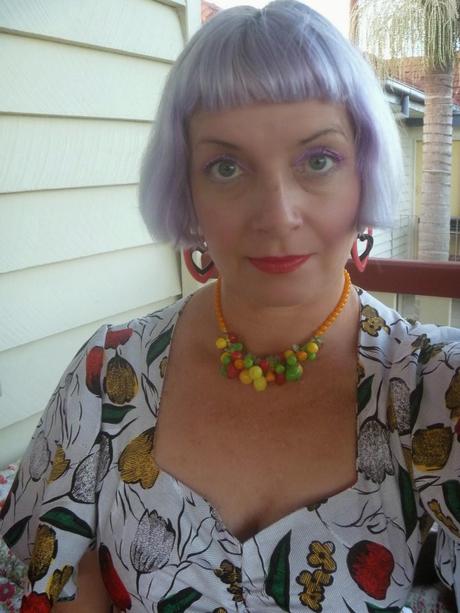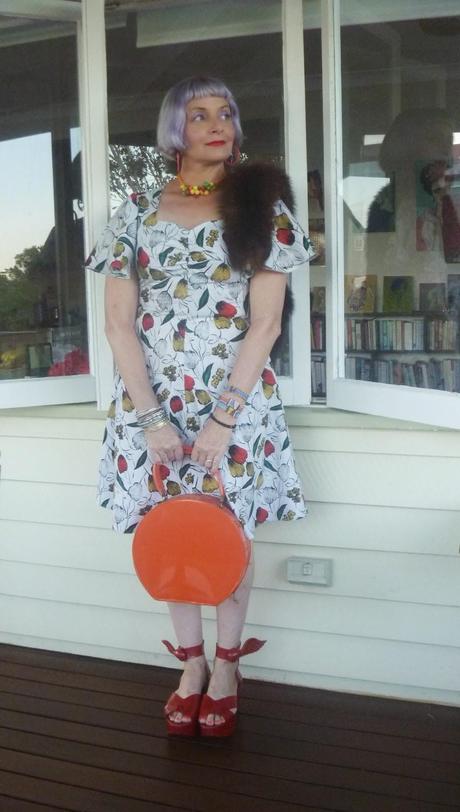 Our weekend has started early as it's ANZAC Day tomorrow.
I don't have any family that served, but The Phoenix's grandfather was in the British Navy for a decade and survived every single naval WWII conflict, from the Russian convoys to the North African and Pacific conflicts.
It's incredible he and a few of his mates survived being dive-bombed and sunk three times by state-of-the-art aircraft ranging from Stukas to Zeros.
I hope your 99th ANZAC commemorations are special, we'll be having a quiet one.
I may swan about in 1940s knickers.
Baci, D xo