Dress up your bar cart with an easy, lush asymmetrical bar cart garland you can make yourself, and while you're at it, load up on tons of links and ideas for throwing your own Valentine's Day gathering!
How do you combat post-Holiday blues? Well, my friend, Morgan of Construction2Style, gathers friends together for an afternoon of celebrating friendship and girl power in honor of Valentine's Day, or Galentine's Day, if you will.
She hosted an amazing brunch with highlights being chocolate dipped strawberries, heart-shaped waffles, and floral-infused lattes + cocktails. I mean, how does she dream up this jazz?!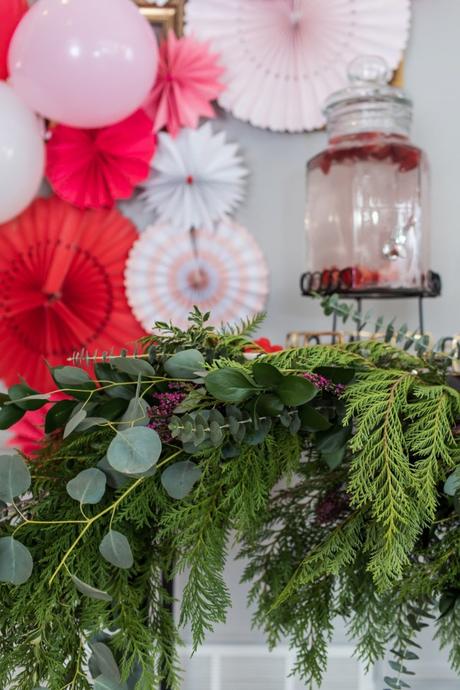 She also created a DIY Valentine-making Station for everyone to make + take, enlisted Lea of Creekwood Hill to design a paper fan photo wall, and she asked me to make a fresh greenery garland to style the bar cart.
You guys know, I freaking love making garlands, so of course, I was up to the challenge! Here's the play by play for making one for your next gathering: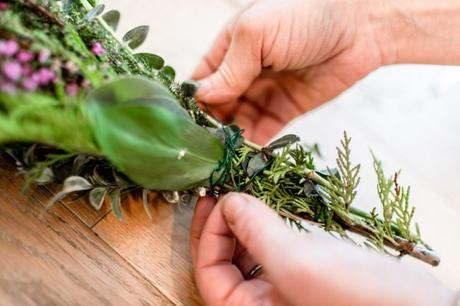 Materials:
A mix of leafy greenery such as silver dollar eucalyptus, baby blue eucalyptus, cedar, etc. I used about 6 bunches of various greens + a half bunch of purple sprigs that was leftover from the table floral arrangements.
Blooms (optional) I didn't use blooms as we chose to allocate the blooms to arrangements throughout the event.
Floral wire cut into several 8″ long pieces
Scissors
Command hooks - Medium to Heavy Duty
Start by sorting greenery sprigs (and blooms, if using) into groups with a bit of each kind in each group. Stems should all be facing the same direction. Place larger bulkier sprigs like cedar towards the bottom of the stacks and smaller, more iconic elements like blooms towards the top.
Use floral wire to tie the stems of each grouping together to form mini bouquets.
TIP: If you're going for length with your garland, make more 'bouquets' with less sprigs in each. If you're going for a thick, hefty garland, make less bouquets, with more sprigs in each.
Begin wiring bouquets together. Locate sturdy/thick stems of bouquet's larger sprigs on the back of each bouquet, and lay 'open' end of one bouquet over wired stems of a 2nd bouquet covering about 1/2 of the bottom bouquet (to hide stems). Wire bottom bouquet to sturdy stems of top bouquet with pre-cut wire.
Continue step 3 layering and wiring bouquets together to form one continuous garland.
Attach 2 Command hooks to top front corners of bar cart, and nestle garland into Command hooks allowing one end of the garland to drape to one side.
Primp garland, and wire in additional sprigs to fill in bare spots as needed.
And there you have it, ladies and gents! Make sure to swing over to Morgan's site for details on her Valentine-Making Station, plus an easy DIY valentine themed tablecloth. Also check out Lea's site for the skinny on her DIY Paper Fan Photo Backdrop.
Photo Credit: Chelsie Lopez Productions
More DIY Garland Reading: