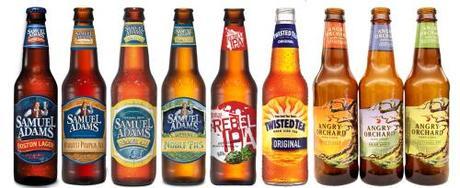 "They all want to grow, but the more they grow the less crafty they are," he said. "They are getting fairly large and they are getting into each other's space. They are having a hard time defining themselves as craft brewers because of their size."
- Pete Coors
You may recall the above foolishness of the MillerCoors chairman in May, when he made some rather wrong misguided surprising comments about the beer industry – especially the craft segment. Throughout Coors' gripes, it was clear he has a disconnect from the state of the industry, but especially a misunderstanding of his main competitors in craft.
While a definition of "craft beer" may be bestowed upon companies like Boston Beer, there is little difficulty for these breweries to adhere to their own roots and belief systems. Especially when product diversification continues to play a pivotal role in daily operations.
Today's plight of breweries isn't just making good beer, it's making a variety of beer that is also good.
When it comes to marketing and production, a brewery may focus on the biggest demographic of craft beer drinkers: Millennials. If the largest group of potential customers takes a laissez-faire attitude toward brand loyalty, a brewer needs to focus on variety:
Craft beers appear to be the biggest beneficiaries of that adventurous character. Julia Herz, craft beer program director for the Brewers Association, says 46% of new craft beer drinkers are Millennials. Even when craft beer drinkers do "commit" to a brand, that "adventurous" character seems to mean they're still interested in variety.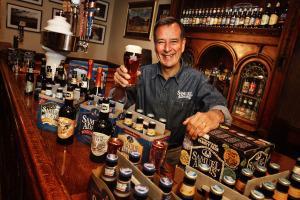 Jim Koch and his … variety.
But this post is not about Millennials. It's about Boston Beer. If the idea of new discovery is pivotal to your brewery's fan base – increasingly so for all demographics – what are you supposed to do when you're a successful company nearing $1 billion in annual revenue?
You either double-down on what you have, stay satisfied and minimize your overall potential or you recognize the opportunity to grow, innovate and continue to push. Which one do you suspect Boston Beer chariman Jim Koch would learn toward?
To be clear, Boston Beer is obviously interested in all customers, not just Millennials:
To continue growing, craft beer must be its own best advocate and expand appeal beyond Millennials… Craft brewers need to focus on education through tastings and classes that inform consumers about the differentiation in flavor between craft beer and other alcoholic drinks.
It just so happens that Boston Beer's focus on variety and brand diversification has all sorts of customers interested in them.
For starters, check out this list of 2013′s top-10 new craft beer packages sold in supermarkets:
Brewery Beer Size Dollar Sales
New Belgium Rampant IPA 6-pack $3.78 million
Sam Adams Seasonal 12-pack $2.77 million
Sam Adams Boston Lager 12-pack $2.18 million
Sam Adams Double Agent IPL 6-pack $1.71 million
Sam Adams White Lantern Wit 6-pack $1.46 million
Deschutes River Ale 6-pack $1.31 million
Ninkasi Variety 12-pack $1.13 million
Foothills Hoppyum IPA 6-pack $891,178
Firestone Walker 805 Blonde 12-pack $800,422
Alaskan Freeride American Pale Ale 6-pack $774,734
No surprise that Sam Adams places high on that list given Boston Beer's national reach, let alone the fact their quarterly seasonal lineup performs well. Through the halfway point of 2014, seasonal offerings across all of craft beer were up 20.4 percent. Sam Adams seasonal beers were up 26 percent.
If we've reached the point where "craft beer drinkers have come to expect breweries to produce multiple beers rather than a single iconic product," and you're a company that has the means to provide variety, it behooves you to do just that. Rebel IPA, which Boston Beer launched in February as their first "West Coast IPA," sold more than $13 million in units through July and is America's third best-selling IPA.
But that's not all Boston Beer is doing.
Here's a look at revenues and growth for Boston Beer, with numbers in the thousands. As seen below, that $1.01 million projected for 2015 is actually $1.01 billion:

2013 kind of jumps out at you, with almost an increase $159 million. Where might that come from? Brand innovation, of course.
"I get bored easily," Jim Koch said in May. "One of the things that I've learned is that companies don't innovate. Only people innovate."
With that mandate in mind, Boston Beer launched Angry Orchard hard cider in spring 2012, which became the county's most popular hard cider brand in 2013 with nearly 40 percent market share. By 2015, Angry Orchard is expected to take up 20 percent of Boston Beer's total sales volume.
Also in 2013, Boston Beer launched the Sam Can, which reinvigorated sales of Sam Adams' flagship beer, Boston Lager. The can speaks volumes of Koch and his company. After spending about $1 million over two years to develop the new packaging – compared to $150 million AB InBev spent on a twist top for a 16-ounce aluminum bottle – Boston Beer made the design open to other breweries.
Best of all, it has the potential for positive reverberations throughout the craft beer community:
Brewbound.com asked Luke Livingston, the founder of Baxter Brewing, a can-only brewery, how the announcement might impact his business. Livingston sees it as a positive.

"The more well-known breweries who start canning, the more legitimacy it adds to the package," he said. "Breweries like Boston Beer have a lot of power at retail, so you'll see package stores start dedicating more space to can packages. [These are] coat tails I'm happy to ride because once we're there too, I feel confident in our liquid and can designs to continue to stand out."
This isn't even counting their success with their subsidiary branch "Alchemy and Science," a craft brew incubator headquartered in Burlington, VT, backed by Boston Beer and run by Magic Hat founder Alan Newman and Stacey Steinmetz, a longtime business associate of Newman from Magic Hat. Along with Boston Beer's help, Alchemy and Science can now enhance the distribution and awareness of Los Angeles' Angel City Brewing, Travelers, a shandy-focused business (shandies collected $67 million in US sales in 2013), and Concrete Beach, a new Miami-based brewery expected to open sometime this year.
The goal of these new breweries? Focus on the country's ever-growing Hispanic population, which is an untapped and important demographic for craft beer to lean on.
All this is to say that while Boston Beer has increased its spending on marketing to move products, Jim Koch has never forgotten about the route that led him to such success – and he lets his company's money speak to that. It's about expanding and innovating, which has allowed Sam Adams to become "a reliable innovator with distribution strength" and Alchemy and Science is a new business that "could generate the next big hit."
Even though Boston Beer may be the biggest craft brewery in America, Pete Coors' assessment that "They are having a hard time defining themselves as craft brewers because of their size" is not based in reality. Boston Beer is large, no doubt, but that has never moved the company from its intent to grow and innovate. After all:
…this kind of innovation wasn't sparked by some top-down, board-approved change in structure. It's baked into the DNA."It's what we've always done," says Koch. "If you told me that we can't come out with any new beers for a year, we would like, blow a gasket."
What about you? Do you believe in Boston Beer's commitment to creating new products?
+Bryan Roth
"Don't drink to get drunk. Drink to enjoy life." — Jack Kerouac