Last weekend I ran the Diva Dash 5k in Kansas City, KS. It was a pretty nice day with approximately 50 degree weather and pretty strong winds. I was wearing pants, a short sleeved shirt and a long sleeved shirt. Once again, I was overdressed. I did not carry water. I finally got a chance to use my
iFitness belt and my Chica Band
!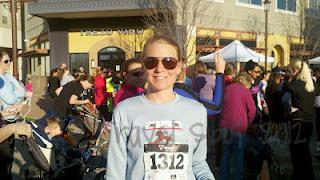 Pre-race excitement
Mile 1:
7:00/mi
I made sure to try and get in the beginning of the pack. I knew this race was a run/walk and the last time I did one of these, I did not get in the front, and ended up having to pass a lot of the walkers, who for some reason were in the beginning of the pack. My first mile is always the fastest. I think the combination of trying to pass people and thinking that maybe I will slow down later gives me the energy to push it for the first 10 minutes, or whatever it takes. So the first few minutes were spent passing people and then the pace evened out a bit. I think at this point I had maybe 20 people in front of me.
Mile 2:
7:02/mi
I spent this mile trying to pass as many people as I could. I probably passed 6-8 girls in the 2nd mile. This course was variable with a few ups and downs and I noticed that I can usually pass people on hills, when they typically slow down. I guess that hill training pays off! I was pushing pretty hard and my legs were getting pretty tired, but I was pushed on my the fact that on the straight stretches I could see the front of the pack and they were not too far ahead of me. 
Mile 3:
7:03/mi
This mile was a little bit of a downhill and then pretty much a slow steady uphill to the end. At this point the wind was blowing right toward me, hard. I passed a few more girls and was neck in neck with a small girl in black. I passed her, but the wind was really taking the energy out of me. Then I noticed she was drafting me! I could see her in my shadow, trying to keep behind me to stay out of the wind. I swerved. I wasn't about to help her, not when I could still see the leaders just ahead of me. I couldn't tell at this time if there were 2 or 3 or 4 of them, but they were right there! 
Mile 3.1:
7:06/mi
The wind got me. The slight uphill got me. The girl behind me passed me. I crossed the line without an ounce of energy left. I felt like throwing up, but instead drank a bottle of water in one gulp and then had a banana.
Results:
Chip Time: 21:36
Garmin Time: 21:49 (7:02/mi)
I always forget to stop it right away!
5/1130 overall
2/239 age group**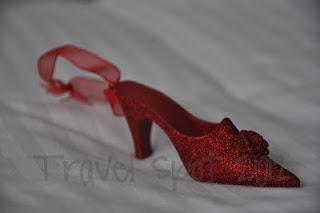 I won this. What the heck am I going to do with it?
 Notes: I really wish I would have pushed harder and not let that girl pass me at the very end. I think she was in my age group, so if I would have pushed a little harder, I could have placed first in my group. I probably should have worn less clothing because I was sweating pretty hard by the end. I am proud of myself though. **I placed, I got a new PR and I ran my fastest mile ever.
After that, I ran (slowly) back along the course, to meet my friend who was walking, so I could walk with her to the finish line. She finished in about 45 minutes which is a new PR for her as well! I am really glad she could join me; it's always nice to have a friend at any race! 
_____
Next up: Cherry Blossom 10 Mile in Washington DC this Sunday!! The weekend after that, I have my fourth 12 in 2012 race: The
Grizzly Peak Trail Half
in Berkeley!
_____
Don't forget to go over to Jill's and check out the other Fitness Friday posts! 
Have you ever ran a race with a friend? How do you feel about drafting? Have you perfected the race day outfit yet?