While visiting a friend of mine in Kansas City, I
dragged her to
invited her to join me at the Diva Dash in the great state of Kansas. I am
trying to race in every state
and this would satisfy my Kansas quotient. Right now it doesn't matter what distance it is, any race is sufficient! So, after running this race, my number of states is up to 10!
This race was held on city streets, in one of the outlying areas of Kansas City. There was a good turnout; there were about 1200 people for the 5k. There was also a Little Princess dash, which I believe was one mile. This race, as the name suggests, WAS all women. This is only my second all women race; the first was
Women Run The Cities
in Minneapolis.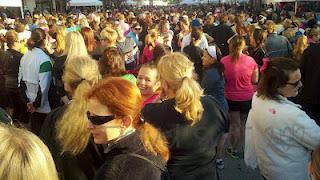 All The Ladies
Pros:
- The energy of this race was great. There were tons of spectators along the beginning and end sections, mostly men and children, and the enthusiasm was great. There was one guy at the very last stretch who was cheering everyone on. It was so nice to have someone cheering for me, even if he didn't know me. I am sure he made everyone else feel great too!
- The ladies working the booths were all really nice. Even though the packet pickup was a little confusing (see below), they were all very friendly and chipper, so it was easy to maneuver.
- The swag. Technical tees in women's cuts and sizes. They also had hats you could buy for $5. For food there were cookies, bananas, edamame, water and Neuro, which is a drink I had not tried before. It was good! I tried the Bliss and the Sun. Both were tasty. There are several other flavors; I would like to try them all. 
- The weather. This may not be normal, but it was about 50 degrees and sunny for the 8:30 am race. I want weather like this every time I race!
- The location. This race was only about 10 minutes from my friend's house. I got to sleep in until about an hour before the race! 
- My friend who came with me said she liked that it was all women, she liked the course, which was varied with up and down hills (and not a lot of flats), she liked that people were wearing costumes, which made the race fun, and she liked that there were both walkers and runners, so she didn't feel pressured to go faster or feel too worried about coming in last.
Cons:
- The packet pickup and registration were in a tiny little room. This race was held in a shopping center, so they opened up one of the stores to do the registration in. It was not big enough for everyone to come in and fill out paperwork and get their packets. It was very tight.
- The packet pickup was difficult to find. Usually it's in a tent out in the middle somewhere. We had to hunt around and ask a bunch of people in order to find this one.
- Not enough port-a-potties. 1200 girls. 8 port-a-potties. It does not compute.
So, except for a few logistical difficulties, this was a great race! If you are just starting out running, I would suggest looking for a fun race like this, where there are walkers (so you won't be the slowest), or where it's a fun run, with costumes or kids or a theme.
Have you ever run an all women race? Do you have a 50 state race goal? Do you like to participate in events or go to parties where you can wear a costume?