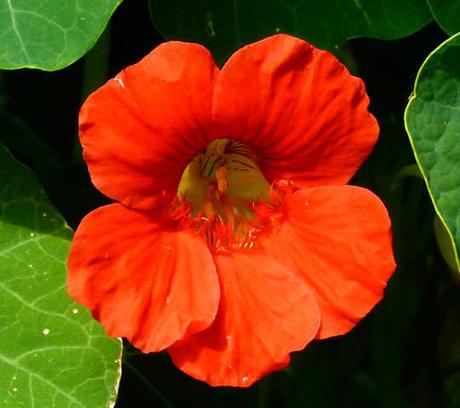 Nasturtiums grown from seed decorate our sunny deck.
Don't ya just love Sunday mornings?
As opposed to Monday mornings when you feel obligated to attack that lengthy list of must-do's vs. wanna do's.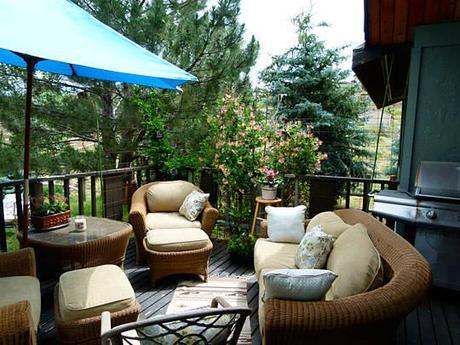 Sit a spell. (See close-ups below of the climbing vines.)
I cheerfully wasted the whole of Sunday puttering about the gardens, pulling weeds, and saying thank you over and over again.
The 'thank you' part is a little bit of a blessing and way more of a curse...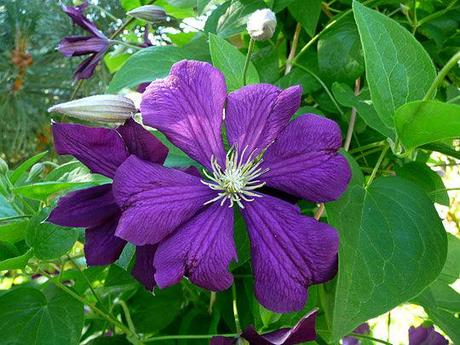 Clematis climbing vines smile at you from one corner of the deck's privacy screen.
This WAS a cute little country cottage when I first bought it. But, I've gained tons of new neighbors in the last 8 years. So many that I live 'in town' again. New Town, as they call it. My quiet little old ranch road has evolved into a busy thoroughfare. And, a popular bicycle path.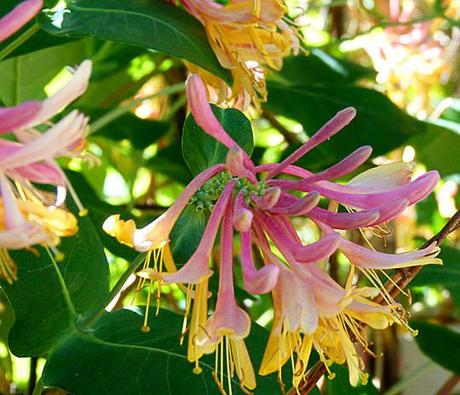 About 100 honeysuckles decorate the other part of the privacy screen.
Now I have an audience while I'm working in the garden. (Which I'm not too thrilled about. Especially when I'm out there in my pajamas.)
I do love the fact that they're so appreciative of my efforts. Calling out:
Beautiful flowers! So pretty!
as they peddle by.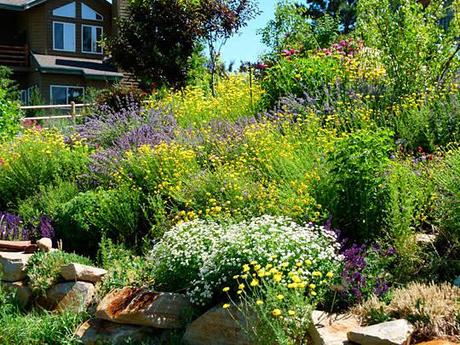 This used to be the weedy ditch in front of my house.
That's because I gave 'em something to take their mind off the fact that they're peddling uphill. I have the prettiest ditch on the old ranch road!
Over the last 2 years, I slowly, methodically, killed off the crabgrass and dandelions covering the steep ditch in front of my house. Then I filled it with tough as nails waterwise perennials that happily wave in the breeze.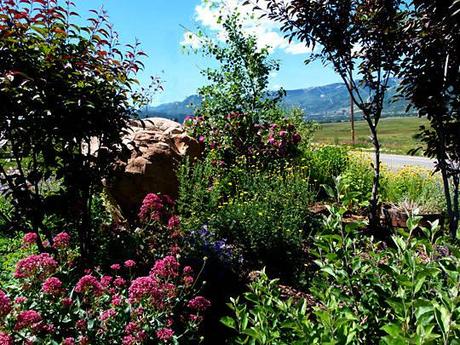 Butterflies play there. Bees are a buzzin'. Teeny green Hummingbirds whiz past my head. It's quickly become my favorite spot in the garden.
Even if I do feel compelled to comb my hair before I head out there and say hello to passers by...
PS: Welcome back from the Seattle Fling, garden blogging buddies! I pouted all weekend because I couldn't join you...