Disney have confirmed that four series will premiere on streaming service Netflix in 2015 and will unfold over multiple years. Marvel will develop these four shows, each with a minimum of thirteen episodes each, which will lead to "a miniseries programming event".
So what are those four series?
Well, they are "Daredevil," "Jessica Jones," "Iron Fist" and "Luke Cage".
According to Deadline.com, during a call with analysts about the company's 3Q earnings, Disney CEO Bob Iger called the four properties in the Netflix deal – Daredevil, Luke Cage, Jessica Jones, and Iron Fist – "not among the most popular," adding they "were never going to become feature films."
This will all culminate in Marvel's mini-series event The Defenders, an Avengers-style team-up, which re-imagines a dream team of self-sacrificing, heroic characters around New York's Hell's Kitchen.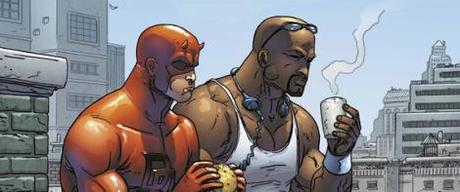 Marvel Television and ABC Television Studios will produce. Marvel Entertainment president Alan Fine says:
"This deal is unparalleled in its scope and size, and reinforces our commitment to deliver Marvel's brand, content and characters across all platforms of storytelling. Netflix offers an incredible platform for the kind of rich storytelling that is Marvel's specialty. This serialized epic expands the narrative possibilities of on-demand television and gives fans the flexibility to immerse themselves how and when they want in what's sure to be a thrilling and engaging adventure."

 

Netflix Chief Content Officer Ted Sarandos added, "We're thrilled to be working with Disney and Marvel to take our brand of television to new levels with a creative project of this magnitude."

 
They are pretty smart, these Marvel dudes… Making TV shows on their less popular characters and upgrade them into movies if they are successful.
Let's see how this grand project will turn out.
N.