Disney Marathon: 'Tarzan'
We approached this one with the trepidation of ripping off a band-aid.
For those just joining us, this is a movie marathon with a twist. Myself (cranky 40 year old blogger), my son Josh (10 year old Nintendo obsessive) and my daughter Amelia (drama llama 8 year old princess) are watching Disney movies in a random order and ranking them. We hope to see interesting differences in how we organise our lists.
Released: 1999
Director: Kevin Lima and Chris Buck
Cast: Brian Blessed, Tony Goldwyn, Minnie Driver, Glenn Close, Lance Henriksen, Nigel Hawthorne, Rosie O'Donnell, Wayne Knight
Plot: A young child is raised in the jungle by gorillas. With the appearance of more white people, Tarzan finds himself torn between two worlds.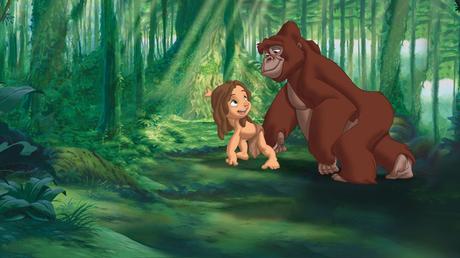 Review: It's amazing how much the soundtrack derails this movie. Disney leaned very heavily into the Phil Collins as auteur here, giving him free rein to put out an album attached to a Disney movie. Whether you like Phil Collins or not, his power ballads land at the most jarring time. Often the story comes to a grinding halt for these slow pans of scenery set to Phil Collins crooning. It really lowers the experience.
If that makes the movie sound padded out, that's because it is. There are so many montages in place of storytelling. We get a montage of Tarzan's parents learning to live in the jungle, Tarzan growing up among the apes, Tarzan getting to understand the white people's culture...there seems to be an assumption that we're going to lose interest if we're not rushing to the next earnest Phil Collins ballad.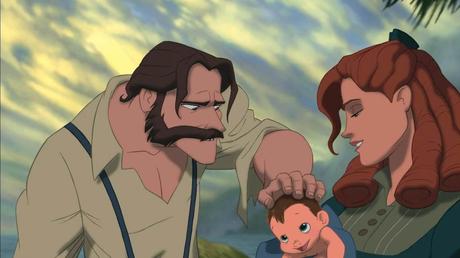 I struggle to find things to say about this movie because I always struggle to recall the details. There's a penny farthing? And he can tie a complex bow? How we get from the first and final act is all a blur. Nothing really happens in this story. There are a couple of Disney movies that stand out for at least being unique, but Tarzan feels like a very safe attempt to replicate the success of the fading Disney renaissance.
Some of it is shockingly mishandled. Most of the casting is fine, but they cool and marketable to children role is given to Rosie O'Donnell. Ms. O'Donnell has many talents, but she's not especially marketable to children. Her routine does not set well alongside the Actor Experience brought to the table by Brian Blessed and Nigel Hawthorne.
Best Song: eh...
Coolest Easter Egg: There's a fine Mrs. Potts cameo, but that's all we remember.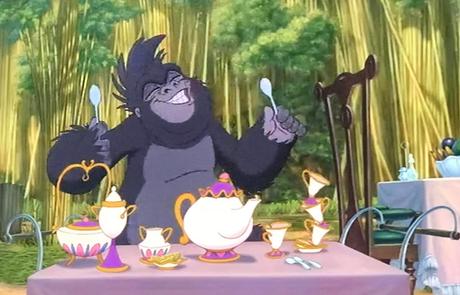 Weirdest Trivia: Brian Blessed provided the voice to the evil Clayton. When Tony Goldwyn couldn't quite muster the signature Tarzan yell, Blessed stepped up to the plate.
Rating: THREE out of TEN
THE RANKING
ME
This movie was quite well received on release, but I'm not seeing it. It seems to have slipped out of public consciousness though.
Click those titles if you want to see what we said about the other movies.
AMELIA
This was the second time Amelia has seen Tarzan. It wasn't as good as she remembered.
Raya and the Last Dragon
Frozen
Moana
Tangled
The Little Mermaid
The Rescuers
Emperor's New Groove
Zootopia
Lilo & Stitch
Atlantis: The Lost Empire
The Great Mouse Detective
Home on the Range
The Nightmare Before Christmas
Mulan
Hercules
Alice in Wonderland
Cinderella
Wreck-It Ralph
Bolt
Pocahontas
Enchanted
Dinosaur
The Aristocats
The Princess and the Frog
Robin Hood
The Jungle Book
Fantasia 2000
The Lion King
Beauty and the Beast
The Three Caballeros
The Fox and the Hound
The Sword in the Stone
Saludos Amigos
Tarzan
Oliver & Company
Aladdin
Treasure Planet
Big Hero 6
Fun and Fancy Free
Sleeping Beauty
A Goofy Movie
Snow White and the Seven Dwarves
Chicken Little
Fantasia
JOSHUA
Josh didn't engage with this one at all. He's just discovered Greek mythology though, so he's not interested in anything else right now.
Zootopia
Big Hero 6
Raya and the Last Dragon
Aladdin
Emperor's New Groove
Treasure Planet
Moana
Ralph Breaks the Internet
The Three Caballeros
Saludos Amigos
Wreck-It Ralph
The Rescuers
Frozen
Mulan
The Princess and the Frog
The Lion King
Lilo & Stitch
The Jungle Book
Robin Hood
Bolt
The Sword in the Stone
Beauty and the Beast
Oliver & Company
Sleeping Beauty
Tangled
The Great Mouse Detective
Cinderella
The Little Mermaid
Enchanted
Home on the Range
Pocahontas
A Goofy Movie
The Aristocats
Fantasia
Snow White and the Seven Dwarves
Atlantis: The Lost Empire
Fun and Fancy Free
The Fox and the Hound
Fantasia 2000
The Nightmare Before Christmas
Dinosaur
Hercules
Tarzan
Alice in Wonderland
The Wild
Chicken Little