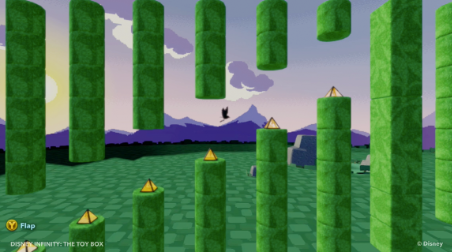 The Toy Box has some new toys, thanks to Disney Infinity's last challenge! And boy was it a good one: Arcade Games. Disney challenged you to make some great arcade games for the Toy Box, and the five winners really did that. Watch this week's Toy Box TV episode to find out the winners and get some great Disney Infinity tips, or just skip below to see the winners in full!
Flynn's Arcade- Spend some quarters at the hottest arcade of the 80′s! Just don't snoop around Kevin Flynn's top secret project.
Hero's Duty 2- CyBug threat is gone but the security system is still in full alert! Fight your way through and reclaim the Hero's Medal!
Hero's Duty- Make your way to the top of the tower as seen in the "Wreck-It Ralph" movie.
Cube Challenge- Drop in a quarter and try to turn all the blocks yellow, but look out for the bad guys!
Birdie Blitz- Fly as the crow through obstacles of different heights. Can you make it to the end?
Flynn's Arcade is definable the worthy winner, but we love how iOS game Flappy Bird has been recreated in Birdie Blitz! Get downloading them now in Disney Infinity. Just go to the Toy Box Share menu in Toy Box mode, and select Disney's Toy Boxes. And if you're feeling creative, why not enter this week's challenge: April Fools! There are some amazing prank machines in the Monsters University play sets, so you could use those as a starting point.
Remember to check back into BoxMash's Disney Infinity channel next week to see the winners of the latest challenge, and catch another episode of Toy Box TV!