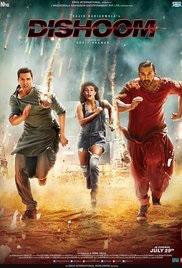 Director: Rohit Dhawan
Writer: Rohit Dhawan, Tushar Hiranandani (Screenplay)
Starring: John Abraham, Varun Dhawan, Jacqueline Fernandez, Akshay Kumar, Akshaye Khanna, Parineeti Chopra
Plot: When India's top batsman Viraj Sharma goes missing in Middle East, two cops Kabir Shergill and Junaid Ansari from either side of Arabian Sea must team up for a 36-hours man-hunt before the final match between India and Pakistan.
There may be spoilers the rest of the review
Verdict: Fun Action Comedy
Story: Dishoom starts when India's top batsman disappears after helping India to the final. This becomes a massive case which sees hard as nails cops Kabir (Abraham) to India to work with slacker cop Junaid (Dhawan) who is always up for a party. The two have to put their differences aside to find out the truth about what has happened and if they are dealing with just a fanatic fan or a true terrorist.
Dishoom follows the footsteps of the buddy cop films where we see the clash of styles needing to work together to foil an evil plot. This all works well through the film as get the laughs when needed without any being silly but we get the action needed to make us enjoy watching our heroes make it out of all the situations they find themselves in. the main plot does have enough twists to keep us guessing which is also a big plus.
Overall: Enjoyable first venture into Bollywood
Rating