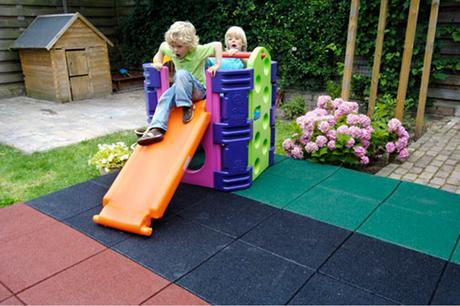 Children need lots of outdoor time in order to feel good. When you create a safe and fun backyard place place for your child or children, you'll be making a great decision. Today, we'd like to share some ideas which are popular choices with parents and guardians. One of our suggestions may be exactly what you're looking for.
Lay Down Rubber Play Tiles
Rubber play tiles are bouncy enough to make playing fun and they also shield kids from plenty of shocks. Also, if a child falls, the impact won't be as high as it would be if the child fell on hard earth or rocky gravel. These rubber play tiles are affordable and very easy to install. They are interlocking panels which comes in lots of great colors, or darker tones if you prefer a more subtle look.
You may use them as a base for playground equipment, such as swings and slides, or create an area which is just for running and jumping. Kids may also sit on the tiles and play with their favorite toys.
You'll find these types of play tiles where plastic paving grids are sold. Look for rubber play tiles which are crafted from eco-friendly materials. The best designs are made from recycled material which is tough and rugged enough to be durable, while being soft.
You may shop around to find good prices on these tiles via the Web. They may also be available right in your own community. Once you've tried them, you'll find that they are superb choices. They protect kids and also define backyard spaces.
We think that going for bright colors is the best decision, as bright tones appeal to kids and make backyard spaces look more child-friendly and inviting. However, any color will work and you will have lots of choices!
Add Playground Equipment
Most companies which produce rubber playground equipment offer smaller-scale designs which are perfect for home backyards. Treating your child to a piece of playground equipment will make him or her happy and inspire more healthy physical activity.
The key to choosing widely is thinking about what's age-appropriate. If your child is little, something whimsical, such as a pirate's ship which offers a variety of play options, will be a smart choice. If a child is older, a tree house might be a good choice. Shop around online. Your primary consideration should be safety, so look for a design which comes from a manufacturer with a strong and positive reputation.
As well, make sure than an online supplier is trustworthy. It's really easy to find reviews of online suppliers and backyard playground equipment manufacturers. With this in mind, make a point of checking things out carefully before you buy. Don't rush into it. Also, when you find a piece of playground equipment that you like, be sure to price it across a host of reputable online retailers.
When it comes to installation, you may want to hire a pro to make sure that everything is installed safely and securely. Most companies that offer these products will also offer pro installation and this may be free or available for an additional fee.
Make a Safe Sandbox
A sandbox is a classic choice. Add a few toys, such as miniature versions of farm machines or construction machines, and then let a little one play to his or her heart's content. To make a sandbox, you'll need to clear a space, create a border and then add lots of clean, safe and non-toxic sand. There is sand which is sold for usage in kid's sandboxes and we recommend buying it. It's the safest choice and it's usually not that expensive.
After your sandbox is complete, your child may sit in it and use toys and sand together. It will spark the creativity of your child by giving him or her a very tactile experience. This type of backyard play area idea is really best for little kids, such as toddlers. The sandbox may become the setting for some treasured childhood memories!
Should You Do It Yourself?
DIY projects are fun and the ones that we've talked about here are definitely great options. However, we still think that professional installation of backyard playground equipment is the smartest option. For the rubber play tiles and the sandbox, you should be able to take care of things on your own. To begin, make a supplies list, map out the area that you want to work with and then measure it. Then, decide how many rubber play tiles you need or how much sand and border materials you need. Also, think about which tools you will need in order to get the job done.
Once you have the facts, order the supplies. It may be cheaper to buy them online. Once you have them, set aside a weekend to take care of things. Be sure to get your child involved in the action. Once the new backyard play area is complete, you'll be ready to enjoy the sight of your child playing, out in the fresh air.
Now is the right time to plan and then complete this project. Your backyard will become a pleasant sanctuary for your little one. By inspiring your child to play outside, you'll be doing something which is beneficial to his or her mind, body and spirit.
With this in mind, why not get started today? You'll love the end result and so will your child!
About the Author
About Fergus @MatsGrids
MatsGrids are suppliers of Ground reinforcement systems, grass reinforcement and protection mesh for domestic and commercial landscaping projects. Our business mission is to become the UK's leading supplier of Recycled Rubber Grass Mats, civils and landscaping products. Over the last few years, our company has grown to become one of the UK's most reputable suppliers to these sectors and today we supply our range of products to thousands of businesses and end users within the UK and overseas.