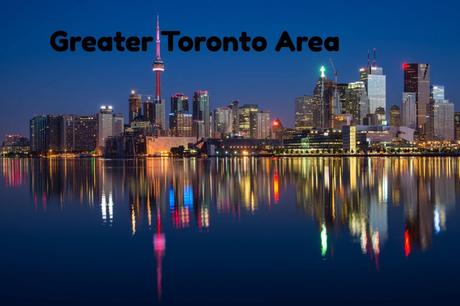 Toronto is not only "Canada's down town", it is also the gateway to a vast region that includes world famous Niagara Falls, the pristine lakes and forests of Muskoka and the Kwarthas, and the nation's capital region.
An ideal base for a day trip or overnight stay. Very close by you will find the cities of Mississauga and Brampton, each with it's own compelling heritage and urban amenities like shopping, arts and dinning.
Toronto is a city of neighbourhoods, each with its own distinct vibe and character. Hop on the public transport, rent a bike or lace up your walking shoes: explore all the city has to offer, one are at the time. Plan your vacation around one of the city's top arts, culture and sports extravaganzas.
Located in the heart of the action, City Centre includes some of Toronto's most dynamic areas. Broker some deals or sit down for a power lunch in the downtown Financial District. Catch a Broadway-style show, and then hit the dance floor in an Entertainment District nightclub or lounge. The Yong Street corridor offers prime shopping, as well as Yonge-Dundas Square's cultural events. Church-Wellesley Village is the unofficial headquarters of Toronto's LGBTQ community - not to mention a great place for people of all stripes to enjoy a mean martini.
Midtown contains an eclectic array of districts. There's Bloor- Yorkville with its luxurious boutiques, high-end spas and exclusive restaurants. Then there's the youthful boho vibe of the University of Toronto, home to many of the city's students. Avid foodies head to Koreatown for barbecue restaurants. Midtown is also where you'l find the Ontario Legislature at Queen's Park.
Old town the birthplace of Toronto includes the original 10 blocks that compromised the Town of York. The historic St.Lawrence Market brims with beautiful architecture and an eponymous food market, considered one of the best in the world. A short walk from here is The Distillery Historic District, an artsy enclave of galleries and cafes housed within Canada's largest complex of Victorian-era industrial architecture. Up-and-coming Corktown , is also part of this community, home to unique indie shops and cafes.
Westside is the most trendy part of the town, here you will find some of the city's hottest haunts, including Queen Street West, with its clubs, lounges, cafes, restaurants and bar scene. Popular Ossington Village beckons with its hipster craft-cocktail bars, as does the patio-heavy Liberty Village. Little Portugal combines a classic ethnic enclave with millennial revitalization, resulting in exciting mix of gift shops, salons, cafes, bars and restaurants. The Greater Toronto Area is known for having several Chinatowns.
The redesigned Queens Quay strip makes the Lake Ontario waterfront a stroller's paradise. The Waterfront offers a dynamic mix of parks, arts and culture, shops and restaurants, all connected by the Water's Edge Promenade. Get a ferry over to the nearby Toronto Islands, where beaches, a family amusement park and car-free paved trails awaits.
Eastside a hip emerging community that encompasses a dazzling array of neighbourhoods is best explored over a couple of days. So that you can properly explore the Gerard India Bazaar and bustling Greek Town. For prime retail and brunch therapy, don't miss Leslieville.
Don Valley - east and north of City Centre is a verdant and peaceful region, home of historic Cabbagetown. Bring a book and hunker down at either a cozy tea shop or a tranquil spot in a leafy park.
High Park area once a community of European immigrants has evolved into a middle class well educated enclave. Roncesvalles Village is famous for its indie gift shops, fashion boutiques and yoga studios. The Junction is another hit with smart young people but with and edgier, artier vibe replete with small galleries, vintage shops and coffee bars. The heart of the neighbourhood is the leafy High Park, home to a small zoo, an extensive trail network, adventure play-grounds, an off-leash dog aprk and a scenic pond.
Swing, crawl and balance your way through seven zip lines, six treetop courses and over 65 aerial games at Brampton's Treetop Trekking.
Uptown is a region in North Toronto that includes everything from premium shopping to fine dining. It is also home of York University and Black Creek Pioneer Village. Don't miss live theatre at North York's Toronto Centre for Arts.
Scarborough is an east-end community that boasts some of the Greater Toronto Area's best ethnic food, dished out in an unassuming little strip mall restos. It is also home to wildly scenic locales like the lakeside Scarborough Bluffs and Rouge National Urban Park, Canada's only national urban park. Scarborough's most beloved residents are the Toronto Zoo's polar bears, Masai giraffes, African penguins, lions and gorillas.
Etobicoke is west-end community known for its quiet charm. Albion Islington Square is a unique shopping district that is home to Toronto"s highest concentration of jewelers who specialize in 22- and 24-karat gold and diamond designer jewelry.
CN Tower boasts three new Observation Level window walls providing nearly seamless floor-to-ceiling sight lines and improving the view for kids and people with mobility challenges. There's also a new glass floor on the upper LookOut level 346m above the street, plus three new bistros serving up casual biters like panini, salads and poutine.
Canada's wonderland is a record smashing thrill ride, it is the world fastest, tallest and longest dive coaster. The Toronto Zoo educates viewers about ocean steward-ship and responsible consumer habits - after all when ti comes to saving our seas, every action counts. Check out the Zoo's guests - endangered Amur tigers, or the Aldabra tortoise weighting 186 kg.
Ride a mini train, visit a real roundhouse and an 1896 railway station and check out vintage rail cars and locomotives at the Toronto Railway Museum.
Get your hands dirty at a children's workshop at the Royal Ontario Museum, Art Gallery of Ontario or Gardiner Museum. Build your LEGO masterpiece at LEGOLAND Discovery Centre, located inside Vaughn Mills mall. Meet some furry and feather farm friends at Riverdale Farm.
Exploring the city - Toronto subway system is easy to navigate. Maps are displayed on all subway cars and are available at station tickets booths. Subway stops connect to streetcar or bus routes across the city and the Greater Toronto Area. Renting a bike is easy, keep your eyes open for automated bike stands throughout the city. Toronto is a safe and walkable city, look for trails throughout the parks, gardens and beaches.
Visit the city's largest parkland, the Toronto Islands, just minutes from the downtown core. Depending on which island you visit, a ferry trip takes anywhere from 10 to 15 minutes. You can also rent a kayak or a canoe to paddle around the islands.