Thanks to the pandemic remote working seem to be the new normal.
Skilled personnel across the globe are moving out of their 9-5 jobs into project management and freelancer roles.
With more working professionals moving into freelance positions, there has been a surge in demand for a variety of online tools/ software. Click To Tweet
Performing a variety of tasks like marketing their skills, following up with the client, the process of billing, follow up, and edits of their work along with lead generation is a humongous amount of work.
Freelancers and project managers, as we all know, work on multiple projects/client requirements simultaneously, and these tasks from various clients can be at different stages.
Following up on all of them can get overwhelming and lead to discrepancies and lead to losing clients.
Freelancers work on their projects and ensure that it generates income at the end of the month.
Apart from their dedicated performance, businesses can automate the remaining set of mundane stuff through the project management software.
How is project management tools for businesses & freelancers useful?
There are tons of project management tools in the market. Creating projects, tracking them, generating reports, and billing is all made possible at one place through project management tools.
Collaboration with clients/ fellow freelancers and team mates is also hassle-free when you use a project management tool.
Not only do a project management tools make it easier for the freelancers & project managers to manage their daily tasks, but it also helps in improving their efficiency and contributes towards customer satisfaction.
Project management tools available in the market offer tons of exciting features.
However, it is essential to understand their functions, cost and uses before making the final decision.
List of Project Management Tools for Businesses and Freelancers:
Let us look at the features, uses, and pricing of some of the best project management tools in the market.
If you are looking for a project management software, then NiftyPM helps you manage projects and communicate in one place.
Managing tasks and achieving them without missing timelines, and collaborating with current and existing clients are all made possible with NiftyPM.
Project management tool offers easy to use solutions with time tracking, the collaboration of tasks, creating notes/ documents, and workload balancing.
NiftyPM project management software also enables freelancers to import their existing files, jobs, and projects from Asana, Basecamp, Trello, and others.
The importing does not cause any inconvenience to the freelancers and help them continue from where they left off.
Imagine using email, chat application, task management, and time tracking all done in a few clicks at one place.
NiftyPM offers you all that in a single package. NiftyPM is also an excellent alternative to Basecamp and Asana.
Chatting with fellow teammates of the project, tracking task completion, and automated workflow are some of the critical areas that you can stop worrying about if you are a NiftyPM user.
It is also an excellent fit for teams/companies that works on collaborative workspaces. NiftyPM offers a 14-day trial which can later be upgraded, cancelled, or downgraded as per your business needs.
NiftyPM offers a starter plan that works best for an individual/ freelancer and small teams/ businesses.
The starter plan costs $39 per month, and the billing takes place annually. The starter subscription covers up to 10 member logins with unlimited clients, 100 GB storage, and ten active projects.
Team chat, discussions, milestone tracking, and creation of files, docs, and portfolios are a part of this subscription.
Apart from this Google Single Sign-on, self-serve support centre, recurring tasks, tasks & milestone dependencies are a few other advanced features available with a $20 add on per month.
The Pro subscription plan suits you best if you are a small/ medium-sized team and costs $79 per month, and the billing is annual.
The Pro subscription plan offers up to 25 member logins, 500 GB storage, with unlimited clients and active projects.
It covers all the core and advanced features for $20 per month respectively along with priority support.
The business plan costs $124 per month and covers all the core and advanced features in the Pro subscription.
Fifty team members, 1TB storage space, and unlimited projects, and clients are available along with the basic and advanced features available in the Pro subscription.
The enterprise plan covers all the features available along with customized storage and dedicated success manager.
The plan also includes unlimited member logins, and the cost can be discussed directly with the sales team as per the customization requirements.
Hive is a project management tool with features like visual Gantt Charts, Kanban Board, portfolio management, time & expense tracking, resource management, milestone tracking, team collaboration software, and customized templates that are easy to use.
Users of Hive project management system swear by the efficiency of its project management software that help them stay organized and enables them to automate workflow.
Hive project management software does not offer a free subscription; however, you can choose the free trial and then decide about opting/cancelling of a plant.
The basic plan costs $16 per user per month. An additional $12 enables you to use some of the optional features.
Training is provided through webinars, documentation, in-person, and live. Support is provided 24/7 through live representative/ online/ business hours.
Todoist project management software has appeared on the list of " Top 20 Project management software" and "Top 20 remote work software" for the year 2020 making it the most favourite project management tool for freelancers.
Team collaboration tools, customizable project templates, milestone tracking, and time tracking are some of its best project management features.
Whether it is about updating your family budget or watering your kitchen garden. Todoist has got you covered.
Delegation of work, Visualization of accomplished results, integration with your other freelancing apps, and personalized templates are all possible with Todoist.
If you are on the lookout for the best project management tool for freelancers, then todoist should help you stay focused on all your tasks.
Todoist features cover some of the best project management tool.
Todoist is available to start for free with zero cost. This plan enables freelancers/ businesses to use upto 80 projects and upto five users per task.
It is an excellent choice for a project management software and can help you stay updated with task management and other mundane tasks.
Premium plan
The premium plan is available for as low as monthly $3 and $4 when billed annually. The premium plan covers features that help you manage your tasks.
The premium plan enables you to manage up to 300 projects with up to 25 people per project.
Reminders, productivity trends, labels & filters, and file uploads are some of the features for freelancers that help them perform their best.
Business Plan
The business plan is available for as low as monthly $5 and $6 when billed annually. The business plan works best if you are looking for a management solution for your teams.
The Business plan covers features like team billing, team inbox, admin roles, priority support, and up to 50 people per 500 projects, making it one of the best project management tool.
Taskque is a project management software tool that enables teams to stay connected with all team members, track progress, and manage project timelines.
With Taskque as your project manager, you can concentrate on your actual work and make the best use of your time.
The project management features of Taskque helps you manage your tasks and optimize your resources.
Taskque enables freelancers and project managers to juggle multiple projects simultaneously with task management, to-do lists, task assignment, time tracking, and much more with its best project management software.
Basic Plan
The basic plan of this project management tool is available free for a lifetime and covers up to 10 users and 5MB attachment limit & 1 GB space.
This subscription offers features like auto task assignment, task movement, kanban view, convert to-do lists into tasks, email management, workflow templates, and instant support forms.
Business plan
The business plan covers $5 per user every month and offers a 100 MB attachment limit with 5GB storage space for five users.
The business plan includes the features available in the free trial along with unlimited discussion minutes and admin user roles.
There is also a free trial for 60 days with premium features. The free trial subscription covers all the elements in the basic plan, along with detailed insights.
Teamwork offers a complete package of project management for freelancers. Some of the features that make it the best project management tool for freelancers are:
Collaboration tool
Chat
Automatic notifications
Projections
Activity tracking
Collaborative workspace
Document storage and notifications
Drag & drop interface
File management
Reporting & analytics
If you are looking to get a project management software for freelancers, then Teamwork has features that cover from calendar to billing, and client management to task management.
The Pro plan covers $10 every month. If you are a company/ team that is looking to track performance and do time tracking across departments, then the Pro plan is the best choice. Google drive and dropbox integrations, task boards, and instant file editing are some of the features that are a part of the Pro plan.
The premium plan costs $18 every month. Google calendar sync, task portfolio, Gsuite, MS Projects integration, and all the other features are a part of the Pro plan.
The enterprise plan covers Bespoke training and onboarding, extra branding control, Enterprise API and security, 500 GB + file space, and all the other features on the premium plan.
ProofHub offers ultimate control for $99 every month, and the essential plan costs $50 every month.
Agile methodologies, Gantt chart, Kanban board, time tracking, milestone tracking, customized templates, resource management, and collaboration tool are some of the features available with ProofHub.
If you are looking for a freelancing app or working as a project management freelancer, then ProofHub has all the key features with an intuitive interface that makes it the right choice.
You can manage every project with this powerful project management app and manage tight deadlines.
Meeting management, task management, remote access, and live chat are some of the project management software features for freelancers that help them make optimum utilization of time and resources.
Assignment management or you have to assign tasks, productivity analysis, progress tracking, messaging, and third party integration are some of the task management and project management features that make it an excellent choice for a small/medium-sized business.
7. nTaskManager
nTaskManager is a complete project management software app for project managers, then nTaskManager offers features like file sharing, collaborating with remote teams, and much more.
Basic Plan
nTaskManager provides a basic no cost plan that has key features best suited for freelancers and individuals.
It is a lifetime zero cost plan with features like unlimited tasks and workspaces, timesheets, meetings, issues tracking, up to 5 members login, and 100 MB storage.
Premium Plan
The premium plan works best for you if you are a small or medium business and is a paid subscription. The premium plan costs $2.99 monthly per user with a 14-day trial.
The premium plan covers Gantt charts, Bulk actions, Custom filters, projects, 5 GB storage and all the features available in the essential subscription.
Business Plan
The Business plan works best if you are a large corporate. The business plan costs $7.99 every month per user with a 14-day free trial.
Apart from the features available in the premium plan, 10 GB storage, risk management, custom roles and permissions, advanced reporting, and custom filters are at your disposal.
These features help you with your deadline with a proper project planning and enable you to keep track of your invoices, deadlines, and service.
Enterprise plan
This plan works well if you need a customized plan. Dedicated cloud, account manager, and custom onboarding are a few other features that are useful if you are considering it for large teams.
Suppose you are a freelancer or a business looking for one of the best project management tool software with features like task management, time management, integrations, customization, collaboration apps, and process management.
The reporting feature of Clickup is powerful and allows you to set goals, track project progress, do resource allocation with full ease.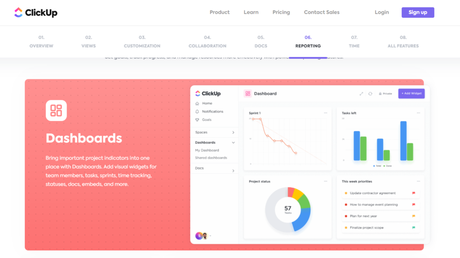 Clickup reporting dashboard
Clickup is one simple project management tool that you could consider as this supports all these features. The collaboration features that Clickup offers to allow users to add comments, initiate chats, share documents, send emails and collaborate with team members in real-time. You can always know about your projects and task progress.
It is crucial to consider all the subscriptions available for Clickup before deciding the best suitable plan.
Forever Plan
The forever free plan of Clickup covers features like 100 MB storage with unlimited users and tasks.
Unlimited plan
The Unlimited plan costs $5 every month per user. This Clickup plan covers features like custom fields, portfolios, goals, unlimited - storage, views, integrations, and dashboards, making it the most sought after project management tool for freelancers.
Digital sticky notes, workflow automation, team collaboration, project progress, dropbox, sketch, brainstorming, and much more are some of the key features offered by Miro.
If you are a freelancer or a project manager looking to collaborate with teams and keep track of the workflow, then Miro is a great fit.
Free Plan
The plan covers unlimited members. It includes three editable boards, premade templates, essential management, core integrations, and anonymous board viewers, making it a perfect set of project management software for businesses and freelancers.
Team Plan
The team plan costs $10 every month per member and is best suitable for not so big teams.
Custom templates, Asana integration, remote meeting toolkit, Kanban Framework, unlimited boards, private board sharing, and JIRA & confluence integrations are some of the features that are available along with the no cost features.
Business Plan
The business subscription costs $16 every month per member. If remote team management/collaboration across various teams is what you are looking for, then the business subscription is an excellent idea for you
External editors, day passes for occasional collaborators, and Single Sign-On are some of the features available.
The business plan also covers the other highlights from the team plan.
Enterprise plan
Enterprise subscription works well for large teams/ companies looking for key features like controls, integrations, support, and high level workflows.
The pricing for this plan is based on customization and covers features like Data governance, centralized multi-team setup, management, company-wide account, advanced - security, permissions, and administration.
Premium support is also available for this paid plan.
An overview of all the project management tools discussed in this post:
Hive
The paid plan starts at $12/user/mo
What is good?
Easy to customize.
Plenty of integrations.
AI-based features
What is not good?
If there are lot of processes involved in a single task things might get messy.
Clickup
The paid plan start at $5/user/mo
What is good?
Good option for small teams
Generous free plan
A lot of advanced features and customization options.
What is not good?
The learning curve is slightly steep.
Plutio
Paid plans start at $15/month
What is good?
Designed for freelancers and small businesses.
A balanced PM tool that is not too complex nor too simple.
Good customer support.
What is not good?
Minor bugs here and there.
TeamWork
Paid plan starts at $10 per user per month.
Proofhub
Paid plan starts at $9.8 user per month.
Trainual
Paid plan starts at $99 per month it is a flat rate fees.
What is good?
Knowledge and training platforms for growing teams.
Helps organize training modules in a centralized systems.
Miro
Paid plan starts at $10 per user per month.
Conclusion
The market has a variety of project management software tools for businesses to manage projects. While some are available for free a few advanced level features are available for paid subscriptions.
Freelancers & Project Managers juggle with a lot of roles apart from their actual work. They may have to deal with software development teams or have to get paid based on hours and for that, they need time and expense tracking pm tools.
Imagine you are writing for client A, have to send a bill to client B, edit the tasks assigned by client C, and also continue with lead generation, all this while you are in discussion with a client over a potential project.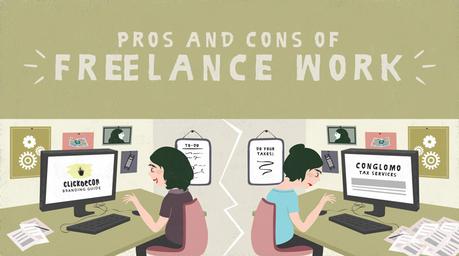 Source : https://edu.gcfglobal.org/en/freelance-work/the-pros-and-cons-of-freelance-work/1/
Lead generation, client management, workflow management, billing, revisions of their work, and finally ensuring payment for the services imparted every month can all get overwhelming and lead to chaos and missed deadlines.
How project management tools help freelancers?
1.) The project management tools for freelancers help them to manage various roles and clients simultaneously with their schedule.
2.) Task management, remote team meetings, billing, client management, and a few other features help freelancers to manage all their roles so that they can concentrate on performing their actual tasks.
3.) Most of the project management tools for freelancers are available with compatibility to ios and android. Freelancers get paid because they create with their skills and experience.
4.) However, they do c ollaborate with multiple clients and on various projects simultaneously. Managing various clients leads them to juggle with numerous activities and might even lead to errors.
How Project management tools help businesses?
1.) Small, medium and large companies/teams also benefit from the various project management tools since it helps them track time, expense, workflow automation, dashboards, and much more with a few clicks.
2.) A variety of versions of the project management tools are available for free, paid, and customizable to fit every unique business needs.
3.) There's a guide/ tutorial/ demo available once you subscribe to a plan to help you get settled. You can choose the required feature and check the price so that you can pay for what you want and use.
One mistake can make you look bad, and you might lose credibility. Thanks to the best project management software tools for freelancers a variety of features from work management to budget tracking are all made available with a few clicks and at one central place, so you work effectively and efficiently.
Questions asked while looking for Project Management Tools for Freelancers: