As I briefly mentioned in my previous post, I'm offering a discounted price on my original paintings and drawings (created on plywood wall plaques, the materials of which are recycled from V&A Museum packing crates) at the 'Mars and Beyond' exhibition shop (The Bargehouse, OXO Tower Wharf, Bargehouse Street, London SE1 9PH) which runs until 15th March 2020.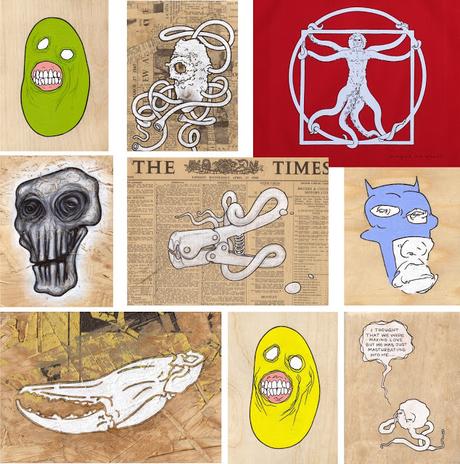 Instead of the usual £150-200 price I'll be selling them for £120 each, just for the duration of the exhibition. If you can't easily find them in the shop (table space is limited so not all available artworks are permanently displayed) then just ask one of the staff, who can get them out for you.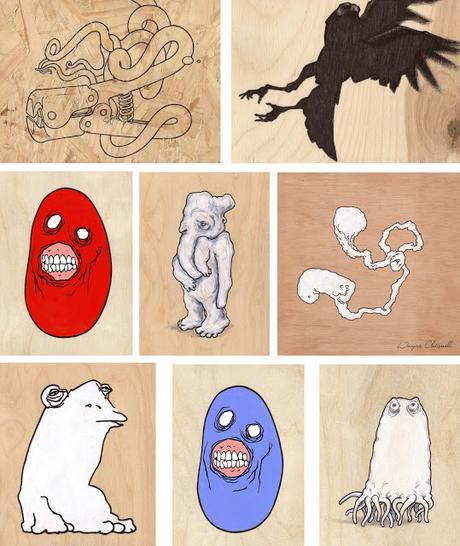 The series was originally conceived as a limited run of mini artworks for Rob Pruitt's Artists' Flea Market pop-up project which took place at the A Plus A Gallery during the opening week of the 2015 Venice Biennale. Rob Pruitt is an American artist who organises similar art events all around the world; including a 2009 Xmas Artists' Flea Market at the Tate Modern, London, where the likes of YBA artists Tracey Emin and Gavin Turk manned stalls, selling their wares.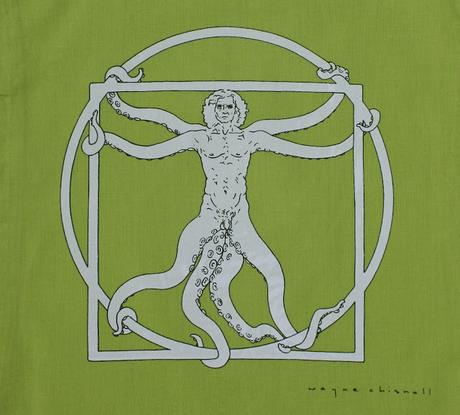 This 'Taster Menu' series was intended as a way of offering a fun and affordable way of collecting small but original pieces from my body of work, without having to pay the usual £2000-£20000 gallery prices.
The majority of the paintings and drawings in this series are executed on 20 x 15 cm blocks of 1.8 cm thick plywood, and designed to hang unframed, as wall plaques. Commissions are available for similar versions of all sold out pieces from the series.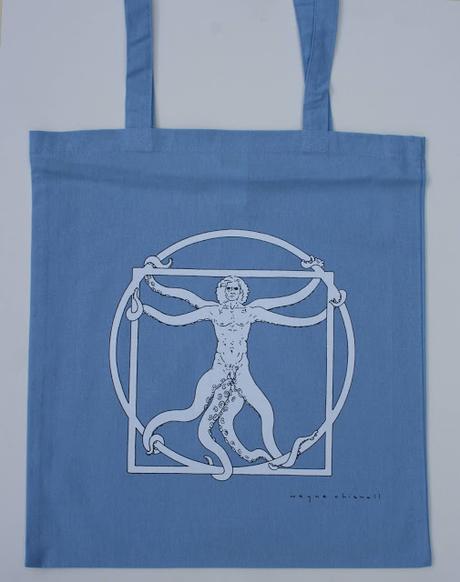 I'm also selling a limited run of 17 different coloured cotton tote bags (around 4-5 bags in each colour) featuring a black and white screen printed version of my 'Davincipus' design; based upon Leonardo da Vinci's 'Vitruvian Man' drawing. Though, in my take on it, the limbs have been replaced with tentacles. There are also a couple of my 'Swirl Skull' tote bags (printed on unbleached organic cotton) left. Each bag if available at the 'Mars and Beyond' exhibition shop for the princely sum of £10.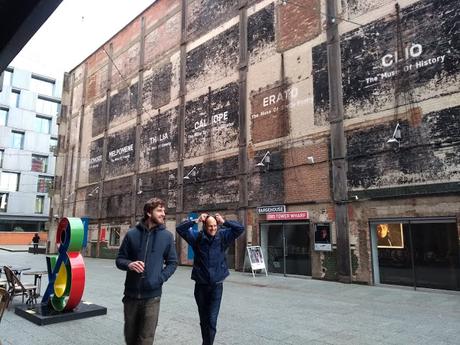 Curator, Oskar Krajewski (figure on right) outside 'Mars & Beyond', The Barehouse, OXO Tower Wharf, London, 2020