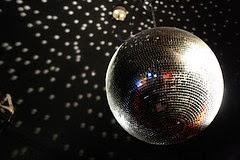 Photo by Rosie Rogers
I was 15 and fearing that in a few months I would turn Sweet 16 and never been kissed.
There were a handful of boys that I crushed on. However, I was bookish, argumentative and socially awkward.  I spent a lot of time as a wall flower.
[This post is part of a Blog Hop hosted by Midlife Boulevard.]
From 14 on, I would attend dances and watch other girls my age flirt effortlessly--or so it seemed to me.  I was a teen during the 1970s when disco dominated the airwaves.
If I wasn't moony enough already, the following disco songs were playing on the radio during the months that prom was in full swing in late Spring 1977:
Andy Gibb: "I Just Want to Be Your Everything"  Click
here
for the video
K.C. and the Sunshine Band: "I'm Your Boogie Man" Click
here
for the video.
Thelma Houston: Don't Leave Me This Way. Click here for the video.
And even though ABBA released "Dancing Queen" in 1976, it was still a staple on DJ's playlists the following year:
So when Tyler G., a handsome young man from my church walked me to the side gate after a church dance that played songs such as these, I was wondering if I was going to experience my first kiss.
As an extrovert and an athlete, he was confident and relaxed.  I had blonde hair, blue eyes, pale skin and had a small build. He had brown hair, brown eyes, tan skin and was muscular.  He bent down and gave me a short, sweet kiss.  I thought I was going to faint.  I pretty much floated through the gate and into the side door of my house.
We didn't really date after that.  He would flirt with me when given the opportunity but without really following through to pursue a relationship. For example, he came over to show me a fancy sports car that he rented to take another girl to prom at his high school.
Years later I ran into him when visiting my home town. He was a married guy with a few kids. We have even less in common than we did then, but I wish him well.
It's been at least 25 years since I've seen him, and I don't think about him too much. But thinking about that first kiss helps transport me to that era of disco, dances, dating and daydreaming about handsome boys.
Read more kiss-and-tell blog posts from other midlife bloggers.
Related:
Share Music Videos with Others