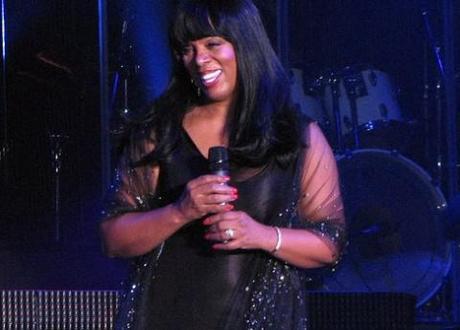 Donna Summer, queen of disco, dead at 63. photo: grilled cheese
The background
Five-time Grammy Award-winning disco and dance music icon Donna Summer has died following a battle with cancer, at the age of 63. She is survived by her husband and their two daughters, as well as a daughter from her first marriage.
TMZ are reporting that the cause of her death was lung cancer, which according to The Daily Mail was diagnosed 10 months ago. TMZ also state that "several sources are telling us Donna believed she contracted it by inhaling toxic particles after the 9/11 attack in New York City".
The Periscope Post looks back at the life of the star through the eyes of the press.
Summer's early years

Summer was born LaDonna Adrian Gaines in 1948; she grew up one of seven children of a churchgoing family "that encouraged spirituality and singing in equal measure" in Boston, Mass., the LA Times reported. After years singing with her church's gospel choir, she left Boston for the bright lights and stages of New York City. She soon joined the Munich cast of the musical Hair, moved to Germany and became fluent in German. It was whilst on tour with this production in Europe that her musical career would take off, after meeting producer Giorgio Moroder.
Dolly Parton, Quincy Jones, and Madonna remember Donna Summer on Twitter: Check out Periscope's round-up of the reaction.
Birth of a disco diva
Her breakthrough track was 'Love to Love You, Baby', released in 1975 and banned by several radio stations because of the sexually explicit content. The LA Times quoted Summer saying: "Those groans and moans were the hardest things I ever had to record […] At first I couldn't play the song at home because I couldn't cope with hearing myself groan. It made me very uneasy that I was making something public out of feelings and sounds that should be private." This was followed by the landmark single 'I Feel Love', of which The Telegraph's Lucy Jones wrote, "What greater example of a ferocious dope machine do we have in pop than Summer's disco epic?"
An artistic chameleon
Summer's music was rooted in disco, but moved on to encompass other musical genres, many of them pioneering. The LA Times say that "her work with Moroder bridged sexually adventurous pop with early synth experimentation and the soul and R&B music Summer was raised with". The Daily Mail reported, "Unlike some other stars of disco who faded as the music became less popular, Summer was able to grow beyond it and later segued to a pop-rock sound." Beyond her work in music, The LA Times also noted that Summer "established herself as a visual artist, selling more than $1.2 million worth of Expressionist-style work".
A gay icon?
Summer never courted a gay following, but she certainly had one, Paul Flynn wrote in The Guardian. "She didn't craft her ripe talent to a specific audience. It found her on account of it. … Donna Summer was an accidental icon." Even so, Summer, a committed Christian, found herself the subject of some serious controversy when she was quoted as making homophobic remarks at the beginning of the AIDS epidemic in the 1980s. Summer always denied making the comments, but the gay community felt betrayed, Flynn wrote, because of how much they cared for her. Still, he wrote, Summer "opened a door" for the gay community. Robert Santelli, executive director of the Grammy Museum, agreed, telling the  LA Times, "She bridged the gap between the gay and straight audiences in disco."Dolly Parton, Quincy Jones, and Madonna remember Donna Summer on Twitter: Check out Periscope's round-up of the reaction.
Summer's influence far-reaching, from Beyoncé to Bruce Springsteen
"Stars including Dolly Parton, Sir Elton John and Mary J Blige praised her vocal talent and huge impact on music," the BBC reported, noting, "Her influence stretched across musical boundaries, with Madonna, Whitney Houston and David Guetta among the artists who sampled her, while Bruce Springsteen wrote songs for her." MTV noted that Robyn, Quincey Jones, Timbaland and Kylie Minogue giving Twitter tributes to Summer, whilst The Urban Daily said that Beyoncé, Aaliyah, Pink, Brandy and Christina Aguilera would not be around had Summer not come first.
Donna Summer

More in memoriam

Revolutionary hair stylist Vidal Sassoon, dies at 84
Maurice Sendak, author and illustrator, dies
Andrew Breitbart dies
Davy Jones, lead singer of the Monkees, is dead