I recently did a discernment lesson on the
most popular story Beth Moore tells, The Hairbrush Story
.
Chris Rosebrough has dismantled it sentence by sentence
, and I pointed readers to that link, and then offered some of my own insights.
Because writing a discernment lesson about a false teacher takes so much time, which means I have to spend a lot of time wallowing in her muck, it necessitates a spiritual wash afterwards. I got curious about Moore's teaching on Ephesians 3:19, which The Hairbrush Story was allegedly about. She focused on the part of the verse which promises the full measure of God (NIV), or the fullness of God (ESV).
and to know the love of Christ that surpasses knowledge, that you may be filled with all the fullness of God.
(Ephesians 3:19)
I love Martyn Lloyd Jones' sermons, especially on Ephesians, which I am going through anyway. I decided to listen to his treatment of the verse, the same verse, the one and only verse, and see what I could learn. After hearing Moore, I really did want to know more about the full measure of Christ it is a majestic topic. The phrase kept rolling around in my head. So I headed over to the Martyn Lloyd Jones (MLJ) Trust Sermons and listened so my mind could be cleansed from the mud and I could learn about Jesus from a credible preacher. I found the MLJ sermon
All the Fullness of God
As I was pondering these things, a tweet came up from my twitter friend Landon Chapman at
Entreating Favor
website and
Fire Away! podcast
. Here it is:

This is very, very wise. I take his advice to heart.
I have never immediately compared a false teacher's lesson on a verse to a credible teacher's treatment of it. Of course I always compare the false teacher's lesson to the Bible. Also, it's not often I can find a false teacher having focused solely on one verse for the point of her lesson and then find a preacher who also preached on that exact sole verse. Comparing would be easy. Not uncomplicated or fast, but easy as in apples to apples. The Moore teaching was still fresh in my mind, as I listened to Jones'. I listened to MLJ's sermon three times in fact.
I found that Beth Moore and Martyn Lloyd Jones, having taught the same single verse, came to exactly opposite conclusions. Totally at odds with each other. One says yes, the other no. One says black, the other says white. One says up, the other down. By the picture below, you can easily see which Bible teacher's teaching I found biblical.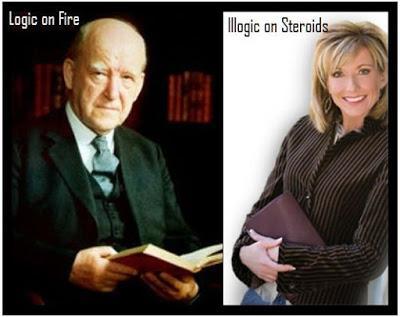 Lloyd Jones' well known nickname; A nickname I dub Moore
Moore taught that the full measure of Christ in us believers is something we do not currently possess.
Jones taught that the fullness of Christ is something we currently 
do
 possess.
Moore taught that we could possess it IF we do certain things.
Jones taught that the fullness is something every believer already has as a gift.
Moore taught that the reason we want the full measure of Christ is so we can get blessing and power.
Jones categorically rejects this.
Moore taught that the fullness was a feeling.
Jones taught that the fullness was a doctrine.
Moore taught that we want the full measure of Christ so
we
can get something, power, love, blessing.
Jones taught that having the fullness of Christ is something we aspire to because
Christ
is the prize.
They even have a different summation point-
Beth Moore teaching the point of lesson: "I've got to know somebody totally loves me."
Lloyd Jones says the point of the verse is: "It is the highest doctrine of all."
I won't go on, you can see it on this chart I made. I included the links from which I delved into each lesson, and the minute at which I heard each teaching so if you care to check it out yourself, you can. Below the chart are the two illustrations each teacher gave. Moore's was with the measuring cup and Jones's was about a bottle. They come to opposite conclusions. Moore believes the fullness has a quantity to it and Jones says the full measure is about the quality of it.
Note: MLJ preached the Ephesians series between 1957 and 1980. Moore's hairbrush story was re-published on LifeToday in 2012 and that is where I reviewed it, though she had delivered it at least as early as 2011 and maybe a year or two earlier than that. The comments in the chart are direct quotes.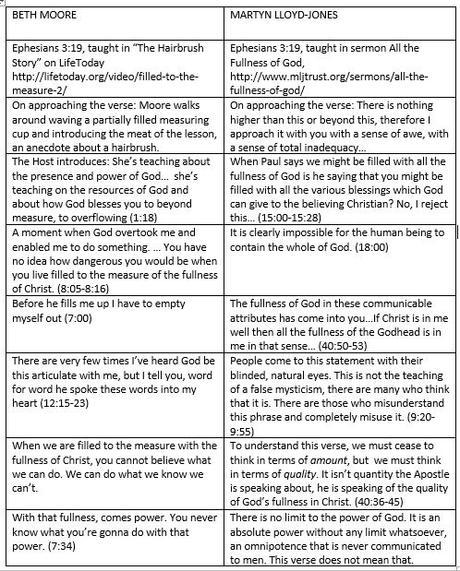 The illustration: Moore's measuring cup and liquid.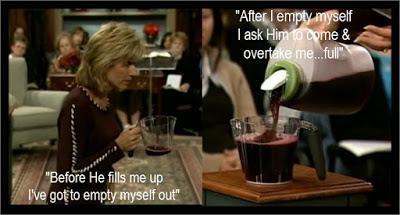 With this visual prop, Moore was teaching that we do not possess the full measure. However if we
do
certain things in our own power and then ask for the fullness, Christ will give it AND "the power that comes with it". In Moore's interpretation, we are all 16 oz measuring cups and some of us have 2 ounces of the fullness and others of us have 4 ounces and others get to be filled up completely. A total filling is not something that will happen on this side of eternity anyway.
Lloyd-Jones teaches the opposite. He focuses on ton the vessel but on the quality of the filling. He said we already possess the fullness of Christ in us when we're saved. He said the power of God (omnipotence) is an attribute of God that is NON-communicable. MLJ also said the fullness is not a quantity, but a quality. Why?
because the amount varies. It varies in the same man from time to time. It varies from one of us to the other, and yet we all can have the fullness.
Here is an illustration to show how you can possess the fullness and yet have more of it. Take a bottle and put it into the sea. You can fill it. Then you can say that bottle is full of the sea. Then you can take a great tank and do the same thing. They both have a fullness but they haven't the same amount. And the sea is always the sea. The little bottle full of sea has just the same characteristics of the sea in fullness as the tank has.
The drastic difference between the two teachings comes from their view of Jesus and of self. Jones' eyes are on Christ, Moore's is on herself. With her, the fullness is something we get, power comes with it, we do things with this power, we get blessing, we receive affirmation of love, and we can have more of it. We, we, we. Her eyes are on self.
Jones shows us where our eyes should be. Not on the bottle, not on the amount that is IN the bottle, not on the tank, not on anything we might think we get, but on the SEA. It is what is IN us that matters. It's all about Christ in us, His righteousness, His fullness. It has nothing to do with our works, our deeds, our emptying, our effectiveness, our requests, or anything whatsoever to do with us. He bestows His fullness of Himself to us on salvation. It is all about Christ.
For this reason I bow my knees before the Father, from whom every family in heaven and on earth is named, that according to the riches of his glory he may grant you to be strengthened with power through his Spirit in your inner being, so that Christ may dwell in your hearts through faith—that you, being rooted and grounded in love, may have strength to comprehend with all the saints what is the breadth and length and height and depth, and to know the love of Christ that surpasses knowledge, that you may be filled with all the fullness of God.

Now to him who is able to do far more abundantly than all that we ask or think, according to the power at work within us, to him be glory in the church and in Christ Jesus throughout all generations, forever and ever. Amen.
 (Ephesians 3:14-21)